The Day Ben Murray-Bruce Failed to Make 'Common Sense'
By Eric Elezuo
All through his legislative career which may come to an abrupt end on May 29 or June 8, 2019 or paused as the case may be, the senator representing Bayelsa central senatorial zone in the upper legislative chamber, Mr. Ben Murray-Bruce, may not have seen as much disappointment and let down as he suffered during the plenary of Wednesday, April 17, 2019 in the Senate.
Under his very eyes, his two proposed bills were roundly defeated on the floor of the House by his colleagues, most of whom unfortunately were members of his party, the Peoples Democratic Party (PDP), who gave infallible and impeccable reasons why it must not see the light of day.
The business tycoon senator couldn't do much but emotionally asked his colleagues to 'close your eyes, and imagine you are in the 21st century'. A request which was greeted with disdainful laughter and haughty looks.
The bills sponsored by Senator Murray-Bruce was read for the first time on the 10th of April, and within seven days was thrown to the dustbin. They centred on phasing out petrol vehicles by 2035, and replacing them with electric cars, and granting Nigerian citizenship to privileged Africans.
Highlighting the reason for the bill, Murray-Bruce had said: "Combustion engine cars have continued to cause deaths through uncontrolled pollution." He noted that car pollution is one of the major causes of global warming and warned that passing the bill will nigerians escape pollution linked deaths.
He continued: "Secondly, we have been spending over N1 trillion annually subsidising fuel in this country. By introducing electric cars, fuel subsidy will automatically be gone and those funds will be used for infrastructure and education." To an onlooker, Ben Bruce, as he is popularly called, was making sense.
Further in his argument, the senator known as Mr. Common Sense because of his regular mono-talk show on STV with the same name, said: "To charge your electric cars, all the filling stations will be replaced with solar charging stations. Thankfully, this country is blessed with sunlight 365 days in a year.
"Electric cars are outselling petrol cars as witnessed in Norway a few weeks ago. It makes more sense to build Nigeria's biggest power plant than refineries."
Ben's common sense reasoning immediately came under a barrage of attacks from his colleagues. Leading the onslaught was Senator Barau Jibrin, though who thinks the proposition is environment-friendly believes that "it is not doable."
He further patronised Senator Murray-Bruce saying "I sympathise with the mover although it has good intendments, the fact is the economic perspective, let us put this on hold and allow time."
Towing the line of Senator Jibrin, the Deputy Senate President, Ike Ekweremadu, noted that there is no need for legislation for Nigerians to make use of such cars if need be.
In his explanation, he called out Senator Murray-Bruce, using his common sense logic: "What is not common in the sense of looking at the lead debate for a legislation to introduce electric cars. Before now, we were using donkeys for transportation then we started using cars. We did not require any law.
"Secondly, section 41 on freedom of movement covers it."
Ekweremadu also stated that the bill should be discouraged because Nigeria is an oil producing country, "we must do everything to frustrate electric cars."
Senator Andrew Uchendu remarked that the bill failed to meet requirements of order 77 of the Senate standing order in failing to state "financial implications." The lawmakers saw everything wrong with the bill.
"In a few years time, combustive fuel cars will not be manufactured. It doesn't cost much to maintain. You (Senators) do not belong to the 21st century. I understand," an obviously disappointed Murray-Bruce submitted.
In his second bill, which also met waterloo, Murray-Bruce sought to amend the 1999 constitution in a bid to give Nigerian citizenship to African origins.
Considering the vehemence with which Senator Dino Melaye, representing Kogi West, rubbished the bill, it would look like no one wants to have anything to do with the Bayelsa senator who will definitely not be returning to the 9th Senate.
"Does it mean we will leave our borders open and porous for every African citizen, and in the next few years, our population will hit 500 million," Senator Melaye reasoned.
If there were bad days in the four years for Murray-Bruce, that day was not just one of them, it was certainly the worst. He could only shook his head, retract the bills and sat back dejectedly. It was one day Mr. Common Sense failed to make common sense!
Nigeria Outlines Nine Focal Areas to Guide Foreign Policy in Next Four Years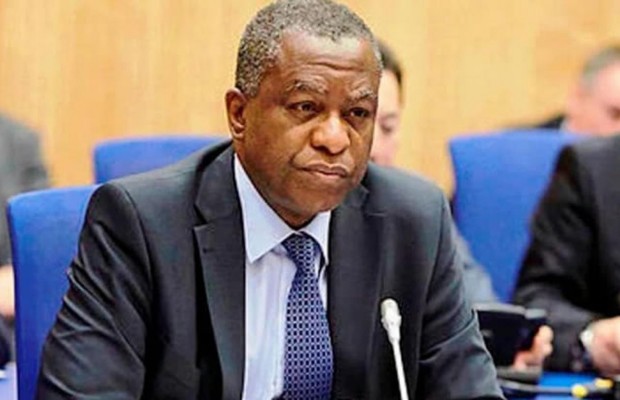 Nigeria has identified nine priority areas that would guide its foreign policy actions in the next four years.
The Minister of Foreign Affairs, Geoffrey Onyeama, made this known in Abuja while briefing members of the diplomatic corps on the priorities of the Nigerian government.
The priority areas include building a striving sustainable economy; enlarging agricultural output, food security and export; as well as attaining energy sustenance and power.
Others include expanding transport and other infrastructural products; expanding business growth entrepreneurship and industrialisation; expanding access to quality education, affordable healthcare and productivity of Nigeria; enhancing social inclusion, reducing poverty; fighting corruption; as well as improving governance and security for all.
News Agency of Nigeria (NAN) reports that in the first term of the present administration, the government's priority was in three key areas, namely: fighting corruption, tackling insecurity, and job creation.
He said Nigeria's foreign policy would henceforth be realistic in terms of reflecting the domestic reality of putting "Nigeria First".
"We promote within the African Union (AU) good governance, democracy, and protection of human rights.
"We are not in any kind of conflict with any country in the whole world and we have excellent relations with every member state of AU and UN.
"We believe firmly that peaceful coexistence and security are pre-conditions for economic development and prosperity.
"We believe that the UN and multilateralism are forces for good.
"We strongly support the UN, although we call for its reform especially to increase the number of its permanent members in its security council to include at least three African countries with veto powers," he added.
The minister said more funds should be made available for UN peace-keeping operations.
Mr Onyeama, who said that the UN was doing a great job across many countries of the world, urged countries to continue to abide by UN resolutions, not choosing which ones to respect and which not to respect.
He condemned the use of force for the settlement of disputes and expressed strong support for institutions such as the International Court of Justice and the International Criminal Court for International conflict resolution.
He said international trade and economic diplomacy were the main focus of "our foreign policy."
"We have to expand our trade; we have to innovate; we have to industrialise in order to lift our people out of poverty.
"We are striving to increase bilateral trade with all your countries very often within the framework of a bilateral commission."
The minister disclosed that the ministry was building an online business machine portal to promote and facilitate cross-border trade.
According to him, global climate action has posed a lot of threat to lives.
He said the Lake Chad which had been a major source of livelihood for more than 30 million people, had shrunk by 90 per cent due to climate change.
He noted that irregular migration has been condemned and possible measures have been put in place to address it.
On border closure, the minister said the issue would be resolved very soon and that it would be a win-win situation for stakeholders.
He thanked the diplomats for their support and assured them of the Nigeria's continued support.
(NAN)
Buhari Embarks on First 2020 Foreign Trip, Departs for UK Today
President Muhammadu Buhari will depart Abuja on Friday for London to participate in the inaugural UK-Africa Investment Summit holding on January 20.
The President's Special Adviser on Media and Publicity, Femi Adesina, in a statement in Abuja on Thursday, said the event would be hosted by the British Prime Minister, Boris Johnson.
The organisers said the event is expected to bring together African leaders, international business chief executives and heads of international organisations "to create new partnerships that will deliver more investments and jobs" to the benefit of people and businesses in African countries and the United Kingdom.
"Apart from highlighting new perspectives on UK-Africa Partnership for Prosperity, issues of Sustainable Finance and Infrastructure; Trade and Investment; Future African Growth Sectors and Clean Energy and Climate, are expected to dominate presentations and discussions during the Summit.
"With the expected take-off of the African Continental Free Trade Area (AfCFTA) in mid-2020, the London investment summit will provide Nigeria with the opportunity to project itself as a leading investment destination for new industries.
"In addition, the summit will deepen Nigeria-United Kingdom investment ties post-Brexit given that Africa currently represents just two per cent of British trade activity, with Nigeria accounting for only 10 per cent of that total," Mr Adesina stated.
He further disclosed that the Nigerian delegation to the investment meeting will showcase what the federal government had done through policies and legislation to improve the investment and business climate in the country.
While in the United Kingdom, the presidential aide said, Mr Buhari will meet with the Head of the Commonwealth, Prince Charles in Glasgow, Scotland.
"The president and his delegation will also have bilateral meetings with Prime Minister Johnson as well as heads of multilateral organisations," he added.
He said the president would be accompanied to the Summit by Governors Yahaya Bello, Muhammad Inuwa Yahaya and Okezie Ikpeazu of Kogi, Gombe and Abia States, respectively.
Also on the presidential entourage are the Minister of Foreign Affairs, Geoffrey Onyeama; Minister of Industry, Trade and Investment, Niyi Adebayo, and the Minister of Finance, Budget and National Planning, Zainab Ahmed.
Others include the National Security Adviser (NSA), Babagana Monguno, and the Director General of the National Intelligence Agency (NIA), Ahmed Rufai Abubakar.
Mr Buhari is expected back in Abuja on Thursday.
(NAN)
Power Grid Collapses Twice in Two Hours, Worsens Nationwide Blackout
The nation's power grid collapsed twice in two hours on Thursday, worsening the blackout being experienced by consumers in parts of the country.
The grid, which is being managed by government-owned Transmission Company of Nigeria, has continued to suffer system collapse over the years amid a lack of spinning reserve that is meant to forestall such occurrences.
The TCN announced that a system disturbance occurred at about 12.34pm on Thursday, affecting some parts of the country.
"As at 1:10pm, supply was restored to Abuja and most parts of the affected areas. The TCN is still working to completely restore and stabilise the nation's grid," it said.
Ikeja Electric and Eko Electricity Distribution Company, two of the nation's distribution companies, had earlier on Twitter informed their customers about the cause of the outage in Lagos.
"Dear customer, the outage you're experiencing is due to a system collapse of the grid which occurred this afternoon at 12.36hrs. All parts of IE's network are affected. Efforts are ongoing to restore the grid. Kindly bear with us," Ikeja Electric said.
The Disco, in another tweet two hours later, said another system collapse was recorded at 2.15pm, adding that restoration efforts were ongoing.
Total power generation in the country stood at 4,236.3 megawatts as of 6am on Wednesday, according to latest data from the Nigerian Electricity System Operator.