The Gift of Pain: Maximizing Adversity As a Builder!
By Tolulope A. Adegoke
"Adversity is an adventure that develops a 'venture' at the junctures of 'what' would have destroyed the structures of your purpose on this plane called Earth, but eventually turns out to be a weapon and a builder towards fulfilling your destiny and lifting the weights of glory! How you see situations or challenges and confront them matters, and they are functions of your mindset as a being called MAN. You determine what (must) come out of it! Adversities are surmountable! You are the actor in the picture. Your posture influences the picture. I charge you to BE THE HERO, not a 'zero'! So, maximize the scenarios in your favour! It is, therefore:
Acutely advertising
Destructible!
Vulnerable!
Episodic!
Revival!
Surmountable!
Impactful!
Terrifying! But, it is all about
YOU and what's in you! " —Tolulope A. Adegoke
John 16:33 (NKJV): 'These things I have spoken unto you, that in me ye might have peace. In the world ye shall have tribulation, but be of good cheer; I have overcome the world. '
Romans 8: 37: 'Nay, in all these things, we are more than conquerors. ' (NKJV)
ADVERSITY is a builder. It is to a man what fire is to gold! Fire purges, melts, heats the gold, and makes it SHINE!
It is the way that a man sees adversity that he gets from it. If you take it to be a builder or ladder, it would build and lift you (vis-à-vis).
It is the challenge that comes one's way that brings out either the best or worst character in a man.
Winners today were once failures, but they were determined enough through the order of divine grace and strong-will to face it all and breakthrough, which eventually culminated in them being globally celebrated in their areas of calling!
It is the same adversity that breaks one person, that builds another! It all depends on the way we manage and wire our mental and spiritual focus. You either rise up or succumb to the pressures that come with adversity! It is left for you to pick yourself up, bounce-back like a palm tree, and encourage yourself to surmount the mountain (s) before you! Once the mountain is surmounted, you enter into glory.
Adversity is what builds our spiritual and physical muscles, so as for us to be fit enough to bear or carry the weight of glory.
Adversity is like an examination for a student; it gives him promotion or demotion, which is determined by his level of preparation and his level of mindset towards becoming a victor or victim, hero or zero!
It is based on our individual levels of reactions to 'adversity' that gives us the edge in surmounting it. It can make or mar you. It can make you in the sense that, if you embrace it with rugged faith, then, you will come out strong; but, if you submit to it, it will crush you. Kindly permit me to say that Dr Yomi Garnett, Yinka Oba, Fela Durotoye, Strive Masiyiwa, among others, are living proof [you could ask to interview them in person about how true this is.]. Even so, the testimonies of Job, Joseph, Paul the Apostle, and others in the Holy Bible lingers on and on.
You must not see ADVERSITY as a problem, but a challenge that must be confronted with hope, faith, love, and hard & smart work to conquer, which are the courageous weapons for success that lead to greatness in the face of tribulations, no matter how many times they come.
You must always see yourself on the other side of it. What you see attracts what you get!
A wise man once asked his children: Can you say a professor is a failure? They replied, "NO! The father responded: Wole Soyinka failed the West African Senior Secondary Certification Examination nine (9) times… The children screamed! But can you still call him a failure today? No, the children replied… The father then asked why? Then, the children responded, 'because he confronted his fears and was determined enough to overcome them by hard work and with the influence of divine grace… and eventually succeeded.'
The moral of this illustration is that you are not a failure until you give up!
Today, you call him Prof. Wole Soyinka (a hero), but as at the time he was failing WAEC, most people called him a dullard (a zero).
Adversity is a ladder to greater levels of glory!
You cannot get your reward until you finish your course!
You can not get your crown until you are done with the cross!
No guts, no glory! You cannot overcome the wilderness until you grow wild!
You cannot get through to the promised land until you are completely processed (refined)!
No gold ever shines without passing through the furnace!
You cannot become more until you've been mocked!
You cannot have your prizes until you have fully paid your prices! What we regard as adversity is a setup for us to overcome and step up! It is a junction or curve on our journey to fulfilling our destiny! Don't interrupt the processes of growth and sustainable development.
Adversity is an examination in disguise to build our muscles so as to be fit enough to carry or bear the weight of GLORY!
Therefore, adversity is:
Acutely advertising
Destructible!
Vulnerable!
Episodic!
Revival!
Surmountable!
Impactful!
Terrifying! But, it is all about
THANK YOU! You determine what must come out of it! Adversities are surmountable! You are the actor in the picture. I charge you to BE THE HERO!
You are not a failure until you give up! Adversity unveils us to realms of glory! It compels us to aim higher, while it charges us to take the stairs!
Dr. Martin Luther King Jnr. reveals that: 'The ultimate measure of a man is not where he stands in moments of comfort and convenience, but where he stands at times of challenge and controversy!'
It is not easy to be EASY. We must be determined, we must work and do our best to escape genuinely, but only God can deliver us from all uneasiness. Only God gives us the grace to overcome all odds!
Stop being frustrated when you are confronted with challenges. Rather, engage in audacious faith to confront and conquer your fears! It is a revival, and you are in for a revolution that will propel the required evolution. Adversity is an advanced citadel of learning in disguise! I call it the advanced 'universe's-city', where reality poses a great threat, just like examinations within the four walls of a university.
Thank you all for reading this #EpistleForChampions
Four Children Who Died After Eating Suya Buried in Umuahia
Tears flowed on Saturday as four of the seven children who died after allegedly eating Suya were buried in Umuahia, the Abia State capital.
The four victims are Kelechi Chibuzor, 12; Sunday Chibuzor, 10; Oluomachi Chibuzor, 8; and Kingsley Chibuzor, 3.
The children died on August 25.
PUNCH Metro learnt that the actual cause of the death was still being investigated.
Speaking at their funeral on Saturday, the Bishop of Goodnews Pentecostal Church, Umuahia, Ugochukwu Ogbonna, urged their parents to take heart.
While speaking on the topic, 'The journey of this life and the call of eternity,' Ogbonna maintained that everyone is a sojourner on earth and no one knows when he will die.
The cleric lauded the victims' father, Ikwunze Chibuzor, and his wife, for showing the kids the way of the Lord, as he prayed God to grant their souls peaceful rest.
In his remarks, the President General of Ohuhu, Chief Obi Aguocha, urged the parents and relatives of the kids to be strong at their difficult time.
He said, "It is painful to wake up one day and lose your entire family. People lose one or two, but not four. It should not happen again.
"Children are supposed to bury their parents; but their father is giving back to God what He gave to him."
He disclosed that the clan gave the family the sum of N4.8m "and something else for the children that would come afterwards."
While appealing to the bereaved couple to see their fate as the beginning of a new life, he called on members of the community not to forget the family.
At the funeral, a member representing the Ikwuano/Umuahia Federal Constituency at the National Assembly, Ifeanyi Onuigbo, who was represented by Henry Eleogu, promised to stand by the family, just as he prayed God to grant them the fortitude to bear the loss.
Speaking, the bereaved father, Ikwunze, thanked all those who supported his family through financial means and words of encouragement.
He revealed that amid speculations that his kids died after eating Suya or inhaling generator fumes, autopsy results on the deaths would be out in the next two weeks.
The Punch
Police Arrest Killers of Na'Allah's Son, Greenfield University, Bethel Baptist Students' Abductors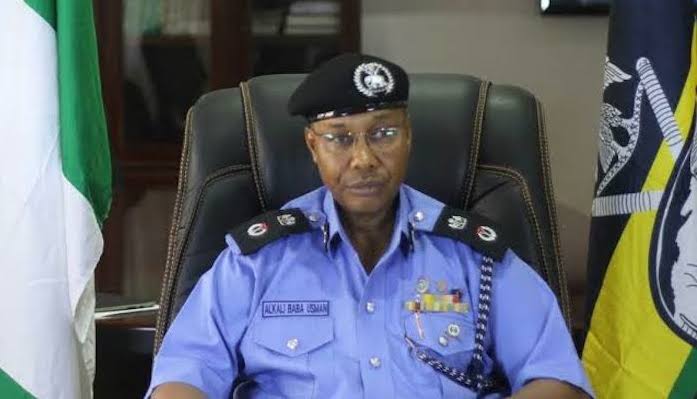 The Kaduna State Police Command on Thursday said it arrested kidnappers of students of Greenfield University and students of the Bethel Baptist High School, all in the state.
Also in the police net are kidnappers of the 37 students of the Federal College of Forestry Mechanisation, Afaka, in Igabi LGA of Kaduna State.
Both the Greenfield University and the Baptist Bethel High School are located in Chikun LGA of the state.
While parading suspects on Thursday at the Command's Headquarters along Bida Road in the state capital, the Command's spokesman, Mohammed Jalige, also announced the arrest of the suspected killers of 36-year-old Captain Abdulkareem Na'Allah, a pilot and son of Senator Bala Na'Allah.
Jalige said one Usman Mohammed from Bukuyum in Zamfara State was apprehended by operatives of the command in connection with the kidnap of the students of Greenfield University, Federal College of Forestry Mechanisation, Afaka, as well as Bethel Baptist High School, all in the state.
He said, "On the 29th August, 2021 at about 0900hrs, based on credible information, Operation Yaki Surveillance team with FIB STS Force Headquarter, Abuja, jointly raided a house along Ring Road, Asikolaye area of Kaduna, where one Usman Abubakar, 'm' 41 years old, a native of Adakpa village, Bukkuyum LGA of Zamfara State, a notorious kidnapper terrorising Chikun, Igabi and Giwa LGAs of Kaduna State, was arrested.
"He confessed to have kidnapped many people and collected several ransoms; he also has links with recent attacks on Greenfield University, Bethel Baptist Academy and School of Forestry Mechanisation, Mando, Kaduna."
Speaking on the killers of Na'Allah's son, the police spokesman noted that two of the three members of the gang that killed the pilot were in the custody of the command while one was at large.
He named one Bashir Mohammed, a neighbour of the slain pilot as principal suspect, while identifying another suspect as Nasir Salisu, also known as Uban Dana, adding that the third suspect, one Usman Kano, was at large.
Jalige explained that the three suspects conspired, broke into the house of Captain Abdulkarim and killed him before taking away his SUV vehicle and other valuables.
He added that the suspects sold the late pilot's SUV vehicle in Republic of Niger at the cost of N1m.
The Punch
Benin Woman Who Had Three Children with Her Son, Deported
There are indications that the Benin Republic woman, who allegedly had three children for her son and has been sexually involved with another, has been deported.
Fati Sime was deported along with her first son, Adamu, with whom she allegedly had three children.
However, the second son, who reportedly caught his brother in a sex act with their mother in their farm in the Kiama area of Kwara State and out of jealousy provoked a fight that blew opened the scandal, has been on the run.
Operatives of the Nigeria Security and Civil Defence Corps (NSCDC), Kwara State Command, had arrested Fati and her son on the allegation of incest.
The arrest followed a complaint lodged by the district head of Mose community in Kaima Local Government Area.
Spokesman for Kwara State Command of the NSCDC, Babawale Afolabi, confirmed that the incestuous relationship between Fati and her son, Adamu had resulted in the birth of three children.
That is besides the 11 children she had for her husband, Adamu's father.
Afolabi, while confirming the deportation of the incestuous duo, said: "Fati and her first son, Adamu, were deported on the directive of the Commandant after the investigation, and handed over to the Benin Republic operatives at the border.
"But during investigation, Adamu confessed that he has been having carnal knowledge of his mother for seven years."
Meanwhile, he second son, had in a fit of jealousy provoked a fight when he discovered his mother and brother engaged in a sex romp in their farm.