The Gift of Pain: Maximizing Adversity As a Builder!
By Tolulope A. Adegoke
"Adversity is an adventure that develops a 'venture' at the junctures of 'what' would have destroyed the structures of your purpose on this plane called Earth, but eventually turns out to be a weapon and a builder towards fulfilling your destiny and lifting the weights of glory! How you see situations or challenges and confront them matters, and they are functions of your mindset as a being called MAN. You determine what (must) come out of it! Adversities are surmountable! You are the actor in the picture. Your posture influences the picture. I charge you to BE THE HERO, not a 'zero'! So, maximize the scenarios in your favour! It is, therefore:
Acutely advertising
Destructible!
Vulnerable!
Episodic!
Revival!
Surmountable!
Impactful!
Terrifying! But, it is all about
YOU and what's in you! " —Tolulope A. Adegoke
John 16:33 (NKJV): 'These things I have spoken unto you, that in me ye might have peace. In the world ye shall have tribulation, but be of good cheer; I have overcome the world. '
Romans 8: 37: 'Nay, in all these things, we are more than conquerors. ' (NKJV)
ADVERSITY is a builder. It is to a man what fire is to gold! Fire purges, melts, heats the gold, and makes it SHINE!
It is the way that a man sees adversity that he gets from it. If you take it to be a builder or ladder, it would build and lift you (vis-à-vis).
It is the challenge that comes one's way that brings out either the best or worst character in a man.
Winners today were once failures, but they were determined enough through the order of divine grace and strong-will to face it all and breakthrough, which eventually culminated in them being globally celebrated in their areas of calling!
It is the same adversity that breaks one person, that builds another! It all depends on the way we manage and wire our mental and spiritual focus. You either rise up or succumb to the pressures that come with adversity! It is left for you to pick yourself up, bounce-back like a palm tree, and encourage yourself to surmount the mountain (s) before you! Once the mountain is surmounted, you enter into glory.
Adversity is what builds our spiritual and physical muscles, so as for us to be fit enough to bear or carry the weight of glory.
Adversity is like an examination for a student; it gives him promotion or demotion, which is determined by his level of preparation and his level of mindset towards becoming a victor or victim, hero or zero!
It is based on our individual levels of reactions to 'adversity' that gives us the edge in surmounting it. It can make or mar you. It can make you in the sense that, if you embrace it with rugged faith, then, you will come out strong; but, if you submit to it, it will crush you. Kindly permit me to say that Dr Yomi Garnett, Yinka Oba, Fela Durotoye, Strive Masiyiwa, among others, are living proof [you could ask to interview them in person about how true this is.]. Even so, the testimonies of Job, Joseph, Paul the Apostle, and others in the Holy Bible lingers on and on.
You must not see ADVERSITY as a problem, but a challenge that must be confronted with hope, faith, love, and hard & smart work to conquer, which are the courageous weapons for success that lead to greatness in the face of tribulations, no matter how many times they come.
You must always see yourself on the other side of it. What you see attracts what you get!
A wise man once asked his children: Can you say a professor is a failure? They replied, "NO! The father responded: Wole Soyinka failed the West African Senior Secondary Certification Examination nine (9) times… The children screamed! But can you still call him a failure today? No, the children replied… The father then asked why? Then, the children responded, 'because he confronted his fears and was determined enough to overcome them by hard work and with the influence of divine grace… and eventually succeeded.'
The moral of this illustration is that you are not a failure until you give up!
Today, you call him Prof. Wole Soyinka (a hero), but as at the time he was failing WAEC, most people called him a dullard (a zero).
Adversity is a ladder to greater levels of glory!
You cannot get your reward until you finish your course!
You can not get your crown until you are done with the cross!
No guts, no glory! You cannot overcome the wilderness until you grow wild!
You cannot get through to the promised land until you are completely processed (refined)!
No gold ever shines without passing through the furnace!
You cannot become more until you've been mocked!
You cannot have your prizes until you have fully paid your prices! What we regard as adversity is a setup for us to overcome and step up! It is a junction or curve on our journey to fulfilling our destiny! Don't interrupt the processes of growth and sustainable development.
Adversity is an examination in disguise to build our muscles so as to be fit enough to carry or bear the weight of GLORY!
Therefore, adversity is:
Acutely advertising
Destructible!
Vulnerable!
Episodic!
Revival!
Surmountable!
Impactful!
Terrifying! But, it is all about
THANK YOU! You determine what must come out of it! Adversities are surmountable! You are the actor in the picture. I charge you to BE THE HERO!
You are not a failure until you give up! Adversity unveils us to realms of glory! It compels us to aim higher, while it charges us to take the stairs!
Dr. Martin Luther King Jnr. reveals that: 'The ultimate measure of a man is not where he stands in moments of comfort and convenience, but where he stands at times of challenge and controversy!'
It is not easy to be EASY. We must be determined, we must work and do our best to escape genuinely, but only God can deliver us from all uneasiness. Only God gives us the grace to overcome all odds!
Stop being frustrated when you are confronted with challenges. Rather, engage in audacious faith to confront and conquer your fears! It is a revival, and you are in for a revolution that will propel the required evolution. Adversity is an advanced citadel of learning in disguise! I call it the advanced 'universe's-city', where reality poses a great threat, just like examinations within the four walls of a university.
Thank you all for reading this #EpistleForChampions
Court Sentences Dismissed Sergeant to Death by Hanging for Killing Driver over N100
A High Court in Port Harcourt, Rivers State, has sentenced a dismissed police sergeant, James Imhalu, to death by hanging for the murder of a commercial driver in 2015 over his refusal to pay a bribe of N100.
Justice Elsie Thompson, while delivering her judgment, said evidence before the court showed that the sacked sergeant intentionally fired a shot at the commercial driver, Legbara David, at Whimpey Junction, Port Harcourt.
Justice Thompson described Imhalu as a serial trigger-happy policeman who should not be allowed to remain in the society.
The prosecution counsel, Kingsley Briggs, said the judgement would serve as succour to the deceased's family.
"Although the will of justice grinds slowly, surely justice will come.
"For the family of those that lost their breadwinner, it is quite unfortunate. But I believe this judgement will serve as succour to the family," he stated.
On his part, a representative of the Legal Aid Council in Rivers State, who defended the sergeant, Mr Awaji, said his team would study the judgement to know the next line of action.
He said, "Today's judgement I will say is justice for the people of Rivers State.
"Despite the fact that I represented the defendant, my analysis of the case when I came into the matter, I would say, I saw it coming.
"Having listened to the judgement, currently, there is no plan to go on appeal. But by the time we look at the judgement in-depth, perhaps we will find grounds for appeal. But as it is, there is no plan to go on appeal."
The Punch
LASTMA Denies Involvement in Burning of Bus, Warns Against Attack on Personnel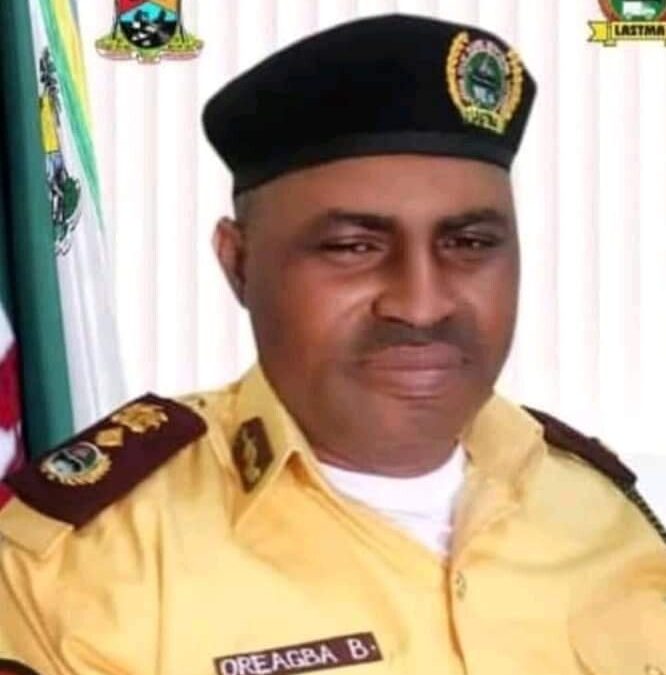 The Lagos State Traffic Management Authority (LASTMA) has denied reports making the rounds that its personnel were involved in the burning of a bus at the Obanikoro bus stop, Ikorodu Road. The Authority, while asking residents to desist from attacking LASTMA officials, stated that the report was the handiwork of an uninformed blogger.
Buttressing the facts of the matter in a statement signed by the Asst. Director, Public Affairs, Filade Olumide, and made available to the National Association of Online Security News Publishers (NAOSNP), the Authority hinted that "LASTMA Management after due diligence on the video, sympathise with the vehicle owner, but categorically deny complicity of any of its officers in the incidence portrayed on the video" while regretting that "…one of the LASTMA patrol officers offering helping hand with the burning vehicle was severely injured by uncalled-for mob action which seems to be occurring nowadays at the slightest alarm."
The statement also condemned the shallow portrayal of the allegation as the picture evidence did not depict the allegation against its officials.
"The video report lacked pictorial evidence of LASTMA officers' complicity; those interviewed were neither eye witnesses nor people directly involved in the incident, rather, they were people living within the inside street, close to the scene of the incidence on Ikorodu Road. Their evidences were hear-says' and limited to after the arrival of security agencies officials to maintain law and order, after attacks on one of the LASTMA officials and also the Fire Fighters that were there to render assistance in putting out the fire in the vehicle," the statement read.
It added that:
"LASTMA officials do not operate within side street and over time, the State Government has announced zero tolerance to attack on its officials while performing their duties as enshrined in the laws or as directed.
"We wish to reiterate that LASTMA personnel must not be attacked/assaulted while performing their duties or rendering service to the public.
"The LASTMA management also use this opportunity to advise reporters/bloggers to endeavour to conduct proper investigation and present facts rather than sentiments in their reportage for a peaceful and orderly society."
Ondo Amotekun Arrests Suspected Masterminds of Owo Church Massacre
The Ondo State Security Network Agency, codenamed "Amotekun Corps" has confirmed that some suspects have been arrested in connection with the terrorist attack on St. Francis Catholic Church, Owo.
The suspected terrorists invaded the church on June 5, killing no fewer than 40 people and injuring many other worshippers.
The state Commander of Amotekun, Adetunji Adeleye, on Thursday said some suspects had been arrested in connection with the killing.
He stated this while parading some 71 men who were arrested for various criminal activities across the state.
He, however, did not give the actual figure of the suspected terrorists arrested, but expressed assurance that all the attackers of the worship centre would be apprehended.
The Amotekun boss said, "As regards the Owo incident, we have recovered the last vehicle they used for that operation and we made some arrests, and we have also recovered some vital things which we are working on.
"A number of people have been arrested concerning the Owo issue as well as a number of equipment. On that day, we pursued them to the point that we recovered the vehicle and we are still pursuing them. We have told you that until we get to the root, I can assure you that the perpetrators and their sponsors will be brought to book."
On the 71 suspected criminals paraded at the headquarters of the command in Akure, the state capital, Adeleye explained that the suspects were arrested within the last one month for various offenses ranging from armed robbery, cattle rustling, kidnapping, raping, fraud and human trafficking.
"The 71 suspects were picked while committing offences and others were tracked to their hideouts in the forests. We have been able to get a cartel that specialises in stealing and dismantling motorbikes which we all know as okada. Also, we were able to recover over 50 bikes during the operation from these criminals.
"We also got reports from some herdsmen that their cattle were stolen. We went after them and brought the cows back to the Fulani herdsmen that owned the cow. We have a group of small boys who are under 18-year old that turned themselves into a cartel of criminals in a particular local government in Ondo State and armed themselves. They actually belong to a cult group called 'Agbado'. We were able to arrest 12 out of the 17 members.
"We have about three to four suspected kidnappers and we intend to take most of these suspects, especially the ones we have concluded their investigations to the DPP and for their onward prosecution in court."
He assured the people of the state that the corps would not rest on its oars until it rids the state of criminal elements, saying, "there is no hiding place for them. They turned the heat on us and we have also turned the heat on them."
The Punch