Those Who Raped, Killed UNIBEN Undergraduate Will Be Arrested, Says Adeboye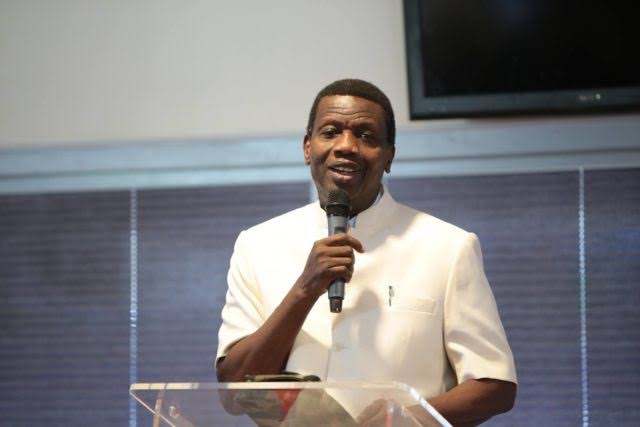 The General Overseer of the Redeemed Christian Church of God (RCCG), Enoch Adeboye, on Sunday, reacted to the reported rape and subsequent death of a University of Benin (UNIBEN) undergraduate, Vera Omozuwa.
The crime reportedly took place inside a hall of one of the parishes of the RCCG on Ikpoba Hill, Benin city.
Mr Adeboye, in a statement posted on his official Facebook page late Sunday, commiserated with the family and also said the RCCG management would cooperate fully with the police to unravel the crime and arrest the perpetrators.
PREMIUM TIMES quoted the police in Edo State as saying "they are searching for people who might have witnessed the assault that led to the death of a female student of the University of Benin (UNIBEN), Edo State."
Preliminary reports indicate that the victim, a 100-level student, was beaten inside a hall in the said parish, where she had gone to study.
The 23-year-old died on May 31, 18 days after, at the University of Benin Teaching Hospital.
"As at the day of the incident, she was in a coma, so the police could not obtain a statement from her on what happened," the police spokesperson in Edo, Chidi Nwabuzor, told PREMIUM TIMES, Sunday evening.
"It's unfortunate that no person is coming out as an eyewitness (witness) to give (an) account of what happened," he added.
The university had earlier expressed shock at the development.
RCCG reacts
"All I can do at this time is to pray for the family of Omozuwa and do everything possible working with relevant authorities to bring the perpetrators to book," Mr Adeboye, a former lecturer, said. "I and members of my family condemn this act strongly and urge everyone to stay calm as we are already looking into the matter and cooperating with the police to establish the facts of the shocking situation… #justiceforuwa."
The hashtag, #justiceforuwa is currently trending on social media networks with hundreds of Nigerians calling for an efficient investigation and arrest and conviction of the perpetrators.
Sexual assault, rape and murder are prominent crimes security operatives in Nigeria continue to battle weekly in many states across the country.
Getting justice for rape victims, in particular, is usually a herculean task due to the less than efficient investigation and judicial process.
Premium Times
See Full List of 14 Countries Lagos Placed on COVID Watch List
The Lagos government has placed 14 countries on its COVID-19 watchlist as a measure to prevent a third wave of infections in the state.
Akin Abayomi, Lagos commissioner for health, said this on Wednesday at a media briefing to highlight the state's COVID-19 third wave mitigation strategy.
He noted that the Lagos state government is outlining measures that will guide the management of inbound passengers of interest (POIs) from other countries.
The commissioner explained that travellers coming from other countries into Lagos have been classified into three groups — the red countries, the amber countries, and the green countries.
According to him, India, Brazil and Turkey where new variants of COVID are causing an increase in infection rate are as the 'red countries'.
"From the Lagos perspective, we're also looking at what we describe as Amber Colour countries, where we know that mutants are circulating. And this is important for us to be able to define how strict our monitoring of your isolation at home and how your testing is performed. We are monitoring countries where we know the mutants are circulating, but the situation is still severe," he said.
According to him, the 'amber countries' are Canada, US, France, Germany, Netherlands, Togo, Ghana, Cameroun, Angola, South Africa, Kenya, Uganda, Tanzania, and Rwanda.
He listed the 'green countries' as countries with no records of variants from red countries and no clear increase in the number of daily confirmed cases.
"Our protocol for management of inbound passengers from the Red Countries will include: a mandatory PCR test 72 hours before departure, PCR test post arrival and a 14-day isolation in a government approved facility paid for by the passenger," he said.
"Passengers of interests from the Amber Countries are also required to do PCR test 72 hours before departure, PCR test post arrival and a mandatory seven days isolation at home which will be monitored by our logistics, surveillance and EkoTELEMED teams."
TheCable
Former Defence Chief, General Joshua Dogonyaro Dies at 80
Lt. General Joshua Nimyel Dogonyaro (Rtd) is dead.
The officer, who heralded and read the coup speech that ended the regime of Nigeria's current President, General Muhammadu Buhari (Rtd) and brought General Ibrahim Babangida (Rtd) to power on August 27 1985 died in Jos, Thursday morning after a brief illness.
He turned 80 on 12 September 2020. General Dogonyaro was a former Chief of Defence Staff and is survived by his wife Zainab Esther Dogonyaro and seven children.
Let's Pray Against Kidnapping, Banditry – Buhari Urges Nigerians
President Muhammadu Buhari has urged Nigerians, irrespective of religious affiliation, to pray against kidnapping and banditry.
In recent times, there has been a spate of killings, kidnapping and banditry in different parts of the country.
The president, in a statement to celebrate the Eid festival, noted that the country can overcome its problems if Nigerians come together.
Buhari urged Nigerians to ignore those using religion as a tool of division for their own "selfish advantages".
"On this blessed occasion, I wish that the Eid festival brings with it peace, safety, security, brotherhood and love amongst all," Buhari said in a statement released by Garba Shehu, presidential aide, on Wednesday.
"Unity and solidarity among all citizens, Muslims and Christians are imperative especially at a time when our country is faced with multiple challenges which are surmountable only when we come together as one.
"It is important that we remember how we share, through our faiths, common bonds that should serve to unite us and not allow ourselves to succumb to those who seek to divide us, using our two great religions, for their own selfish advantages.
"We should jointly pray against the tragic incidents of kidnapping and banditry and the desperate quest for political power expressed through blackmail against the existence of our country as a united entity.
"We must resist the temptation to retreat into our communities. I urge our political and religious leaders as well as traditional rulers to encourage our citizens to turn towards one another in love and compassion."
The president advised Nigerians to continue to observe the COVID-19 measures, amid the celebration.