Tony Elumelu: Turning Africa into One Independent Entrepreneurial Village
By Eric Elezuo
"Everything I have today is because of Africa, I was born here, went to school here, I work here and I'm achieving some level of financial comfort here."
That is vintage Tony Elumelu, the Chairman of Heirs Holdings, the United Bank for Africa, Transcorp and founder of The Tony Elumelu Foundation. A Nigerian national honours holder, the Commander of the Order of Nigeria (CON), and Member of the Order of the Federal Republic (MFR). He has just successfully held the fourth edition of his annual Tony Elumelu Foundation Entrepreneurial Forum with about 54 African countries participating.
Born Tony Onyemaechi Elumelu on March 22, 1963, in Jos, Nigeria, the economist by training, visionary entrepreneur and philanthropist, acquired and turned Standard Trust Bank into a top-five player in Nigeria. In 2005, his corporate reputation as an African business leader was sealed when he led the largest merger in the banking sector in Sub-Saharan Africa to acquire United Bank for Africa (UBA). In five years, he transformed it from a single-country bank to a pan-African institution with over seven million customers in nineteen African countries.
In 2011, New African magazine listed him as one of the 100 most influential people in Africa, and a year later (2012), he was recognised as one of "Africa's 20 Most Powerful People" by Forbes Magazine.
Following his retirement from UBA in 2010, Elumelu founded Heirs Holdings, which invests in the financial services, energy, real estate and hospitality, agribusiness, and healthcare sectors. In the same year, he established the Tony Elumelu Foundation, an Africa-based and African-funded philanthropic organisation dedicated to the promotion of excellence in business leadership and entrepreneurship, and to enhancing the competitiveness of the private sector across Africa.
His stated objective at the formation of Tony Elumelu Foundation was to "prove that the African private sector can itself be the primary generator of economic development." The Foundation is charged with the mission of driving Africa's economic development by enhancing the competitiveness of the African private sector. As a premier pan-African-focused not-for-profit institution, the Tony Elumelu Foundation is dedicated to the promotion and celebration of entrepreneurship and excellence in business leadership across the continent, with initiatives like The Tony Elumelu Entrepreneurship Programme (TEEP).
In a bid to expand his conglomerate as well as his business horizon, in 2011, through Heirs Holdings, he acquired a controlling interest in the Transnational Corporation of Nigeria Plc (Transcorp), a publicly quoted conglomerate that has business interests in the agribusiness, energy, and hospitality sectors. Elumelu was subsequently appointed chairman of the corporation.
His enterprise is not limited to self financed enterprises as he serves as an advisor to the USAID's Private Capital Group for Africa (PCGA) Partners Forum. He also sits on the Nigerian President's Agricultural Transformation Implementation Council (ATIC). He is also vice-chairman of the National Competitiveness Council of Nigeria (NCCN) whose formation he was a key driver in, and serves as Co-Chair of the Aspen Institute Dialogue Series on Global Food Security.
Elumelu additionally chairs the Ministerial Committee to establish world-class hospitals and diagnostic centres across Nigeria, at the invitation of the Federal Government and the Presidential Jobs Board, engineered to create 3 million jobs in one year. He also serves as a member of the Global Advisory Board of the United Nations Sustainable Energy for All Initiative (SE4ALL) and USAID's Private Capital Group for Africa Partners Forum.
One will not be wrong to address him as a philosopher as well as he is the originator of the term Africapitalism. According to him, Africapitalism is an economic philosophy that embodies the private sector's commitment to the economic transformation of Africa through long-term investments that create both economic prosperity and social wealth. Elumelu sees Africans taking charge of the value-adding sectors and ensuring that those value-added processes happen in Africa, not through nationalisation or government policies, but because there is a generation of private sector entrepreneurs who have the vision, the tools and the opportunity to shape the destiny of the continent. He insists that Africapitalism is not capitalism with an African twist; it is a rallying cry for empowering the private sector to drive Africa's economic and social growth.
Having studied under Professor Porter at Harvard Business School, Elumelu subscribes to Michael Porter's concept of Creating Shared Value (CSV). Professor Porter is the Founding Patron of The Tony Elumelu Foundation. In the same vein, CSV refers to the idea that "companies must take the lead in bringing business and society back together." It asserts that "businesses acting as businesses, not as charitable donors, are the most powerful force for addressing the pressing issues (society) face(s)."
In 2003, the Federal Government of Nigeria granted Tony Elumelu the title of Member of the Order of the Federal Republic (MFR), a national honour, and in 2006, he was voted African Business Leader of The Year by the Africa Investor magazine and was also recognised as  African Banker of the Year in 2008 by the African Banker magazine. In 2009, the Nigerian President Umaru Musa Yar'adua honoured him with a place on the Presidential Committee on the Global Financial Crisis.
In 2012, he was awarded the prestigious National Honour of Commander of the Order of the Niger (CON) for his service in promoting private enterprise. Apart from being recognised as one of "Africa's 20 Most Powerful People in 2012" by Forbes Magazine as well as being featured in the New African Magazine's list of the "100 Most Influential Africans in Business". He was awarded an honorary Doctorate of Science degree from the Benue State University and an honorary Doctorate of Business Administration from the University of Nigeria, Nsukka.
In 2013, Elumelu received the Leadership Award in Business and Philanthropy from the Africa-America Institute (AAI) Awards. He was also named African Business Icon at the 2013 African Business Awards.
In addition, ESI-Africa, frequently described as "Africa's power journal", named Elumelu in its 2015 'ESI Most Influential Figures in African Power' list, in January 2015.
Elumelu is not just a financial wizard; he also writes as well as provides incredible inspiration to writers. Some works that involves him include:
How to Excel at Work – Proven strategies for achieving superior work performance by Bili A. Odum -a book inspired by Elumelu's work ethics.
Elumelu has contributed to the Nigeria Leadership Initiative White Papers, writing on Leveraging private sector approaches in transforming government delivery.
The Power of Vision: Insights on Tony Elumelu is a testimonial compiled on the occasion of his retirement as Group Managing Director/Chief Executive Officer at the United Bank for Africa. It contains messages from Aliko Dangote, former Nigerian President Olusegun Obasanjo, Professor Michael Porter, former World Bank managing director and Nigeria's Minister of Finance, Ngozi Okonjo-Iweala, President of Sierra Leone; Ernest Bai Koroma, former United States Comptroller of the Currency, Eugene Ludwig and Sanusi Lamido Sanusi, former Governor of the Central Bank of Nigeria.
He has written about his philosophy and the economic development of Africa for several publications around the world including The Economist, the Wall Street Journal and Financial Times.
The TOE Way: A handbook that offers insights into Elumelu's philosophies, business practices, values and secrets of success, written by the man himself.
Tony Elumelu is happily married to Awele Vivian Elumelu, who he married in 1993, and they are blessed with five wonderful girls; Nneka, Ugo, Ogor, Oge and Onyinye.
Sir, for your steadfastness in business and transformation of lives as well as unleashing the Midas magic to anything you are involved in or touched, you deserve to be our Personality in Focus. Congratulations sir!
Nigeria Outlines Nine Focal Areas to Guide Foreign Policy in Next Four Years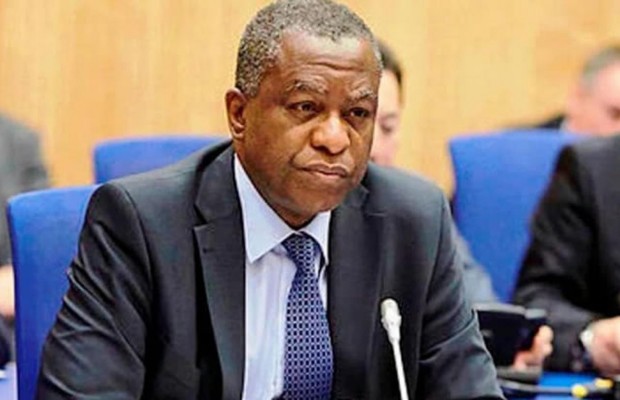 Nigeria has identified nine priority areas that would guide its foreign policy actions in the next four years.
The Minister of Foreign Affairs, Geoffrey Onyeama, made this known in Abuja while briefing members of the diplomatic corps on the priorities of the Nigerian government.
The priority areas include building a striving sustainable economy; enlarging agricultural output, food security and export; as well as attaining energy sustenance and power.
Others include expanding transport and other infrastructural products; expanding business growth entrepreneurship and industrialisation; expanding access to quality education, affordable healthcare and productivity of Nigeria; enhancing social inclusion, reducing poverty; fighting corruption; as well as improving governance and security for all.
News Agency of Nigeria (NAN) reports that in the first term of the present administration, the government's priority was in three key areas, namely: fighting corruption, tackling insecurity, and job creation.
He said Nigeria's foreign policy would henceforth be realistic in terms of reflecting the domestic reality of putting "Nigeria First".
"We promote within the African Union (AU) good governance, democracy, and protection of human rights.
"We are not in any kind of conflict with any country in the whole world and we have excellent relations with every member state of AU and UN.
"We believe firmly that peaceful coexistence and security are pre-conditions for economic development and prosperity.
"We believe that the UN and multilateralism are forces for good.
"We strongly support the UN, although we call for its reform especially to increase the number of its permanent members in its security council to include at least three African countries with veto powers," he added.
The minister said more funds should be made available for UN peace-keeping operations.
Mr Onyeama, who said that the UN was doing a great job across many countries of the world, urged countries to continue to abide by UN resolutions, not choosing which ones to respect and which not to respect.
He condemned the use of force for the settlement of disputes and expressed strong support for institutions such as the International Court of Justice and the International Criminal Court for International conflict resolution.
He said international trade and economic diplomacy were the main focus of "our foreign policy."
"We have to expand our trade; we have to innovate; we have to industrialise in order to lift our people out of poverty.
"We are striving to increase bilateral trade with all your countries very often within the framework of a bilateral commission."
The minister disclosed that the ministry was building an online business machine portal to promote and facilitate cross-border trade.
According to him, global climate action has posed a lot of threat to lives.
He said the Lake Chad which had been a major source of livelihood for more than 30 million people, had shrunk by 90 per cent due to climate change.
He noted that irregular migration has been condemned and possible measures have been put in place to address it.
On border closure, the minister said the issue would be resolved very soon and that it would be a win-win situation for stakeholders.
He thanked the diplomats for their support and assured them of the Nigeria's continued support.
(NAN)
Buhari Embarks on First 2020 Foreign Trip, Departs for UK Today
President Muhammadu Buhari will depart Abuja on Friday for London to participate in the inaugural UK-Africa Investment Summit holding on January 20.
The President's Special Adviser on Media and Publicity, Femi Adesina, in a statement in Abuja on Thursday, said the event would be hosted by the British Prime Minister, Boris Johnson.
The organisers said the event is expected to bring together African leaders, international business chief executives and heads of international organisations "to create new partnerships that will deliver more investments and jobs" to the benefit of people and businesses in African countries and the United Kingdom.
"Apart from highlighting new perspectives on UK-Africa Partnership for Prosperity, issues of Sustainable Finance and Infrastructure; Trade and Investment; Future African Growth Sectors and Clean Energy and Climate, are expected to dominate presentations and discussions during the Summit.
"With the expected take-off of the African Continental Free Trade Area (AfCFTA) in mid-2020, the London investment summit will provide Nigeria with the opportunity to project itself as a leading investment destination for new industries.
"In addition, the summit will deepen Nigeria-United Kingdom investment ties post-Brexit given that Africa currently represents just two per cent of British trade activity, with Nigeria accounting for only 10 per cent of that total," Mr Adesina stated.
He further disclosed that the Nigerian delegation to the investment meeting will showcase what the federal government had done through policies and legislation to improve the investment and business climate in the country.
While in the United Kingdom, the presidential aide said, Mr Buhari will meet with the Head of the Commonwealth, Prince Charles in Glasgow, Scotland.
"The president and his delegation will also have bilateral meetings with Prime Minister Johnson as well as heads of multilateral organisations," he added.
He said the president would be accompanied to the Summit by Governors Yahaya Bello, Muhammad Inuwa Yahaya and Okezie Ikpeazu of Kogi, Gombe and Abia States, respectively.
Also on the presidential entourage are the Minister of Foreign Affairs, Geoffrey Onyeama; Minister of Industry, Trade and Investment, Niyi Adebayo, and the Minister of Finance, Budget and National Planning, Zainab Ahmed.
Others include the National Security Adviser (NSA), Babagana Monguno, and the Director General of the National Intelligence Agency (NIA), Ahmed Rufai Abubakar.
Mr Buhari is expected back in Abuja on Thursday.
(NAN)
Power Grid Collapses Twice in Two Hours, Worsens Nationwide Blackout
The nation's power grid collapsed twice in two hours on Thursday, worsening the blackout being experienced by consumers in parts of the country.
The grid, which is being managed by government-owned Transmission Company of Nigeria, has continued to suffer system collapse over the years amid a lack of spinning reserve that is meant to forestall such occurrences.
The TCN announced that a system disturbance occurred at about 12.34pm on Thursday, affecting some parts of the country.
"As at 1:10pm, supply was restored to Abuja and most parts of the affected areas. The TCN is still working to completely restore and stabilise the nation's grid," it said.
Ikeja Electric and Eko Electricity Distribution Company, two of the nation's distribution companies, had earlier on Twitter informed their customers about the cause of the outage in Lagos.
"Dear customer, the outage you're experiencing is due to a system collapse of the grid which occurred this afternoon at 12.36hrs. All parts of IE's network are affected. Efforts are ongoing to restore the grid. Kindly bear with us," Ikeja Electric said.
The Disco, in another tweet two hours later, said another system collapse was recorded at 2.15pm, adding that restoration efforts were ongoing.
Total power generation in the country stood at 4,236.3 megawatts as of 6am on Wednesday, according to latest data from the Nigerian Electricity System Operator.