Unity Bank Unveils New Code on USSD Platform to Combat E-Banking Fraud
In a bid to safeguard its e-banking platforms with enhanced safety and security features, Unity Bank Plc has unveiled a new code on its USSD platform that completely puts the customer in control of his Bank Account against any e-Banking fraud.
The new code which is *7799*9*Phone Number # allows customers to block access to their Bank Accounts, hence without recourse to the Bank, a customer is able to prevent and protect his Bank Account from unauthorised access using any mobile device if fraud is suspected.
As part of the robust feature of the Bank's USSD platform, Bank customers can directly initiate the new Code and successfully block the account from a third-party mobile device.
To unblock the Bank account, customers can walk into any branch of Unity Bank closest to them and request reactivation.
As a result, customers are thus able to exercise unlimited control with the new code as the Account Blockade can be initiated from any phone to prevent any unauthorised transaction or access to the Bank Account. The blockade can also be initiated to stem risks arising from the loss of debit card or incidences of unauthorized transactions.
This feature now offers full control to Unity Bank customers to protect themselves from scams, secure all banking transactions, and puts the customers well ahead in control of their banking transactions.
The new anti-fraud code enhances the Bank's robust security system to safeguard customers' bank accounts against any form of cyber threat or incurring financial losses from fraud attempts.
According to the latest banking industry fraud report by Nigeria Inter-Bank Settlement System, cyber fraud rose by 534% as Nigerian banks lost a total of N3.5 billion in the past year alone. The unveiling of the new USSD code is, therefore, part of Unity Bank's strategic move to protect their customers by reducing to zero, losses from electronic banking frauds.
The *7799# code which was introduced three years ago and enhanced with a multi-language capability has remained a critical component of the Bank's robust e-banking channels facilitating seamless and secure banking transactions.
Speaking on the new anti-fraud code, the Directorate Head, E-Business, Retail & SME Banking, Mr. Funwa Akinmade said that leveraging necessary technology to protect the bank's assets including customer's Bank account remains a top priority for the Bank in the face of rising cyber-security threats.
He said: "With fraud concerns on major payment channels across Nigeria, every player in the financial services industry in Nigeria must think of a way to stay ahead of its game.
"With the added USSD feature that allows customers to block their accounts using *7799*9*Phone Number# code, even from a third party device, we have given greater empowerment to customers to transact freely on our USSD platform. With the USSD feature, being available to both smartphone and feature phone users, it means even the least digital-savvy customers of Unity Bank can effectively use the new anti-fraud code".
"More so, since the USSD is available in the three major local languages, it, therefore, has the potential to reach the greatest number of people who are looking for convenient and secure banking services."
The unveiling of the new anti-fraud code on the USSD platform is also accompanied by the rollout of a nationwide radio campaign to educate the banking public on the options available to them to bank safely and securely.
Corpreneurship Challenge: Unity Bank Splashes N10m Grant on 30 Corps Members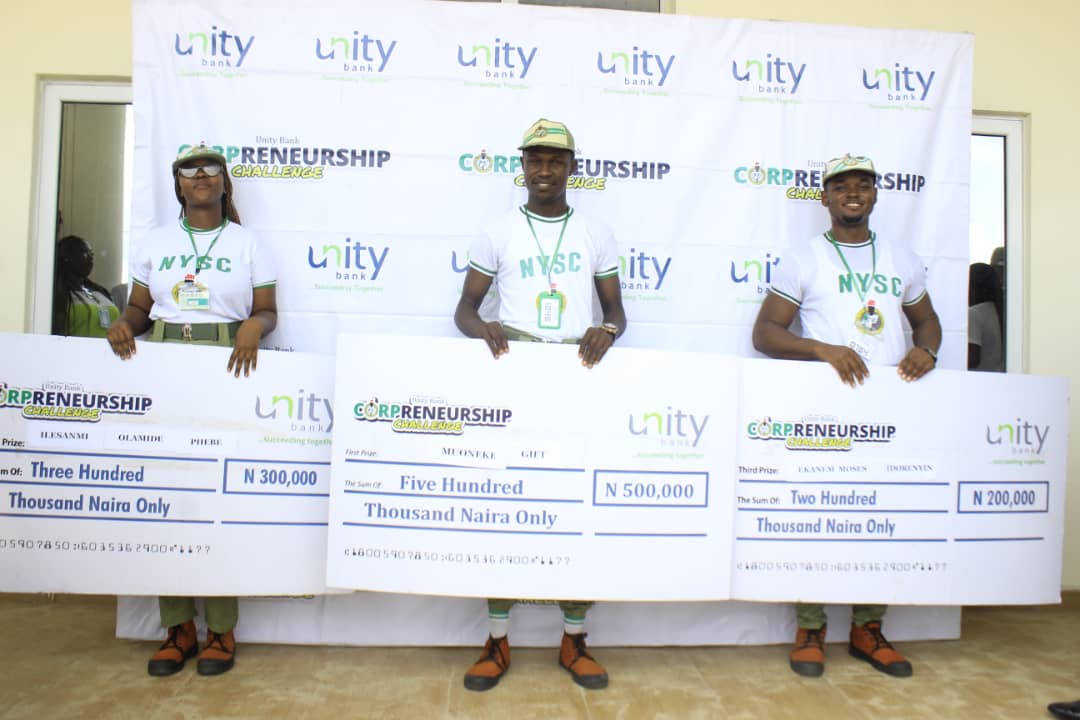 Unity Bank Entrepreneurship Development Initiative – Corpreneurship Challenge, targeted at empowering fresh graduates and Corp Members on one-year compulsory national youth service has, in its ninth edition of the Corpreneurship Challenge held across 10 States recently, doled out N10 million grant to 30 winners.
The winners emerged after a business pitch presentation held across 10 States; namely, Rivers, Delta, Sokoto, Edo, Abuja, Akwa-Ibom, Osun, Kano, Bayelsa, and Enugu, with each state producing three winners who took home cash grants of N500,000, N300,000 and N200,000.
The winners of this ninth edition included Corp Members focusing developing entreneurship in renewable energy, fashion, beauty, agro-processing, confectionaries, etc.
Some of the winners at the Rivers State NYSC Orientation camp at Nonwa Gbam Tai included Muoneke Gift, whose business plan on renewable energy took home the grand prize of N500, 000; followed by Ilesanmi Olamide's business proposal on beauty services to claim the N300, 000-business grant for first runner up. Ekanem Moses Idoreyin's confectionary business proposal took home the N200, 000 grant.
The winners emerged after their business plans were assessed by a panel looking out for business ideas that demonstrate originality, marketability, future employability potential of the product, and knowledge of the business.
The Unity Bank Corpreneurship Challenge has gradually joined the league of some of the most impactful, youth-focused entrepreneurship development initiatives in Nigeria, empowering no fewer than 100 young entrepreneurs over the past three years.
Recently, one of the beneficiaries in Sokoto, Beulah Yusuf, who emerged as second runner-up in one of the editions successfully launched her recycling business with the grant received from the Bank. She unveiled her products widely acclaimed for addressing environmental pollution and waste management inefficiencies, underscoring the Bank's motivations to sustain the initiative.
Speaking during the finale at Rivers State NYSC Orientation Camp recently, the Group Head, Retail, E-Business, and SME Banking, Unity Bank Plc, Mr. Olufunwa Akinmade, said the Bank was delighted with the impressive records the Corpreneurship Challenge has pulled so far.
"When we launched the initiative in 2019, we set out to empower the next generation of entrepreneurs that will disrupt the job market by creating much-needed jobs across all sectors. Today, we have come a long way and the Corpreneurship Challenge has lived up to its billing."
Represented by Regional Manager, Port Harcourt Region, Unity Bank Plc, Mr. Eto Ukpe, Akinmade reiterated the Bank's commitment to sustaining the initiative and mainstreaming the Corpreneurship Challenge as a reliable and impactful entrepreneurship and business empowerment and mentorship programme in the country.
"What we have today in the labour market is far from the ideal. However, it is not enough to keep complaining. We must make lemonade out of lemon. We believe that the Corpreneurship Challenge has proved to be one of the most creative approaches to tackling the intractable crisis we have in the job market in Nigeria."
"Our goal is to expand this programme to all 36 states and sustain it for as long as possible to achieve record impact. We continue to encourage the winners to continue to learn the rudimentary lessons necessary to build a successful business. We emphasize that the budding entrepreneurs who take part in this initiative constantly think about the challenges they will face and put the same energy they all have displayed in preparing for this contest in their businesses as they face their post-service year ahead."
The Corpreneurship Challenge, which has earned the Bank national recognition for its impact on youth empowerment and job creation, has continued to elicit growing interest among the corps members, attracting over 2000 applicants and participation in every edition.
In partnership with the NYSC Skill Acquisition and Entrepreneurship Development, SAED, the initiative prominently features a business pitch presentation that provides the participants with the opportunity to present their business plans and stand a chance to win up to N500, 000 cash in the business grant.
So far, Unity Bank has invested over N100 million in the initiative which has now produced 118 winners since it was launched in 2019.
Applause As Zenith Rewards Tech Fair 2.0 Hackathon Finalists with N53m
A total sum of N53 million in prize money was won at the end of a keenly contested hackathon session at the Second Edition of the Zenith Tech Fair, themed "Future Forward 2.0", which was held on Wednesday, November 23, 2022, at the Eko Convention Centre, Eko Hotels & Suites, Victoria Island, Lagos.
The prize money was shared among eleven finalists who emerged from the over 500 contestants that took part in the hackathon, with Ecotutu, a cleantech company making cooling affordable and accessible for businesses, especially in the agricultural sector, emerging as the overall winner and taking home the grand prize of N20 million. This is in addition to a mentorship programme with Seedstars, a company dedicated to implementing high-quality capacity-building programmes for entrepreneurs in emerging markets.
The first runner-up, Foris Labs, an app-based platform that allows students to conduct science experiments individually and in groups interactively via their mobile phones, won N15 million and a mentorship programme with Seedstars, while the second runner-up, Finva, a start-up which helps creditors offer credits at low risk, won N10 million as well as a mentorship programme with Seedstars. Other finalists who took home N1million each include Sanwo, Itinu -Ev, Eduvacity, Green Bii, Zion Robotics, Sono Care, Base, and I grow Africa.
Speaking during the presentation of the prize monies, the Group Managing Director/CEO of Zenith Bank Plc, Mr. Ebenezer Onyeagwu, congratulated all the finalists for coming this far in the competition. He reiterated the bank's readiness to provide all that is necessary to make the budding entrepreneurs succeed. According to him, "all finalists would be enlisted into our incubation lab for grooming and mentorship. Our expectation is that we are going to scale and grow them just like the zenith brand. So, looking at what we have gone through, I can tell you that so much iron has been loaded on fire. The only thing left is to activate the digital talents, tech skills and entrepreneurship that would culminate in a new digital economy for Nigeria".
Described as a huge success by participants, the two-day Tech Fair featured presentations on the leading technological innovations that cut across different aspects of life, such as Artificial Intelligence, Computing, Machine Learning, Blockchain, Robotics, Big Data, FinTech, Augmented Reality, Data Analytics, 5G and Communication Technologies, with the keynote address, "The Future of Banking: Digital Transformation Journey", delivered by Brett King, the renowned futurist, bestselling author, award-winning speaker, Founder of Moven and Author of Bank 4.0.
The event also featured a goodwill message by Jim Ovia, CFR, Founder and Chairman of Zenith Bank and opening remarks by Ebenezer Onyeagwu, Group Managing Director of Zenith Bank Plc and Chairman of Body of Banks' CEOs, Nigeria. Other eminent IT practitioners from top global brands who also made presentations include; Tarik Alatovic, Senior Partner, McKinsey; Juliet Ehimuan, West Africa Director, Google; Ola Williams, Country Manager, Microsoft Inc.; Andrew Uaboi, Vice President/Head, Visa West Africa; Mrs Rakiya Mohammed, Director of Information Technology, CBN; Chris Lu, Managing Director, Huawei Technologies Nigeria, and Dame (Dr.) Adaora Umeoji, OON, Deputy Managing Director of Zenith Bank Plc, amongst others.
The fair featured three panel sessions. The first panel, which examined "The future of payments: what next and how can we get there", had Prof. Yinka David West of Lagos Business School as the host, with four discussants, including Agada Apochi, Managing Director, UPSL; Olu Akanmu, Managing Director, Opay; Premier Oiwoh, Managing Director, NIBBS; and Kari Tukur, V/P & Head of Products East/West Africa, MasterCard.
The second panel explored the theme "What are the main challenges of digital transformation in the financial industry? How do we solve them?". It was hosted by Brett King and had four discussants, including Tosin Eniolorunda, Managing Director, TeamApt; Obi Emetarom, Managing Director, Appzone; Dr. Babatunde Obrimah, COO, FintechNGR; and Olugbenga Agboola, Founder/CEO, Flutterwave.
The third panel discussion, titled "Driving the global trade revolution with technology: current transformation trends", was hosted by Samuel Eze, Founder/CEO, Ourpass, and had five discussants, including Mike Ogbalu III, Managing Director, PAPSS; Akeem Lawal, Divisional CEO, Interswitch; Massimiliano Spalazzi, Country Manager, Jumia; and Dr. Ozoemena Nnaji, Director of Trade & Exchange, CBN.
Dangote Sugar Scales Up Investment in Sub-Sector
Dangote Sugar refinery plc has said that it is significantly scaling up its investment in the sugar sub-sector in line with the requirement of the Nigeria Sugar Master Plan.
President, the Dangote Group, Aliko Dangote, announced this while speaking at the flag off ceremony of the 2022/2023 Crushing Season and Outgrower Scheme Awards in Numan, Adamawa State.
In a statement, Dangote said the company was making massive investments in Adamawa State through the expansion of DSR Numan sugar refining capacity from 3,000 tonnes of cane per day to 6,000 tcd, 9,800 tcd and to 15,000 tcd.
He noted that increasing the sugar refining capacity would require a corresponding increase in sugarcane production capacity. The company, he added, had concluded plans to increase its sugar plantation from the current land area under cane production of about 8,700 hectares in 2022 to about 24,200 hectares within the next seven years. He also assured that the company would double its scholarship and empowerment schemes in its host communities.
He said, "We will continue to introduce more initiatives to support our host communities. Through these initiatives and our numerous Corporate Social Responsibility activities, DSR Numan will be able to touch the lives of the people, bringing social, economic, and infrastructural development to our host communities."
"We are thus committing over $700m to our investment in the Backward Integration Programme to enable us put in place needed infrastructure for the eventual commencement of full-scale production."
Dangote assured that Dangote Sugar would change the trajectory by making Nigeria self-sufficient in the sector.
He explained that the company had spent billions of naira in developing infrastructural facilities for host communities.
At the event, the Minister of Industry, Trade, and Investment, Otunba Adeniyi Adebayo, described the Dangote Sugar Refinery as the biggest contributor to the sugar development stride of the Federal Government.