Adekunle Gold Toasts Wife, Simi, as She Releases 'Omo Charlie Champagne'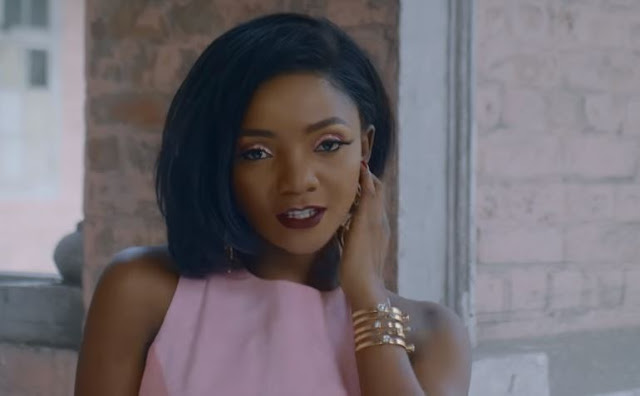 Adekunle Gold, husband of Alternative superstar Simi, has taken to his Instagram page to celebrate his wife as she marks her birthday and also released a new album.
Simi released her much anticipated album Omo Charlie Champagne with a heartfelt dedication to her late father.
The News Agency of Nigeria reports that Amasiko singer took to her Instagram page on Friday, @simplysimi to announce the 13-track album produced by Vtek, Oscar, Legendury Beat and Season with all the songs written by her.
She wrote, "When I was compiling this album, I knew I wanted to dedicate it to my daddy, Engr. Charles Oladele Ogunleye – who passed in 2014. I'm blessed to have come this far.
"I'm blessed that it was possible for me. I do not take this for granted. I couldn't possibly be more thankful for this journey.
"To have amazing people like you supporting me everyday is absolute Magic! I love you.
"#OmoCharlieChampgne is OUT NOW!!!! Yessss! I'm thankful to all the amazing people that made this possible –
"If it's 12am in your area, go on all the platforms and listen to #OmoCharlieChampagne Vol. 1," Simi said.
The album release also marked the singer's birthday, her first since she got married to fellow singer, Adekunle Gold who sent out birthday wishes through his Instagram page @Adekunlegold.
He wrote, "First birthday as Mrs. Kosoko. Older by a year but sexier than ever. Happy birthday Omo Charlie Champagne. Love you forever."
Following the album's release, fans took to Twitter to praise Simi's prowess, causing the album to become the second most trending topic on Nigerian Twitter at the time of this report.
@Abbyfamous wrote, "So, I waited for this. Simi is never a disappointment! She's just as ever amazing and beautiful in everything, her lyrics, voice and heart. She's such beauty.
"I have listened to this album on Boom, and it continues all day. I Stan your Queenship! Happy Birthday Sweet!"
@_detola tweeted, "I am staying up all night to learn every damn words from #OmoCharlieChampagne it's worth every penny guys!
"It made me cry,laugh,think,chill. Simi is not only intelligent and talented , she's GOLD."
@Drews_daughter said, "This album is food for the soul. The Simi army has been fed. Thank you queen @SympLySimi Many more years."
@Beulahonoh tweeted, "My fav track in @SympLySimi 's omo Charlie champagne album I guess is 'Mind your Bizness' 🎶 ft Falz, has been on my repeat.
"It has an important message for all them Amebo. Happy birthday Simi! May God bless you. Keep making awesome Music."
'Omo Charlie Champagne' swiftly follows her acclaimed 2017 eponymous album 'Simisola' which went on to win 'Album of the Year' at the Headies and contained a bunch of fantastic singles, including 'Joromi' and 'Lovin."
(NAN)
Romp in America: Sammie Okposo Apologises to Wife, Withdraws from Ministration
Popular Gospel musician, Sammy has manned up! He has come out publicly to apologize to his wife, and asked for forgiveness and restitution.
In a painful social media post, the amiable artiste wrote " Dear friends, I need to bring a very unfortunate incident to your attention as I am not proud of it but know that this is the right thing to do.
"On my recent trip to the USA (Late 2021), I got intimately involved with a lady, knowing that this was not appropriate as a married man and a minister of the gospel. I am ashamed and regret my actions as it has caused a lot of pain to my dear wife, Ozioma, my family and I.
"As I work in making peace with God, repenting and asking for His forgiveness, I am suspending myself from all ministry work until full restoration as this is what is proper and what I know I owe God and His people.
"To my wife, Ozioma. I am sincerely sorry I put you through this shameful and embarrassing situation. I broke your trust and disappointed you. Your forgiveness of my moral failure and poor judgement is important to me. I pray I will eventually be able to build back the trust and confidence every single day for the rest of my life.
"I want to take this moment and apologize to all Fathers and Mothers of the Faith and ministers of the Gospel for my behavior and moral failure. I won't be here if not for your investment and belief in what God has called me to do. I sincerely apologize for this embarrassing situation.
"To all that have been a part of my ministry, followed my ministry or know me personally, I am truly sorry for disappointing you.  I regret any pain or disappointment that this news of my moral failure and poor judgement may cause you and I am truly sorry for disappointing you.  I humbly ask that you continue to pray for me….
D'banj, Simi, Obi Asika to Feature As Judges As Nigerian Idol Returns
Popular music reality show, Nigerian Idol, is set to return for its seventh season. Billed to start on February 6, 2022, popstar, Dapo Oyebanjo, aka D'banj, and Similoluwa Kosoko, aka Simi, will be the new judges on the show.
They will be joining Obi Asika, who returns as a judge from the previous season.
Speaking on the introduction of new judges for the new season, the Executive Head, Content and West Africa Channels at MultiChoice Nigeria, Busola Tejumola said, "We could not think of a better trio to be the season's judges than Obi Asika, D'banj, and Simi. The three of them combined bring decades worth of experience in the music and entertainment business, as well as individual mastery of their crafts. We have no doubt that they will keep the viewers entertained in what will be a spectacular season!"
D'banj expressed his excitement at being one of the judges this season saying, "I was out of the country when I found out that I was going to be a judge for this season of Nigerian Idol and I couldn't contain my excitement. I'm coming in with my own strategy so viewers should expect a bang."
On her part, Simi said, "I've always loved the idea of being a judge and I think it's a fun thing to do. I plan to be very honest and have fun and hopefully gain inspiration from those that come on the show."
Returning judge Obi Asika added, "I will be looking for special talents and new faces this year. I'm also excited to work with the rest of the judges this season, and I will be very fair and real to every contestant just like I was last year."
In the sixth season of Nigerian Idol, Kingdom Kroseide emerged winner after months of intense musical contest involving over 10,000 hopefuls from across the country, and over 16 million votes recorded at the finale.
He won a N30m cash prize and N20m in other prizes.
Headline sponsor of Nigerian Idol season 7 is Bigi Drinks and co-headline sponsor is Binance.
Juju Musician, Dayo Kujore Dies at 63
Veteran Juju musician, Dayo Kujore, has died at the age of 63.
Kujore, who was among the pioneers of the Nigerian styled musical art form is said to have died on Monday, according to his daughter, Dayo Kujore.
Circumstances surrounding the 'Soko Extra' crooner's death are yet to be revealed as a formal announcement is expected to be made by the family.