Adekunle Gold Toasts Wife, Simi, as She Releases 'Omo Charlie Champagne'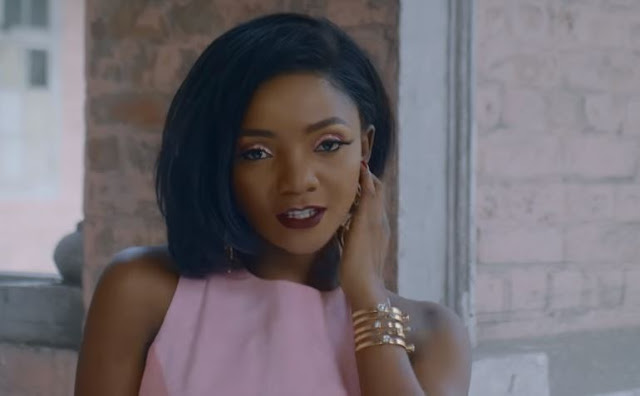 Adekunle Gold, husband of Alternative superstar Simi, has taken to his Instagram page to celebrate his wife as she marks her birthday and also released a new album.
Simi released her much anticipated album Omo Charlie Champagne with a heartfelt dedication to her late father.
The News Agency of Nigeria reports that Amasiko singer took to her Instagram page on Friday, @simplysimi to announce the 13-track album produced by Vtek, Oscar, Legendury Beat and Season with all the songs written by her.
She wrote, "When I was compiling this album, I knew I wanted to dedicate it to my daddy, Engr. Charles Oladele Ogunleye – who passed in 2014. I'm blessed to have come this far.
"I'm blessed that it was possible for me. I do not take this for granted. I couldn't possibly be more thankful for this journey.
"To have amazing people like you supporting me everyday is absolute Magic! I love you.
"#OmoCharlieChampgne is OUT NOW!!!! Yessss! I'm thankful to all the amazing people that made this possible –
"If it's 12am in your area, go on all the platforms and listen to #OmoCharlieChampagne Vol. 1," Simi said.
The album release also marked the singer's birthday, her first since she got married to fellow singer, Adekunle Gold who sent out birthday wishes through his Instagram page @Adekunlegold.
He wrote, "First birthday as Mrs. Kosoko. Older by a year but sexier than ever. Happy birthday Omo Charlie Champagne. Love you forever."
Following the album's release, fans took to Twitter to praise Simi's prowess, causing the album to become the second most trending topic on Nigerian Twitter at the time of this report.
@Abbyfamous wrote, "So, I waited for this. Simi is never a disappointment! She's just as ever amazing and beautiful in everything, her lyrics, voice and heart. She's such beauty.
"I have listened to this album on Boom, and it continues all day. I Stan your Queenship! Happy Birthday Sweet!"
@_detola tweeted, "I am staying up all night to learn every damn words from #OmoCharlieChampagne it's worth every penny guys!
"It made me cry,laugh,think,chill. Simi is not only intelligent and talented , she's GOLD."
@Drews_daughter said, "This album is food for the soul. The Simi army has been fed. Thank you queen @SympLySimi Many more years."
@Beulahonoh tweeted, "My fav track in @SympLySimi 's omo Charlie champagne album I guess is 'Mind your Bizness' 🎶 ft Falz, has been on my repeat.
"It has an important message for all them Amebo. Happy birthday Simi! May God bless you. Keep making awesome Music."
'Omo Charlie Champagne' swiftly follows her acclaimed 2017 eponymous album 'Simisola' which went on to win 'Album of the Year' at the Headies and contained a bunch of fantastic singles, including 'Joromi' and 'Lovin."
(NAN)
Evicted Saskay Says She Feels Relieved Leaving Big Brother House, Mute on JayPaul
Tsakute Jonah, popularly known as Saskay, has been evicted from the ongoing Big Brother Naija reality television show.
The 22-year-old was the second housemate to be evicted at the live eviction show on Sunday, in addition to Yousef.
Saskay is the second richest housemate in the Season 6 of the reality TV show with a total of N5m winnings, following Liquorose who holds the number one spot, having won N5.3m so far.
The bulk of her earnings in the house comes from the N1.55m grand prize won as she emerged as the first position in one of the arena games sponsored by Piggyvest.
Prior to joining the show, the ex-housemate was a model.
Speaking to the host of the show, Ebuka Obi-Uchendu, Saskay expressed relief at leaving the house.
She said, "I was a little tired of the whole reality TV show thing. Though I knew what I was signing up for, but it is not enough knowing; experiencing it is a whole different thing."
When asked about her plans after leaving the BBNaija house, she said, "First I would focus on is my lip gloss brand, followed by my retirement homes plan. Those are my major plans for now."
BBN 6: I'll Marry Angel If…, Says Sammie
Ex-BBNaija 2021 Shine Ya Eye housemate, Sammie has revealed his intention to marry female housemate, Angel if things go well after the show.
While speaking on Fun Buzz show on Naijaloaded TV, Sammie revealed that he is attracted to Angel and he is open to a serious relationship with her once she comes out of the BBNaija house.
Sammie who is now pursuing his career in film making now also talked about how the show has helped him gather lots of fan base to grow his film-making brand.
While motivating young Nigerians to dream big, Sammie spoke about how he learned script writing, screenwriting on YouTube and how he started movie making in Zaria before he got called up for big brother.
No doubt, Sammie's story before and after Big Brother Naija is a huge motivation for young Nigerians with passion to succeed.
You Don't Need to Beat a Woman to Punish Her, Just Do These Three Things
No matter how much a man and a woman love themselves, there is still a possibility of having misunderstandings.
In fact, what keeps most relationships and marriages together is the ability to settle problems not really because there are no problems.
Women are very dramatic creatures, if you're not creatively smart as a guy, they can make you move mad to the extent that you'd want to tear them slap. Yes! Women can be that annoying and provocative.
In today's world, only weak and dumb men hit their women. Instead of beating a woman, there are other ways you can punish her and it will even get to her more than using violence.
Below Are The Ways You Can Punish You Woman Without Hitting Her:-
1. Taking Away Your Attention
Firstly, what is attention, being attentive is simply our way to show our partner we care and make them feel important and special, when a man doesn't create time for their woman it hurts them.
If you're not been caring to them anymore, or you stop giving them attention all of a sudden.
These things hurt most women and in most cases, they are the ones who will do everything to get your attention back.
2. Deny Her Some Things
This is one of the ways you can punish a woman. Denying her certain things that you normally give her for her own benefit will make her realize her mistakes.
You can decide not to give her money to do her own hair or to buy cloth, depending on what she asked you or what you normally do for her.
This is not saying that you should deny your responsibility as a man. Ensure you provide food for the family and every other thing you are expected to do as a married man.
3. Deny Her Intimacy
In any relationship, intimacy is what keeps the relationship alive. Denying your woman intimacy is another way of letting your woman know what she did was wrong.
If she really wants to be intimate with you, she will apologize and you guys will have apology sex.
The End!!
These methods are more preferable when you want to punish a woman that offended you. Domestic violence is a crime against womanhood and humanity.
Don't lay your hands on a woman when you have problems, instead use any of these methods.
Aside from all these, the best way of settling a misunderstanding is through discussion.
If your woman does something that you don't like, sit her down and tell her what she did you don't like it instead of you laying your hands on her.
Source: Naijaloaded