Cheers, Henry Ukazu Waxes Stronger
By Abdulakeem Sodeeq Sulyman 
Life's essence is not in the thing that can be counted, but the things you make count through your time-bound journey of life" – Abdulakeem Sodeeq SULYMAN 
Considering the schedules ahead of me during this twilight of one of my academic pursuits, I am so sure people in my fold won't believe I am involving in this task of writing about someone else. But because of the bond between Henry Ukazu and I and the respect we accorded one another, penning this piece is highly unavoidable for me, especially based on the feedback I received on my celebratory messages to him exactly this time last year.
With all humility and deep sense of appreciation, I think am duly qualified to write about the personality of Henry Ukazu, based on the mutuality we shared. I am his brother, acquaintance, a protégé and based on the mystery that surrounds how we connected, I have no doubt that joining the fold of Henry Ukazu is divinely ordained! Assuming I knew Henry Ukazu through anyone, that person might have cut the link by envying the north-ward spiral of the trust and confidence he reposed in me.
I had known Henry Ukazu since around 2017 through his weekly article – Adding Values – in The Boss Newspaper, which I am a devoted reader of. However, as nature has designed it to happen, Exactly 33 days after the sudden and tragic demise of my dear elder brother and friend, Sulyman Luqman. I had the opportunity of speaking with Henry Ukazu on the 18th of April, 2020, when his United States' phone number was mistakenly copied below his article.
Ingenuity compelled me to message him on WhatsApp which he swiftly replied, asking me what he could do for me. As at that time, the manuscript of my second book was at an advanced stage and I fired my shot by informing him of my request to write the foreword of the book. He granted my request as a welcome gift and also ensured that the book was an outstanding success. The lesson that resonates with me all the time through my connection with him is this: "Anytime we are meeting people for the first time, the purpose of that meeting must be defined because its outcomes will influence the life span of our engagement with such people."
In one of John C. Maxwell's books, he uses Five "S" – Surface, Structured, Secured, Solid and Significant – to depict Levels of Relationships. Leveraging these levels was my joker that day! As our relationship progresses, I learned that Henry Ukazu is a rare persona that is very easy to relate and mingle with once you have values to share. His primary principle of life revolves around values. Other things that endear him in people are sound characters, conviction to live an impactful life and high sense of gratitude.
The four qualities I pinpointed will be used to describe how mine and other people's mats of roses were laid with him. Henry Ukazu sees values as a sum total of your skills and competences to identify problems, understand every element that constitutes the problems and be able to proffer solutions to the problems identified. He admires analytical and detailed-oriented people, since he himself as a trained lawyer knows that nothing earns him triumph more than the weight of the punches he can throw during cross examinations.
Many times, Henry Ukazu has sacrificed his comfortability in order to be of value to other people's lives. One of those times I can vividly remember was January this year when he came to Nigeria and had a speaking engagement in Enugu State. The convener of the event, a UN envoy, mother and professor of English Literature in a reputable university in the United States suggested his speech be delivered via Zoom, but Henry Ukazu insisted on speaking with the audience physically so that they would be inspired and motivated by the carriage he radiates and the passion he exudes.
He delivered the speech and earned a standing ovation from every member of the audience. How else can one be valuable? Henry Ukazu believes that values become a potent asset when it is refined with sound characters. Characters to him are sets of consistent principles guiding how one lives. No matter your material possessions, you are perceived wretched and poverty-stricken when you are character flawed! He connects with people as a believer of "golden rule," and also relates with people as a practitioner of "platinum rule."
A short interaction with Henry Ukazu will affirm to anyone that he is passionate about his conviction to impact lives. Spending some seconds or minutes with Henry Ukazu will tempt you to probe your existence and ignite and fuel in you the inspiration and intrinsic refinement you need to champion a life that best reflects your values and characters. With no iota of doubt, Henry Ukazu's personality radiates influence. Despite being a resident of the United States, his patriotism and commitment to civic duty are top-notch!
The other time I walked by Henry Ukazu's side in his village, "Nnwane" was a familiar ring tone from the people greeting him. Although, "Nnwane" means "my mother's child" in Igbo, but the question is, is it every native people that were given to by the same parents? I was fully left in awe when the majority of those who greeted him were acknowledging his impacts on them through his articles and Instagram Live shows. Henry Ukazu is their hero and beacon of hope.
Someone says, "The essence of your life is not the numbers in it, but the number of lives in it." The impacts of Henry Ukazu on other people's lives are not limited to his community, village or State of Imo. His impacts transcended ethnicity, color, race or religion. I have been instrumental in his kind gesture to students in primary, secondary and tertiary institutions across Nigeria. I am coordinating a group of secondary school students that receives his scholarships every term. How else can life be meaningful and impactful?
The ability to practice what one preaches is the highest positive example anyone can lay for others to emulate. This quality is present in Henry Ukazu to the core. Despite his class and status, he doesn't care to deploy every resource at his disposal to express gratitude to anyone that does good to him. Statuses and posts on his personal social media handles are always filled with deep, sincere and profound appreciations of individuals who played valuable roles in his life. If you want to confirm this, kindly read the "Acknowledgement Page" of his first book – "Design Your Destiny: Actualizing Your Birthright to Success."
Henry Ukazu's story has helped reinvent thousands of lives because of the defining moments he used to shine the torches on his path's personal transformation, distinction and spiritual illumination. As you have laced your life with meaning and purpose, may respect, honour, success and greatness be channeled towards you. You have sewn seeds whose flowers are sparkling the lives of millions. May you keep elevating and always have reasons to be celebrated as the days of your life blazes forth.
Happy birthday, Dear Mentor.
Abdulakeem Sodeeq SULYMAN is a Librarian and Information Scientist in view, resolute in academics and personal leadership. He is the prolific author of two books – Responsible Living: Live to Uncover Your Potential and The Path to Greatness.
Tinubu Sends Nami on Three Months Retirement Leave, Appoints Adedeji As FIRS Boss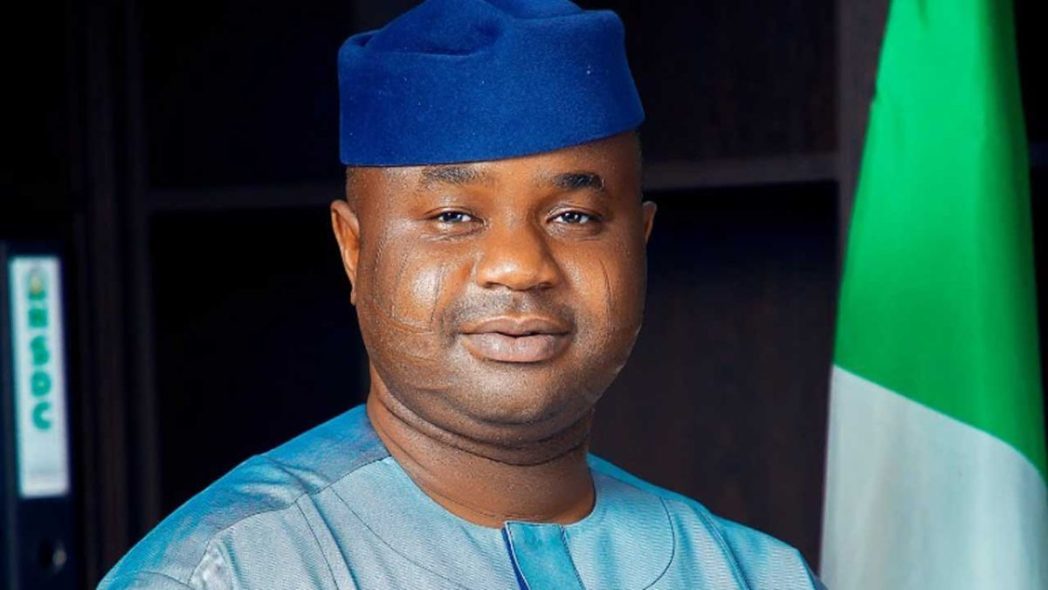 President Bola Tinubu has approved the appointment of Zacch Adedeji as the new acting executive chairman of the Federal Inland Revenue Service (FIRS).
Tinubu also directed Muhammad Nami, the current FIRS chairman, to proceed on three months of pre-retirement leave, as provisioned by Public Service Rule (PSR) 120243, with immediate effect.
The leave would lead to Nami's eventual retirement from service on December 8, 2023, according to a statement on Thursday, by Ajuri Ngelale, special adviser to the president on media and publicity.
Ngelale said Adedeji's appointment, according to directives of the president, takes immediate effect.
He was also the executive secretary and chief executive officer (CEO) of the National Sugar Development Council (NSDC).
Nigeria's Accounting Guru, Akintola Williams, Dies at 104
Nigeria's first indigenous chartered accountant, Akintola Williams, is dead.
The doyen of accounting died at the age of 104.
According to a source, who does not want to be mentioned, Williams died at his house in Lagos, on Monday (today).
The graduate of accounting at the University of London was born in 1919.
Bennett Omalu: Celebrating Nigeria's Great Export to the World at 55
Dr. Ifekandu Bennett Omalu is a native Of Urunnebo Village, Enugwu Ukwu In Njikoka Local Government Area Of Anambra State.
Born on September 1st, 1968. He attended both primary and secondary schools in Nigeria. And for his tertiary education he proceeded to the University of Nigeria Nsukka, where he acquired MBBS degree in Medicine and Surgery.
He is currently a Professor of medical pathology and laboratory science at the University of California.
Subsequently he acquired his MPH from the University of Pittsburgh and his MBA from Carnegie Mellon University. He is the first person in the world to discover and publish findings of Chronic Traumatic Encephalopathy in American football players while working at the Allegheny County Coroner's Office. He's now the Chief Medical Examiner for San Joaquin County, California. And a professor at UC-Davis.
Dr. Bennet Omalu came to the United States in the 1990's at the age of 26, to finish his Medical Residency. Through hard work that is just the nature of his Igbo race,  he is today, one of the foremost Nero pathologists in the world and is best known for discovering and studying CTE, a degenerative brain condition affecting American football players.
This doctor from Anambra, Nigeria changed the perspective about the safety of some sports through his research into the lives of  former N.F.L players. Later a study in  Sweden confirmed him absolutely right by  revealing that if your child suffers from one concussion they are more likely to die before the age of 42 and more likely to develop psychiatric issues. The Sweden research discovered that N.F.L players were dying or killing themselves less than 20yrs after retirement-which is in their 30's usually. Exactly something Dr. Omalu confirmed years back.
Worried by the sad fate of some retired NFL players, Dr. Omalu went into research to find out why.  In his research, he discovered that "Concussion" was the reason. Amazingly the facts where denied by NFL who felt threatened that his research will destroy their multi billion dollar industry. They fought back to make sure that his research was hidden for years. Dr. Omalu didn't give up out of fear, getting the truth across to the world was far more important to him than his life. As a result of the Igbo courageous blood in him, that makes the average Igbo person to survive and succeed against all odds, without respect to the hearse and hardest environment, Dr Omalu fought through threats and verbal abuse to get the great scientific discovery to world.
When his research went through, it became so popular and celebrated to the extend that Mr Will Smith, the iconic American actor had to portray him in a movie titled "Concussion". Where he is credited with finding out the harsh repercussions of contact sports on children and adults. The movie Concussion starring Will Smith playing Dr Omalu the founder of the disease CTE that causes something he found out that messes a lot of football players heads up really bad from so much brain rocking contact was a worldwide hit.
Dr. Bennet Omalu is equally the author of the  book, Truth Doesn't Have A Side: My Alarming Discovery About The Danger Of Contact Sports. Dr. Omalu wrote this book, to help parents answer the question 'Do I love football more than I love my child ?'
It is our hope that sooner or later Dr Omalu will be awarded the Nobel prize in medicine for his research that is saving lives all over the globe.
Happy Birthday to this globally acclaimed Enugwu Ukwu-Born, Award Winning Pathologist, Dr Bennett Omalu.