Dumburum was a Haven for Bandits, No Apologies for its Bombing – Gov Yari
Governor Abdulaziz Yari of Zamfara says the government will not apologise over the alleged killing of villagers in the state during the bombardment of suspected bandits' camps in Dumburum village in Zurmi local government area of the state.
The governor, who made the statement when a seven-man investigation team on the matter visited him at his Talata-Mafara private residence, said Dumburum village had served as a hideout for criminals over the last three years.
The News Agency of Nigeria reports that the state's Council of Chiefs had, a fortnight ago, alleged that innocent citizens were recently bombarded through air strikes in the area by personnel of the Nigeria Air Force.
"As far as I am concerned and as the head of government in the state, I haven't seen anything wrong done by the Air Force. I haven't received any brief on such matter.
"Dumburum has been a criminal hideout for over three years and the Emir of Zurmi had once asked me to go and wipe out the area, saying all those residing there were bandits.
"So, I am surprised that the emir will be part of those saying innocent people were killed in an encounter in the area," Yari said.
The governor, who said some powers were working against the state, maintained that "some people will stay in Abuja and fabricate things against the operations in Zamfara in order to distract the operation," warning, "this we must not allow."
"Please, all security agencies, especially the Air Force, should continue with your usual constitutional duties and the state government will give you all the support to facilitate your concentration in trying to bring back peace which has eluded the state since 2007.
"You should continue with fire power to show the criminals that there is a government in place and we won't negotiate with them again because when we did that in the past, the leaders pretended as if all was well while they allowed their boys to continue to lay siege to the communities," the governor added.
Handing over a letter of condolence to the governor from the Chief of Air Staff, Air Marshall Sadique Abubakar, the team leader, AVM Idi Lubo, said it was part of Abubakar's concern in case the allegations were true.
He said, "the Chief of Air Staff has directed us to properly investigate the matter in order to unravel the truth.
"We have visited other stakeholders and discovered that there was  misinformation which we have now resolved and wish to assure the people of the state that we shall continue to discharge our assigned responsibilities in protecting the innocent with professionalism."
The team, which was conducted round by the Commander of 207 Quick Response Group, Squadron Leader Sunkanmi Thomas, thanked all stakeholders for the support given to the Air operations in the state.
NAN also reports that the team visited heads of security agencies, traditional rulers and government officials, among others, while in the state.
(NAN)
SSS Offered Me N1m Bribe to Shelve Sowore Protests – Deji Adeyanju
A political activist, Deji Adeyanju, has accused the State Security Service of offering him a bribe to shelve a protest demanding the release of Sahara Reporters publisher, Omoyele Sowore.
Mr Adeyanju on Tuesday in Abuja displayed N1 million cash he said was offered to him by agents of the SSS.
The activist led several other protesters to the headquarters of the SSS in Abuja on Tuesday morning. The demonstrators have been asking the SSS to comply with a federal court order for Mr Sowore to be released from custody.
Mr Sowore was last month granted bail by the Federal High Court in his ongoing trial for alleged treason and defamation of President Muhammadu Buhari. He met the stringent bail conditions on November 6, but the SSS has declined to release him.
Mr Sowore's lawyer, Femi Falana, said the SSS had been plotting to file additional charges against Mr Sowore in order to continue justifying his remand in custody, which he declared as effectively illegal since Wednesday when he met all conditions.
After SSS controversially claimed on Friday that it was holding Mr Sowore because no one had come to pick him up, Mr Adeyanju held a sit-in outside its headquarters on Saturday to demand Mr Sowore's release, but the secret police ignored the protesters. PREMIUM TIMES also confirmed Saturday that the SSS was not ready to release Mr Sowore, contrary to what it wanted the public to believe.
'Bribe at gunpoint'
On Tuesday, as businesses resumed across the country following a public holiday, Mr Adeyanju returned with activists to demand SSS compliance with the court order.
Yemi Adamolekun of Enough Is Enough was also seen in pictures of the demonstration circulated on social media.
Shortly after the demonstration began, Mr Adeyanju displayed new N500 notes he said totaled N1 million before other protesters and media cameras.
He said the money was offered to him by the SSS at gunpoint to call off the protest. PREMIUM TIMES could not immediately verify links between the cash Mr Adeyanju displayed and the SSS.
A spokesperson for the SSS, Peter Afunanya, did not return PREMIUM TIMES' request seeking comments about Mr Adeyanju's allegation.
The protesters, who gathered at about 11:30 a.m., were dispersed by armed officers shortly thereafter.
Premium Times
Food for Living: Inspire Yourself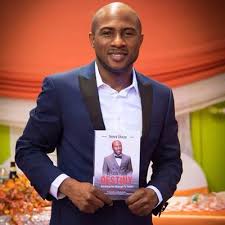 By Henry Ukazu
Greetings Dear Friends,
I guess you may have heard the saying, 'the joy of life is not how happy you are but how happy others can be because of you'.
There's always an internal feeling of warmth and fulfillment to know that because of the role you played in the life of someone, who can be a mentee or subordinate, they were able to succeed. I once highlighted that Mentors Are Life Savers in one of my articles with the same title.
Every being loves to be happy because happiness brings peace, tranquility, and clarity of mind. Once you have peace within yourself, family, organization and business, you are bound to have clarity of mind which will, in turn, make you focus very well in addition to being inspired to make right decisions. Therefore, it will be wise to say, peace is necessary for any rational and progressive mind/business to succeed. In the course of this article, we shall be exploring different ways we can inspire ourselves.
Every successful or great person was inspired in one way or the other. Every successful business was also inspired by another business, mentor or even the desire to solve a challenging problem in the society. We all need inspiration to move to the next stage in life. Thus the question now becomes, how can one get inspired?
Inspiration comes in different shapes and sizes. It can be internal or external.
Internal Inspiration:
Internal motivational comes from within. It's just like the act of intuition. Internal inspiration is the best form of inspiration. This is because when the force is from within, it opens up with unlimited opportunities and potentials. It's important to note that nobody can inspire you more than you can inspire yourself. Genuine inspiration always comes from within.
According to a philosopher, "I was thinking one day and I realized that if I just had somebody behind me all the way to motivate me I could make a big difference. Nobody came along like that so I just became that person for myself."
External Inspiration:
This is the motivation that is derived from outside forces, e.g. music, mentors, books or even situations like hunger, poverty and life challenges. According to some schools of thought, external inspiration has been the reason they succeeded in life (business, home and academics). This group of people believes that without these external forces they wouldn't have been able to achieve a great deal in life. Proponents of this theory fail to understand that, they were able to succeed because they had the internal zeal to succeed and the external forces only came as a catalyst. For example, publishing inspirational and motivating articles every week can be a challenging task because it takes discipline to commit to the task. However, as a prolific writer and author, I strongly believe, if one is not inspired, it will be hard for one to write nor matter how inspired the external factors are at play.
Techniques to get inspired:
Get Started:
The beginning of any task is usually the most challenging part. If you can begin a task with little or no resources, you can be sure of everything coming true if you are diligent. Take, for instance, you want to start a business, write a book, begin a Ph.D. program, contest for election, or even starting a good cause/campaign, etc. All you need is just a starting line for the universe to know you have a vision. A little push or inspiration can do the magic. Once you commit to this task, the universe has a way of coming around to support your work. You can also begin by breaking all your tasks in a little piece and taking them one step at a time.
Write your plan
Having a concrete blueprint on what you plan to do is another way to get inspiration. For example, you need to have an idea where you plan to be between 6 to one year, 3 years, 5years, 10 years as the case may be all things being equal. This plan will enable you to inspire yourself. Also, you can write down all of your goals and vision to keep track of where you are, and where you want to be. By so doing, you will keep track of how far you have come in life.
Reduce the daily distractions
Just like success needs concentration and positive energy, inspiration doesn't work well with distractions.  When you are easily accessible it will definitely become hard for you to focus. It's quite unfortunate to note that many people spend less time on what really matters and spend more time on what doesn't really matters. In order to change this habit, you'll need to reduce the influx of distractions that is surrounding you. By so doing, you'll be truly inspired to focus well.
Play music
Music can be a form of inspiration. I personally use music to get work done depending on my state of mind and what I am working on. A typical example was when I was writing my first book, music was one of my biggest inspirational energy, especially when I was down.
Be grateful
Most times we get caught trying to get to the finish point without taking time to take stock how far we have come. Being grateful for who you are and what you have been able to achieve in life can inspire you to do more. It's always good to reward yourself and celebrate your successes (no matter how big or small they are).
In conclusion, it is pertinent to note that you are the ultimate measure of how far you'll go in life. According to Wayne Dyer, "Be miserable. Or motivate yourself. Whatever has to be done, it's always your choice." If you don't do the work, nobody will do it for you. Therefore, I charge you today, to inspire yourself.
Henry Ukazu writes from New York. He works with the New York City Department of Correction as the Legal Coordinator. He's the author of the acclaimed book Design Your Destiny – Actualizing Your Birthright To Success. He can be reached via henrous@gmail.com
Opinion: Be Illimitable Pt. 2
By Tolulope A. Adegoke
"Let your presence on earth add values to life. Be responsible"! – Tolulope A. Adegoke
God Created
God did not assign His angels to create NATURE, HUMANS and everything. He did not seek supports, he seized personal consultation.
If you wait for others, you will waste like others in frustration. Majority of times, you do not need to rely on other people's opinion or supports. You need personal SACRIFICE.
The right place and time to create are when things are not okay: "FROM DARKNESS into LIGHT"! God did not give an excuse not to have created something out of nothing, light out of darkness!
Your Spirit must work with your CREATIVITY
Destiny doesn't answer to your work alone; it answers to your spirit man. It takes you to be blind enough to be able to achieve the unimaginable. It takes "rituals" to solve problems and produce, then reproduce. It takes selflessness to be a ritualist. It requires your blood and sweat. Your spirit must leave you and must settle on the face of the deep!
God sacrificed His Son (Jesus Christ) to save the world. He also asked Abraham to sacrifice his Son (Isaac) to Him.
Rituals require sacrifices either "self" or your "valuables". Give offering with a knife in your hand to cut your pocket. Give selflessly. Be a "ritualist"! because you are a spiRITUAL being! It takes ritual grace to commit rituals. Babies give offerings, but kings give sacrifices! Gather seeds and commit rituals. You are a government. Don't live like a refugee. If you cannot sacrifice, you end up a "money-pie", instead of multiply, and you will only be "food-ful" and not fruitful.
It takes sacrificial rituals to multiply and fruitful! Think the unimaginable, do the unimaginable to achieve the unimaginable results for outstanding profits and change. Sow to acquire and connect into God's divine inspiration to acquire and connect into God's divine inspiration.
Death is not when a man dies, it is when the gift(s) in him dies. When a man is not working with his gifts, he is dead! The gift of a man makes way for him- Psalm 68:18.
If you are not gifted or not working or operating by your gift, you are Godless! Gifts in its real sense are not limited to celestial gifts. It is your talents that will open ways and wave for you.
Prayer
Man becomes a god at the point of his gift. Without your gift, you are an imbecile. Without your gift, you will face torments on earth, but with your gifts, you can enjoy Heaven on earth!
Worship
Serve God with your gifts to more gifted for outstanding creativity for productivity. The world has evolved into the age or realms of creativity at a shocking speed beyond the norm. A man's destiny is not only tied to opportunity(s), but also to divine revelation! Your gift is not a gambling or begging ticket! If you know your value, you will not sell it cheaply.
BECOMING ILLIMITABLE: Activating Your Gifts
The major factor to becoming illimitable by activating our gifts is by divine revelation. Be inspired by God to be productive and well packaged. Prayer cannot displace process. Your dominion answers to what is in you. Poverty is the absence of observation. Poverty is not just the absence of provision, but observation!
Unemployment is the blockage of gifts by man- 2Kings 4:2-6.
Lock up yourself to observe! If you do not lock yourself indoor, you cannot become an industry. The power of observation is better than the power of education. Observation is another word for Thinking. Prayer is formen, while thinking is for gods! John 10:34 reveals: "Jesus answered them, Is it not written in your law, I said, Ye are gods?"
You have the mind of God. When last did you think? When you pray, you inform God; but when you think, you involve God! The greatest Professor is the Holy Ghost. The mind of a man is the superior tool for creativity. When you think, you receive the mind of God. If you are not a graduate of your mind, you are an illiterate! When you learn, you cultivate an absorb knowledge.
Think, Speak and Act to Create! Thinking is the act of generating excuses-eliminating tool-box! It is not only a mode of generating ideas for the ideal. It is better to better to be an inspired engineer than to be an academic engineer, by working in-line with your authentic calling which prolongs your impacts which avoids expiration through the roles of posterity!
Thinking is another medium of fasting-you abstain from any form of distraction. The greatest television on earth is the Human Mind! Selfless imagination is better than a selfless hard-work.
Pleasure is the greatest weapon which I refer to as a beautiful distraction adopted by the devil and its cohorts to bring man out of his dominion! There is nothing wrong in being a football fan, but don't be a football fool! Pleasure should become a poison to you. Pleasure could be likened as honey coated with poison! Pleasure is the current poison that limits or stops a man from fulfilling his authentic purpose on earth. "A little Sleep, A little Slumber; Plenty Sleep. Plenty slavery and death!" If your work cannot make you work at night, you will end up in the prison of life!
If you subscribe to quietness, you will end up in blossom ideas and outputs, because in quietness lies the truth. Silence is the best place for inventions.
Thinking is a known secret. Use information to pass examinations; for effective and productive activities, engage revelation to grow in life and as well share for maximum impacts.
Most research works in the Third World Countries are simply "read-search", and not "real search"! Re(al) search has to do with backing up with empirical evidence through secrets discovered or dug out by you in the course of searching for the truth in-line with target areas. Secrets mean to See, to visualize, to dream; then CREATE!
To maximally engage secrets, you must cut off from those seeking for survival and connect with DREAM chasers! therefore, you need to build a lion's heart within you in order to be able to take giant steps!
It is therefore in your power to command your season! It is your turn and your time…do not give in to the pressures at hand! Live in the reality of your desired change and authentic purpose.
(The end…)
Thank you for reading. I trust that you have been activated!
Tolulope A. Adegoke is an acclaimed "globalpreneur", with the mandate to enrich lives and provide the professional, spiritual, academic and leadership empowerment needed to birth, maximize and sustain possibilities in peoples, corporates and nations. He is a prolific writer, frequent keynote speaker and spoken word poet, among others, having written countless articles in diverse reputable fields and honoured many public invitations.
He is also a Senior Administrator.
Tolulope Adegoke can be booked for public events via the contacts below:
E-mail: adegoketolulope1022@gmail.com