Ex-Local Government Chairmen Confers Grand Patron Honours on Prince Ned Nwoko
The body of Ex-Local Government Chairmen of Nigeria, has decorated prolific businessman, Prince Ned Nwoko as its Grand Patron at a well attended event, which took place at the prestigious Mount Nwoko, Idumuje-Ugboko, Delta State.
Prince Nwoko, who has served Nigeria in various categories including as a member of the House of Representatives and a senator, is the husband of delectable actress, Regina Daniels.
The honour, which has created a jolly good mood in the billionaire business man, is not unconnected to his philanthropic gestures toward humanity.
Sources revealed that one of the major reasons for recognizing the Prince from Delta State was his singular act of assisting the 774 local governments in Nigeria to pursue and recover over deductions (Paris club funds) from foreign lenders and governments, which benefited the three tiers of government.
The source further added that all the former Chairmen from across states and political parties were on hand to honour the iconic Philanthropist and grassroot politician.
Prince Ned Munir Nwoko is a lawyer, politician and businessman. The Nigerian billionaire has been involved in politics for a very long time.
Ned was a member of the Nigerian House of Representatives between 1999 and 2003. He represented Aniocha North-South and Oshimili North-South in Delta State, Nigeria .
Prince Ned Munir Nwoko, who is popularly known as Ned Nwoko was born on December 21, 1960 into the Royal Palace of Idumuje-Ugboko in Aniocha North Local Government Area of Delta State, Nigeria. The 59-year-old dark skinned man is a Muslim, and has been described in the media as a 'sweet old wine that young Nollywood actress, Regina Daniels, is sipping happily'.
He currently has six wives including Regina Daniels, the sixth, who is excited about it. Their marriage caused an uproar in the media as result of their age difference, but the man of wealth and the young movie goddess were basically in love.
Recently, at the convocation of the University of Petroleum Resources, Efunrun, Warri, Delta State, he gifted 20 first class students with N20 million to kickstart their career. He also gave out 5million naira to 50 Instagram followers as start up.
He also singlehandedly bankrolled the blockbuster iconic movie THE ENEMY I KNOW to the tune of N180million. He's a lover of sports and education who find fulfillment in doing good.
Hear him: "I feel great doing good and creating opportunities for others"
Adesola Adeduntan: Award Winning Financial Game Changer
By Eric Elezuo
Only a few persons would believe that the Managing Director of FirstBank Nigeria Plc, the indefatigable Dr. Adesola Kazeem Adeduntan is just 50 years old. He was 50 on May 7, 2019. This is as a result of the achievements that have trailed his young life. Just a few days ago, Dr. Adeduntan bagged an international award as Distinguished Alumnus of the Year by Cranfield School of Management, United Kingdom. This is even as FirstBank was named biggest mover of 2019 according to KPMG Report within the same period. It is not incorrect to say that Adeduntan is a creative achiever.
Born Adesola Kazeem Adeduntan on May 7, 1969, in Ibadan, Oyo State, the banker started his early education at Ibadan Municipal Government Primary School (IMG), Adeoyo between1975 and 1981, for his primary education before proceeding to Urban Day Grammar School, Old Ife Road, Ibadan, where he had his secondary schooling. His excellent to duties created a space for him to become the Deputy Senior Prefect in his final year in 1986.
In the same year, he was admitted to the University of Ibadan in to study Veterinary Medicine, and qualified in 1992 as a Veterinary Surgeon, a profession he hardly practiced before switching over to financial management.
Consequently, in 1994 he joined Afribank (Nig) Plc., and was posted to the Ibadan Main Branch as a graduate trainee. He spent 18 months there learning the ropes, and working in various areas of banking operations including cash management, clearing, credit risk management, and foreign operations.
Between September 1995 and May 2002 Adeduntan worked with Arthur Andersen Nigeria, rising to become manager in the firm's financial services industry business, leveraging on the 18 months mentorship he received at Afribank. In this role, he led and managed the statutory audit of a number of leading Nigerian banks.
In August 2000, he served as an instructor at the Andersen World-Wide Induction training for new hires in Eindhoven, the Netherlands. He also served as the lead instructor for the Local Office Basic Accounting Training and Induction course in 1999. It was while he was with Arthur Andersen that qualified as a chartered accountant in 2000.
With more feathers to his cap, Adeduntan moved to the financial services industry in KPMG as a senior manager in June 2002, and served diligently till October 2004 when he bowed out. At KPMG, he co-pioneered the firms' financial risk management advisory services. He was also a KPMG-accredited Trainer and facilitated several internal training programmes.
When he left KPMG in 2004 to study, he pursued a Master's degree in Business Administration at the Cranfield School of Management, where he was a British Chevening Scholar. He graduated in September 2005.
Armed with yet another great feather, Adeduntan moved to Citibank Nigeria Limited in 2005 where he became the Senior Vice-President (General Manager) and Chief Financial Officer. He was saddled with the responsibility of overseeing the bank's financial and product control functions, quality assurance and operational risk management. he was on hand to assist the bank in its recapitalisation during the banking consolidation era.
In October 2007, he called it quits with Citibank, and a month later, pitched tent with the Africa Finance Corporation, as the pioneer Chief Financial Officer and Business Manager.
His achievement at the AFC includes leading the team that secured an A3/P2 investment grade international credit rating from Moody's Investors Service in March 2014. This made the Africa Finance Corporation the second highest-rated lending financial institution in Africa.
In July 2014, he was appointed an Executive Director/Group Chief Financial Officer of FirstBank, where he was responsible for the bank's financial control, internal control and enhancement, business performance management, treasury and procurement functions.
On Monday January 4, 2016, Adeduntan succeeded Bisi Onasanya, and assumed duty as Managing Director of FirstBank of Nigeria Limited, and its commercial banking subsidiaries including FBN UK, FBN Ghana, FBN DRC, FBN Guinea, FBN Gambia, FBN Mortgages, FBN Senegal, FBN Sierra Leone and First Pension Custodian Limited.
He coordinated his functions so professionally that on December 7, 2016, he was awarded the 2016 Banker of The Year award by the Leadership Newspaper "For refusing to 'go with the flow' even when the temptation was high and the reward substantial, and for reminding his colleagues that banking is nothing without integrity".
A man of many beneficial and influential parts, Adeduntan currently sits on the board of the Nigerian Economic Summit Group, and as a non-executive director on the boards of the Nigeria Interbank Settlement System (NIBSS), Africa Finance Corporation (AFC), FBN Bank U.K. Ltd., Universal Payments Plc., and FMDQ OTC Securities Exchange. He is also a Fellow of the Institute of Chartered Accountants of Nigeria.
In just four years at the helm of affairs at FirstBank, Adeduntan has turned the tables and rewrote banking narratives, delving into all aspects of human endeavour to see to the development of SMEs, youth entrepreneuship among many others.
In his speech at the kick off of FirstBank's celebration of 125 years of unbroken business operations, Adeduntan hinted as follows:
"From that very modest beginning in 1894, First Bank has traversed an incredible journey of delivering impeccable financial services to its customers and supporting the building of the modern-day Nigeria and indeed, West Africa, including our early pivotal role as the monetary and fiscal policy regulator for the entire West African region," he said.
"As a long-standing institution, which even predates Nigeria as a unified entity, FirstBank is entrenched in the nation's development; woven into the very fabric of society, with our involvement in every stage of national growth and development.
"At the amalgamation, independence and through the seasons ever after, we have been here marching hand-in-hand with you and our dear nation. We have enabled financial, technological, industrial and societal advancements, achieving very many firsts over time."
Adeduntan has seen to the sponsorship of prolific enterprises to guide the youths on the right path. These include the African Fashion Week which took place at the Oriental Hotel and Youth Empowerment Seminar at the Harbour Point Event Centre. These shows among a whole lot have a lot of testimonials following.
Adesola is married to Mrs. Adenike Adeduntan and together they have three wonderful children.
For your ability to change the game, and make positive impact in the economic advancement of Nigeria, and very many other countries, especially where FirstBank domiciles, you are our Boss of the Week.
Congratulations sir!
Gbongan Celebrates Joel Oyeyinka Popoola's Creative, Technological Ingenuity
As many that knows the agrarian town of Gbongan will not be surprised that yet another wonder in the person of Joel Oyeyinka Popoola, Founder, Digital Democracy Project and Rate Your Leader app, has been produced for the good of humanity. This is because Gbongan is famous, you can say notorious if you like, for producing egg heads who have stood the test of time in terms of proficiency, research, achievement, academic prowess and inventions.
Gbongan is a small community in southwestern part of Nigeria, Osun State to be specific. But as small as Gbongan is in size, she has produced more academics than any community in her category.
As a convention, Gbongan is in the business of crowning only the academically best as paramount rulers, and it is on record that its obas have had a minimum qualification of Ph.D. From the days of late Oba (Dr.) Solomon Babayemi Akinrinola 1, who was an Associate Professor of African Studies, University of Ibadan to the present Kabiyesi,  Oba (Dr.) Adetoyese Oyeniyi Odugbemi 1, an Agronomist, only the best has sat on the throne. The town could as well be described as a harbinger of Professors and Doctors of Philosophy. This has been since the 1950s.
Among prolific academics produced by the great Gbongan community include: Late Dr. Akinrefon, a Molecular Biologist;  Late Prof. Timothy Adegboye, a Professor of land Economics,  who during his life time was always referred to as the Professor of Professors; and at a point, was christened 'Baale UI' because he was the oldest in the University Community; this was the man who founded the Agric Economics Department of the then University of Ife,  now Obafemi Awolowo university. There was also Late Dr. Akintola, a renowned Consultant to WHO, UNICEF, FAO; Prof Akinwumi, former Deputy Vice Chancellor Academics, University of Ibadan; Prof Dupe Makinde, Prof. Alani Adeagbo Amusan, Prof Ojewole, the first Professor and Dean of Faculty of Pharmacy, Obafemi Awolowo University; Prof Ilori; Prof Lekan Dairo; Prof Lekan Oyeleye, former Dean Faculty of Arts University of Ibadan; Prof Seye Bolaji; Prof Wale Ajayi; Prof Ademola Olaniran; Prof O.B. Ajayi; Prof Clement Adebooye, Deputy Vice Chancellor Academics Osun State University; Prof Tunde Makanju; Prof. Ekanade, among many others.
Gbongan's prowess is not only in the academia, the town is also home to jurists and legal luminaries such as Justice Oyegoke Bolarinwa Babalakin (Honorable Justice of the Supreme Court, Federal Republic of Nigeria); Late Barrister Adedeji; Dr. Olawale Babalakin SAN, Barrister Funminiyi Oyebamiji Agbaye and Barrister Dapo Adekunle.
In the field of Medicine, Banking, Insurance, Media and Security, Gbongan boasts of citizens.
The rave of the moment in the person of an accomplished Techpreneur, Joel Oyeyinka Popoola, who had been described by Sunderland Echo as 'the City man', is a proud product of Gbongan.
Popoola is a United Kingdom citizen, who has developed an App to solve one of the challenges confronting democracy, even in developed democracies like the United kingdom. The App is meant to bridge the gap between elected leaders and the electorate, and at the same time eliminate the hassles of physical town hall meetings. He has put in place electronic platform through which Electors and Electorates will constantly interact to discuss matters relating to their constituencies in an abuse-free manner and bringing a win-win situation to both the leaders and the subjects.
The rate of acceptability of the app in the United Kingdom has been encouraging, making Yinka, as he is fondly called the cynosure of all eyes among all levels of communities and nationalities in the country. In all these, Yinka is always quick to make reference to his country, Nigeria; and his town of birth, Gbongan as opportunity presents itself.
His Rate Your Leader App has solved the problem of accountability among political office among holders. And will open channels of interactions between the elected public office holders and the electorates thereby mitigating challenges associated with lack of communication between a particular representative and his/her constituents, fake news and fabrications or half truths, which are known to be the bane of democracy.
With constant interactions between the elected officials and people of their constituencies, needs are therefore prioritised and even development across borders ensured.
Popoola, in a chat with Score Express Magazine, said that "the irony is that the technology is now in place to allow both the electors and elected to connect at the touch of a button but that technology all too often falls into modern mob rule. Whether it's Brexit in Britain, Trump in America or Jeune Gillets in France, voters no longer believe that politicians represent them– it's time to take back democracy with technology." .
Popoola stated further, "Across the world, democracy is changing forever, and Nigeria would not be an exception. Voters expect to have more influence on politics than our traditional representative democracy can necessarily accommodate. As a result, voters are either defecting to anti-establishment parties or becoming more and more attracted by direct action."
He also averred, "People's political priorities and motivations are becoming more and more disparate and unpredictable, and politicians are clearly failing to ascertain what voters really want."
The Publisher of the Score Express Magazine, who also is a childhood friend of Popoola, called on all Gbongan citizens, home and abroad, to rise and honour one of their own, Joel Popoola, as he arrives Nigeria this January to launch the App.
"if Ijebu people could honour Anthony Joshua, being their own, then Gbongan people wouldn't fail in doing more," he said.
FirstBank's Ani-Mumuney Honoured with Lifetime Achievement Award in Ghana
By Eric Elezuo
Chairperson, FBNInsurance Brokers and Group Head, Marketing & Corporate Communications, First Bank of Nigeria Limited as well as Vice President, World Federation of Advertisers, Mrs. Folake Ani-Mumuney, has been honoured with the Lifetime Achievement award at the 2019 Marketing World Awards held in Ghana.
The Marketing World Awards (MWA) is known to recognise outstanding performances by individuals and corporate organisations across the marketing communications industry in Africa.
Folake Ani-Mumuney bagged the prestigious award having delivered superior product values to the market, exhibited excellence in upholding concrete marketing strategies, displayed uniqueness and conveyed clear message to its consumers. She without doubt stood out among competitors thereby deserving of her recognition, award and celebration.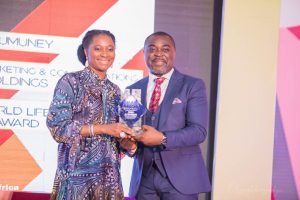 Popularly called FAM by admirers, Mrs. Ani-Mumuney has put in over 25 years in the world of marketing communications across various industries globally.
With a great personality that speaks for itself, she is widely respected and admired for her wit and intelligence.
Ani-Mumuney is not new to awards and recognition as her career is one big story in excellence and achievements.
Like Ani-Mumuney, FirstBank has also been in limelight of awards and honours. The bank has been named "Most Valuable Bank Brand in Nigeria" six times in a row (2011 – 2016) by the globally renowned "The Banker Magazine" of the Financial Times Group; "Best Retail Bank in Nigeria" for seven consecutive years (2011 – 2017) by the Asian Banker International Excellence in Retail Financial Services Awards and "Best Bank in Nigeria" by Global Finance for 15 years.