Ex-Local Government Chairmen Confers Grand Patron Honours on Prince Ned Nwoko
The body of Ex-Local Government Chairmen of Nigeria, has decorated prolific businessman, Prince Ned Nwoko as its Grand Patron at a well attended event, which took place at the prestigious Mount Nwoko, Idumuje-Ugboko, Delta State.
Prince Nwoko, who has served Nigeria in various categories including as a member of the House of Representatives and a senator, is the husband of delectable actress, Regina Daniels.
The honour, which has created a jolly good mood in the billionaire business man, is not unconnected to his philanthropic gestures toward humanity.
Sources revealed that one of the major reasons for recognizing the Prince from Delta State was his singular act of assisting the 774 local governments in Nigeria to pursue and recover over deductions (Paris club funds) from foreign lenders and governments, which benefited the three tiers of government.
The source further added that all the former Chairmen from across states and political parties were on hand to honour the iconic Philanthropist and grassroot politician.
Prince Ned Munir Nwoko is a lawyer, politician and businessman. The Nigerian billionaire has been involved in politics for a very long time.
Ned was a member of the Nigerian House of Representatives between 1999 and 2003. He represented Aniocha North-South and Oshimili North-South in Delta State, Nigeria .
Prince Ned Munir Nwoko, who is popularly known as Ned Nwoko was born on December 21, 1960 into the Royal Palace of Idumuje-Ugboko in Aniocha North Local Government Area of Delta State, Nigeria. The 59-year-old dark skinned man is a Muslim, and has been described in the media as a 'sweet old wine that young Nollywood actress, Regina Daniels, is sipping happily'.
He currently has six wives including Regina Daniels, the sixth, who is excited about it. Their marriage caused an uproar in the media as result of their age difference, but the man of wealth and the young movie goddess were basically in love.
Recently, at the convocation of the University of Petroleum Resources, Efunrun, Warri, Delta State, he gifted 20 first class students with N20 million to kickstart their career. He also gave out 5million naira to 50 Instagram followers as start up.
He also singlehandedly bankrolled the blockbuster iconic movie THE ENEMY I KNOW to the tune of N180million. He's a lover of sports and education who find fulfillment in doing good.
Hear him: "I feel great doing good and creating opportunities for others"
FirstBank's Ani-Mumuney Honoured with Lifetime Achievement Award in Ghana
By Eric Elezuo
Chairperson, FBNInsurance Brokers and Group Head, Marketing & Corporate Communications, First Bank of Nigeria Limited as well as Vice President, World Federation of Advertisers, Mrs. Folake Ani-Mumuney, has been honoured with the Lifetime Achievement award at the 2019 Marketing World Awards held in Ghana.
The Marketing World Awards (MWA) is known to recognise outstanding performances by individuals and corporate organisations across the marketing communications industry in Africa.
Folake Ani-Mumuney bagged the prestigious award having delivered superior product values to the market, exhibited excellence in upholding concrete marketing strategies, displayed uniqueness and conveyed clear message to its consumers. She without doubt stood out among competitors thereby deserving of her recognition, award and celebration.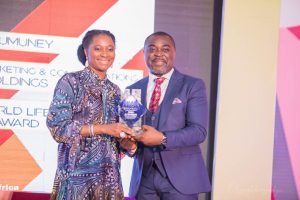 Popularly called FAM by admirers, Mrs. Ani-Mumuney has put in over 25 years in the world of marketing communications across various industries globally.
With a great personality that speaks for itself, she is widely respected and admired for her wit and intelligence.
Ani-Mumuney is not new to awards and recognition as her career is one big story in excellence and achievements.
Like Ani-Mumuney, FirstBank has also been in limelight of awards and honours. The bank has been named "Most Valuable Bank Brand in Nigeria" six times in a row (2011 – 2016) by the globally renowned "The Banker Magazine" of the Financial Times Group; "Best Retail Bank in Nigeria" for seven consecutive years (2011 – 2017) by the Asian Banker International Excellence in Retail Financial Services Awards and "Best Bank in Nigeria" by Global Finance for 15 years.
Jeff Bezos Now the Richest Man in the World
After the markets closed Friday, Forbes says Jeff is now worth $109.9 billion, moving him back ahead of Bill and his $105.8 billion net worth.
Briefly, before his Amazon stock increased, he was at number 2, looking up to Bill Gates. His drop in rank previously could be as a result of this year's costly divorce with ex-wife MacKenzie, who took a huge chunk of his fortune.
MacKenzie's net worth now stands at $32.7 billion, placing her among the top 20 in the world.
Jeff and MacKenzie split following what they called a trial separation, and Jeff is now seriously dating Lauren Sanchez.
Gates held the title for 24 years before losing to Bezos in 2018. He reclaimed it briefly this year and it is now back to Bezos when his Amazon stock bounced back.
David Ibiyeomie: Celebrating God's Vision for Global Impact @57
By Eric Elezuo
Have you ever seen a man diligent in his work? Do you know he will sit at table with kings and not mean men. He will do wonders and positively affect men and the world in general. One man at the height of such achievement is Pastor David Ibiyeomie, who by every standard, as the Bible would say, is the son of Bishop David Oyedepo, himself the son of Pastor Enoch Adeboye. Of a truth, Pastor David Ibiyeomie has an enviable gyneology and pedigree.
Born on October 21, 1962 in Bonny Island, Rivers State, to the family of late Chief and Mrs. Apollos Iganibo of Bolo Town in Ogu/Bolo Local Government Area of Rivers State, Nigeria, David Ibiyeomie has grown by limps and bounds to become today, one of the reference points of world's gospel generals, impacting lives and bringing hope and succour to God's children.
From the earliest humble beginnings, Pastor Ibiyeomie has steadily seen the need to attain great heights, and so he also fashioned his way academically. He attended Banham Primary School Port-Harcourt, Rivers State, Nigeria between 1969 and 1974 before he went to Government Comprehensive Secondary School, Borikiri, Rivers State, Nigeria, where he was from 1974 to 1979. Thereafter, he was admitted into the Rivers State University of Science and Technology, Port Harcourt for a degree Course in Microbiology in 1980.
Pastor Ibiyeomie saw the light of salvation in 1995 when he became born again. Shortly after he gave his life to Christ, a divine mandate was handed over to him, and being so obedient to the kingdom, he put every mechanism in motion to actuaslise the mandate. And with a super daddy in the person of Bishop David Oyedepo, whose divine guidance and training was made manifest, today he is a thoroughbred Pastor and teacher of the Gospel.
Under the tutelage of Bishop Oyedepo, Pastor Ibiyeomie continued his education, this time, on a higher spiritual level. He attended full time Bible School at the Word of Faith Bible Institute, operated by Oyedepo's Living Faith Church, the same year he became born again. That was where he was greatly influenced by the Ministry's standards and impact.
After his Bible School training at WOFBI, Ibiyeomie started a house fellowship with his family in Victoria Island, Lagos home. However, he moved to Port Harcourt, Rivers State, later and established Salvation Ministries (Glorious Chapel) precisely on April 13, 1997. It was a congregation of just 34 members including himself and wife. The mandate was clear: TO ESTABLISH THE KINGDOM OF GOD HERE ON EARTH through infallible proofs.
In a space of three months, the grace of God in Pastor Ibiyeomie was already manifesting, and the 'church' moved to a larger plot of land on Plot 17 Birabi Street, GRA Phase 1, Port Harcourt where about 100,000 attendees worship every Sunday alone. This is excluding it's satelite branches spread across the length and breath of the universe. Of all Ibiyeomie's expansion move, it was reported that In February 2011, the church started 14 satellite branches in one day, all running five services each. That was a new record in the history of church growth. The ministry will soon implement a seven services programme every Sunday. According to Ibiyeomie, the plan has been perfected according to God's dictates and will kick off soonest.
In just 22 years of existence, Pastor Ibiyeomie and the ministry have practically become a phenomenon and reference point to the world. Today, David Ibiyeomie pastors millions of worshippers spread all over the globe through his television ministry, online ministration and with over 180 satellite churches within and outside the country and over 300 pastors assisting him.
A selfless leader, Ibiyeomie is a father to the millions of worshippers that throng the Salvation Ministry ground every Sunday, Thursday and other special events days. He is not just a father by sound, he is indeed a father; meeting the needs of members whenever they arise. It is on record that he kind of live on equal basis with his pastors as practically all of them drive the same kind of jeep he drives, and equally own houses. He provided residential quarters, equipped with state of the art facilities for the staff and pastors' comfort such as GLORIOUS COURT, SUCCESS COURT, KINGS COURT and TEACHERS QUARTERS. He is a giver par excellence.
It is worthy of note that Ibiyeomie has remained systematic in bringing to past God's instruction towards expanding His kingdom. To this end, he changed his indoor healing miracle programme tagged "HEALING MIRACLE AND DELIVERANCE SERVICE which started in August 2001 to PORT HARCOURT MIRACLE CRUSADE in November 2003. The programme was remodeled to NIGHT OF Glory in 2010 and in January 2012, the NIGHT OF GLORY programme metamorphosed into the 5NIGHTS OF GLORY. It has today become a household programme all-round the globe. In addition, he holds crusades in different major cities of the world where souls are continually won and miracles abound. The most recent is the Aba Miracle Crusade.
With an unquenchable love for education, Ibiyeomie runs one of the best Christian schools in the region; Chockhmah International Academy; the primary and secondary educational arm of Salvation Ministries. He is also putting finishing touches to the opening of the PACE-SETTERS UNIVERSITY.
The ministry also runs The WORD OF LIFE BIBLE INSTITUTE to cater for the spiritual needs of not only members, but all and sundry. The school is reputed to have produced thousands of scholars across denominations since inception.
Papa, as he is fondly called by members who adore him, has not hidden the fact that he is a very rich pastor. He has also not hidden the source of his enduring wealth, and uses every opportunity to teach members how to be wealthy. To him, you only have to give to be super rich – give God unsparingly and unconditionally, and also give to humanity.
His passion to see humanity flourish has seen him awarding scholarships to 634 students in primary, secondary and tertiary institutions in one year. He has also renovated and donated modern hospital equipment worth over two hundred thousand US Dollars to the pediatric section of the University of Port Harcourt Teaching Hospital (UPTH) Nigeria; creating a wonderful ambiance to expedite the recovery of the patients .
He also rebuilt the fence of the Central State Primary School, Igwuruta and reconstructed several roads in the city of Port Harcourt to make the environment more habitable. He has in the same vein, built a state-of-the-art home for the elderly in Port Harcourt. Ibiyeomie's humanitarian services can only be imagined. He has practically superceded the concept of giving.
His unquenchable desire to see that humanity is well catered for on a more larger scale metamorphosed in the establishment of the David Ibiyeomie Foundation (DIF) through which he has rendered untold assistance to thousands. In a space of less than one year, that is between 2018 and 2019, the giver extra-ordinaire has spent over N1.5 billion on scholarships alone. Here is a man who has redefined the concept of giving and brotherly love.
Apart from a preacher and teacher of the Word, Ibiyeomie is a writer of repute, and credited with over 85 inspirational books cutting across all strata of living. Some of them are Dealing with Habits, Enjoying the Favour of God, Secrets for Generational Impact, Total Dominion, The Power of Praise, The Real You, How to Hear from God, The Power of Small Beginning, How Faith Works, Touch of Excellence, How to Fulfill Your Destiny, The Power of Obedience, Prosperity of the Righteous, Business Secrets, The Wonders of Wisdom, The Power of Resurrection, Wisdom for Creativity, Attitude for Supernatural Supplies, The Totality of Man, Keys to Impactful Living, See You at the Top, The Pathway to Greatness, The Power of Commitment, Wisdom to See Ahead, The Price for Power, The Prosperous Family, Walking in the Anointing, Be the Best, Success Pillars and Demonstrating Love for Your Nation.
He is the quintessential evidence to God's vision towards global impact.
He is happily married to Peace Ibiyeomie, and they are blessed with a son, David Ibiyeomie jr.
Today, the man with a stupendous vision to turn the world around for Christ is 57 years, and we can't just keep quiet but clink glasses and give God Glory for all He has done. We are so privilege to have an Ibiyeomie in this age and time.
Congratulations sir, and happy glorious birthday!