FirstBank's Ani-Mumuney Honoured with Lifetime Achievement Award in Ghana
By Eric Elezuo
Chairperson, FBNInsurance Brokers and Group Head, Marketing & Corporate Communications, First Bank of Nigeria Limited as well as Vice President, World Federation of Advertisers, Mrs. Folake Ani-Mumuney, has been honoured with the Lifetime Achievement award at the 2019 Marketing World Awards held in Ghana.
The Marketing World Awards (MWA) is known to recognise outstanding performances by individuals and corporate organisations across the marketing communications industry in Africa.
Folake Ani-Mumuney bagged the prestigious award having delivered superior product values to the market, exhibited excellence in upholding concrete marketing strategies, displayed uniqueness and conveyed clear message to its consumers. She without doubt stood out among competitors thereby deserving of her recognition, award and celebration.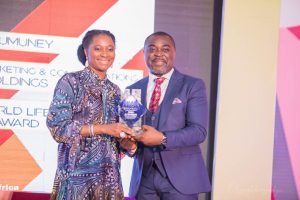 Popularly called FAM by admirers, Mrs. Ani-Mumuney has put in over 25 years in the world of marketing communications across various industries globally.
With a great personality that speaks for itself, she is widely respected and admired for her wit and intelligence.
Ani-Mumuney is not new to awards and recognition as her career is one big story in excellence and achievements.
Like Ani-Mumuney, FirstBank has also been in limelight of awards and honours. The bank has been named "Most Valuable Bank Brand in Nigeria" six times in a row (2011 – 2016) by the globally renowned "The Banker Magazine" of the Financial Times Group; "Best Retail Bank in Nigeria" for seven consecutive years (2011 – 2017) by the Asian Banker International Excellence in Retail Financial Services Awards and "Best Bank in Nigeria" by Global Finance for 15 years.
John Okelue Okpoli: Pacesetter, Pathfinder and Pioneering Expert
By Eric Elezuo
The ultimate measure of a man, they say, is not where he stands in the moment of comfort and convenience, but where he stands in times of challenge and controversy. The willing man is an achiever in whatever situation he finds himself. He don't just achieve, he creates or rather pioneers a million ways to getting things done. There are however, very few men in the universe, who have worked extremely hard to create opportunities, even from nothing, carved out veritable future for not only themselves but also for generations to come. One of such men is Delta born finance and asset management guru, Okelue John Okpoli.
Fondly called The Pioneer, John Okpoli, who is reputed to have pioneered almost everything he is involved in today ranging from academics, career, family, associations and many more, was born into the family of Dr. (Sir) Felix and Lady Dorothy Uzor Okpoli on October 6, 1978.
He started at a very young age to exhibited the featues and qualities of a gifted child, becoming a pathfinder and pace setter for his mates, contemporaries and collegues both on the home and academic fronts. His leadership abilities threw themselves to the fore, and could not be extinguished as he nurtured it step by step through to the adult he is today.
Young John kicked off his academic journey very early in life when at the age of four, he enrolled at Delta Steel Primary School, Owvian Aladja Delta State in 1982. But owing to geographical relocation because his father was a civil servant, he continued and concluded his elementary education at Iyobosa Primary School, Benin City in 1988, and obtained his First School Leaving Certificate.
John started his secondary education at Greater Tomorrow Secondary School, Benin City in 1989, but moved to Lagos thereafter and attended Ikeja High School, Ikeja where he concluded his seconadary i education in 1994. He was at the end of the day, rewarded with the prestigious West African School Certificate as he 'cleared' his papers in a single sitting, and with notable grades.
His exploits while at Greater Tomorrow Secondary School Benin City created a leverage for him to become a member of the Interim Executive committee of the 1994 set later in life
In 1996, John Okpoli was admitted into the University of Benin with the 1995/96 set to study Mathematics and Economics. He graduated with B.Sc honours in 2000 as a high flyer.
Being a goal getter with unquenchable zeal to acquire and sustain, and one whose focus and attention to details is second to none, Okpoli undertook a Special Executive MBA Programme at the Metropolitan School Of Business and Management in 2013. He knew what the future was going to throw at him, and he was prepared.
Highly equipped to face the harsh business environment, Okpoli began turning things around, and practically became a builder, an apostle of some sort, creating firsts and pioneering strong financial business ventures, which have stood the test of time, and are still flourishing till date. In fact, Okpoli has the proverbial Midas touch to make things happen and turn anything to gold.
As the Managing Director/Chief Executive Officer of Fundvine Asset Management Ltd, Okpoli singlehanded pioneered the setting up of all the company's subsidiaries. He didn't stop there. When the cruise boat of job relocation took him to AT&A as the Chief Operating Officer, Okpoli again brought his wealth of experience to bear, creating new vistas and breaking barriers. It is not by accident that the firm is today a force to reckon with.
The pioneering achiever went ahead to work with Sasware, a Signal Alliance agency as Head of Operations, and his story has bordered on performance, capacity building and expansion. He is a go-getter in its simplest term.
It is worthy of note that under his watch, Fundvine Hathaway Asset Management Ltd, rebranded and rolled out new enticing products.
Hear him: "I think I owe everything that has happened to me, and still going to happen to me to God. He has been more than kind to me, releasing in me the right words and actions at the right time.
"My success stories of pioneering ability, expansionist approach and general achievements, have remained legendary, and I hardly fail. This is the zeal and call I take to any establishment I find myself for the service of mankind."
Among many other pioneering activities of John include but not limited to being among the pioneer set of Mathematics and Economics department of the University of Benin. He went ahead to become the pioneer president or leader of distinct associations while on campus, including Project committee, UNIBEN Mathematics Class of 99 and Emerging Leaders Network (An Intiative Of Centre Of Leadership).
A very humble person, Okpoli gives credit to God for his 'little' efforts so far, and to his father, Felix Okpoli, who retired as a zonal General Manager with the National Electric Power Authority (NEPA). The senior Okpoli was the first product of Electrical/Electronic Engineering from Ubulu Uku in Delta State.
In the same vein, his maternal grand father Reverend S. I. Nwabuoku was the pioneer/first Anglican priest in the Anioma part of Delta State just as his uncle, Ven. (Dr) I. E. Nwabuoku was the pioneer Chief Medical Director, University of Benin Medical Centre and Vicar General, Anglican Diocese, Benin City.
Basically, pioneering ability runs in the family. It is left to the imagination what a person of John Okpoli's Calibre can do to an establishment or best still, a political institution. He is truly an asset; a much sought after one for that matter.
Okpoli, among many secular and formal endowments, is blessed with so many professional qualifications such as:
– Project Management Institute U.K 2011
– Nigerian Institute Of Management 2002
– Institute Of Credit Administration 2004
– Institute Of Cost Management 2002
– Economics Institute 2004
He may be a man about town, hovering from one boardroom to another, yet he is an accomplished family; a beloved and cherish husband to his beautiful wife, Oberhi Mary Okpoli, a prolific lawyer and Head of Chambers of Prince M.P Ohwovoriole (SAN) in Lagos.
Between John and Oberhi are wonderful children, who are steadily following the greater heights footsteps of their parents.
Congratulations John, you deserve our personality in focus honours
British Prime Minister, Fiancée Announce Birth of Baby Boy
British Prime Minister Boris Johnson's fiancée, Carrie Symonds, on Wednesday, gave birth to a "healthy baby boy" in a London hospital, a spokesman for the couple said.
"Both mother and baby are doing very well," the spokesman said in a surprise announcement, as Symonds was not thought to be due until later in the year.
(AFP)
Akporiaye Takes Over As NANTA President, Assures Continuity
By Eric Elezuo
In line with the constitution and guidelines governing the affairs of National Association of Nigeria Travel Agencies (NANTA), Mrs. Susan Akporiaye has officially taken over the affairs of the association. She took over from the immediate past president, Mr. Bankole Bernard, who steered the group for two consecutive terms.
In her acknowledgement speech to the teaming members of the association, Akporiaye assures continuity while at the same time details a new beginning.
Pledging to achieve more together with everyone on board, she called for effective strategies' to address local challenges in the travel and tourism world as well as the damage the dreaded COVID-19 pandemic has caused.
Below is her detailed statement:
CONTINUITY AND THE BIRTH OF A NEW BEGINNING:
Dear members of NANTA, our principals, elders and the media.
This morning, our president, who is now the immediate past president, my brother and friend, Bankole Bernard wrote to hand over the affairs of the association to me in line with consultation with our Board of Trustees and the executive members.
Yesterday, the Chairman, Board of Trustees, most able gentleman and leader, Mr Steve Isokariare also sent a message to put me on notice to steer the wheel of our progressive association for the next two years.
While the uncertainty that becloud our dear nation, industry and the world persisted due to Covid-19, many expressed anxiety about the possibility of the change in baton at this uncertain times….which is human.
While this line of thought gained ground, particularly with the desirable need to postpone our Kano AGM which could have afforded us the opportunity for me to present my manifesto to you as your incoming President but also to formally adopt our established physical handover protocols.
Nonetheless we all have to deal with the realities of the "Force Majeure" situation that Corona Virus have brought upon us. By God's grace we shall overcome it.
So we have digitally taken over and all the legal protocols for hand over have taken place overseen by our very capable Board of Trustees.
On one hand you are assured of continuity because I was one of the outgoing executives of the last administration.
On the other hand this is the birth of a new beginning as the incoming exco takes over under my leadership as the 44th President of NANTA.
We must admit that while we have global challenges brought on by COVID-19. We also do have some pertinent local challenges facing our members and their businesses which we must confront and come up with effective strategies to address.
In due course the incoming executives shall engage and consult with all of you as stakeholders in order to establish and validate our priorities.
I will then be articulating these priorities with strategies on how to move us forward.
I know there is a huge challenge to re-access our reach and physical engagement process in view of covid 19 and the impact on global Travel.
We are conscious of the pressure to rebound and gain immediate foothold yet determined to guide our members to follow established federal and states governments protocols on covid 19 and practice safety and social distancing as recommended by health officials globally.
This statement is to assure you all including our Friends and Principals that NANTA is united and in safe hands under my watch.
The Watchword under my Watch will be TEAMWORK .
As stakeholders you all have ideas not just the excos. As President i will ensure you all have the right platform to provide inputs for continuous engagements whether physical or digital.
But I reassure you as President my priorities will be YOUR priorities.
Therefore, the new exco and I will in due course address you all on the course we wish to chart, praying for assistance, suggestions and presence in all we shall endeavor to do on your behalf.
Once again, let me express my profound gratitude to Mr Bankole Bernard, the board of trustees, elders, my fellow partners in leadership, all zonal leadership and members, not excluding our very supportive friends in the travel and tourism and the media.
Having accepted to stand and hold forth as the 44th NANTA president, I ask God Amighty to grant me wisdom and knowledge to lead this great body and make it greater than ever before.
Together Everyone Achieves More (TEAM NANTA)
Thank you all so much and may God bless Nigeria and may God bless our beloved NANTA.
Susan Akporiaye
National President NANTA