Food for Living: Never Lose Hope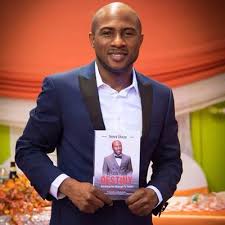 By Henry Ukazu
Dear Destiny Friends,
Globally, the world is at a loss as to what the future holds for businesses, relationships, governance and life in generally. One of the questions that is on the lips of everyone is, will life ever return to normal again? in fact, so many questions begging for answers. Even as government officials, doctors, scientists and lab technicians are working tooth and nail to find the cure for Coronavirus, the world remains at standstill not knowing what the new order, with respect to business and life, will be. It is therefore, with great joy I bring you the good news of a better tomorrow – hope. Hope is everything we need to change our mindset. Without hope, it will be difficult to behold the foreseeable future.
As Christians, we were taught to have hope because Christ was raised from the dead, otherwise our preaching and believing in Christ will be in vain. As motivational and inspiration life coach teachers, we teach business leaders, government officials, technocrats, academicians and students to plan for a better tomorrow by securing knowledge and skill. It is because of the hope that great minds were able to live their dreams.
We all go through one life situation or another which makes us lose our passions, reduces our attitude and make us react differently. It is possible that you are contending with a particular situation now, I got information for you; don't get defeated, stay afloat because what you think is the valley of dissatisfaction and disappointment can still turn out to be a blessing and breakthrough.
Patience is the harbinger of hope, and one must have loads of it. When you face though time , don't lose hope; face the fear and rise. Always see every tough time as the opportunity to break through and break even. Be rest assured that you have the capacity to think out of the box.
There's always a blessing in every valley. The experience of today will definitely make meaning to you in another 10 years time or less. You need to learn the experience in order to move to the next stage of life. Don't complain about your problem. Trouble is inevitable, but misery is optional. Don't be limited in you thought process. Be proactive and positive towards life.
Hope has no limit if you truly believe in your dreams and passion. Hope fuels passion in life. Some people feel they are too old to go to school, start a business, or get married; that's a huge fallacy. It only becomes true when you believe in them. Let me share some insightful examples of five great individuals who chose not to give up. They chose to keep pushing forward despite imminent hardships and failures, and ultimately found great success in their lives:
1. Henry Ford – He had five major business failures before founding Ford Motor Company.
2. Lucille Ball – Early in her career, she was considered a failure as an actress, unable to land anything but B movie roles. She went on to win four Emmys and a lifetime achievement award.
3. Soichiro Honda – After being turned down for a job with Toyota, he decided to make scooters from his own home until his neighbors talked him into starting his own company, Honda.
4. Bill Gates – He dropped out of Harvard and started a business called Traf-O-Data which failed. Instead of giving up, he decided to start a little company called Microsoft .
5. Walt Disney – He was fired from his job with a newspaper company. He was told he lacked imagination and didn't have any good ideas. He went on to create Disney's empire.
These five people learnt a valuable lesson, and that is, "You have to fight through some bad days to earn the best days of your life." I truly believe we can accomplish just about anything if we are willing to do what it takes to work for it and if we stay determined in our resolve. And when hard times come, as they most assuredly will, we must never allow ourselves to lose hope, knowing that the best is yet to come.
According to Martin Luther king Jr. "We must accept finite disappointment, but we must never lose infinite hope."
When you have hope, you are not concerned about the wave and wind that is blowing outside. When you have internal hope, you'll be less distracted about the noise outside. Hope is what keeps our dream alive. When you have hope, though you may feel the pain of the moment, you'll not really be concerned about the brief pain because of the greater tomorrow. According to an African proverb, a hunger that has hope won't kill someone. As a student going to school you have a hope for a better future if you do the needful. As a parent, you have hope that if you train your children very well they will take care of you in your old age.  As a businessman/woman, you have hope in spite of the lockdown and ups and down of life; your business will rise again for a greater success. The list is endless.
Hope is one of the greatest virtues any productive mind must have in order to succeed. This is because no matter how life treats you, tomorrow always look good and promising. I don't really know what you are experiencing at the moment. Are you looking for financial stability, are you looking/hoping for the right partner? Are you looking for a job? Are you currently going through a situation? I don't know what your situation is at the moment, but I will strongly advise you to be patient while learning all the experiences inherent. In the journey of life, even if you lose all options, never lose hope.
History is replete of stories about people who came into hard times, lost hope, and gave up. We rarely come to learn what would have happened with these individuals if they had not given up. We are left to wonder what great successes these people might have achieved if they had chosen to hold on to hope. And how they might have gone on to shape our world for the better?
The truth is life can be unfair, think of life as a white piece of paper that's divided into individual portions for each chapter of our lives, that these portions are just waiting for us to colour them with our adventures, our journeys and our experiences, both the good and the bad. The different colours represent the various happenings, our feelings and the emotions we experience. So, go out and live your life, dance through the storms, embrace whatever happens and lies ahead.
How to Avoid Losing Hope
1.      Be Grateful For What You Still Have
It doesn't matter how you choose to be grateful. You can write out ten things right now you're grateful for. You can sing to the heavens all the beautiful aspects of your life. You can take a big, giant breath, hold it for ten seconds, give it a powerful exhale and yell, "I'm grateful for this breath of life life because a lot of people are gasping for breath via ventilators". There's always something to be grateful about you if you're honest with yourself.  I'm specially gratueful to God for the ability to write and speak creatively.
Before I published my book, I was afraid how will the world receive it. Will it make sense? Is what I'm writing worthwhile, or is it hogwash? The list of insecure questions goes on and on. The point I'm wanting to make is: Keep your head up, believe in yourself, and take life head on.
2.      Embrace Tough Times and Explore Options to Recreate
During tough times you can't give up, ever. Even during the toughest times you must keep your hopes alive by pushing through. Work on what needs to get done, try and build some momentum, and then build on it further. Moral: Hold on pain endures
That last thing you should be doing is quitting, which I slightly hesitate to say because there are some very good reasons to quit sometimes. If you're passionate about what you want to do, then don't quit.
3.      Know Your Why
Because, when we set goals or we have some hope or dream that we're driving towards, we have to ensure that we addressed the three W's of Goal setting. What, Why, and When. If we didn't have a strong enough reason why we wanted to achieve something, then we might have subconsciously given up on that goal long before we consciously realized it.
4.       Be Honest with Yourself
When you can change your approach along the way, you can move towards your goals much quicker because you won't find yourself surprised suddenly if things don't end up working out. Always be honest in all situations. it will breed a much happier and healthier path towards your goals.
5.      Get Support from Your Base
Sometimes, the best way to take stock of the positives that we can gain from a situation that might seem bleak, is through the support of others. Whether it's friends, family members, religious denominations, or support groups, other people can help us to look at things in perspective and offer us a guiding light towards the shores of hope.
6.      Have Faith
No matter what you believe in: God, Allah, Buda, or the Singular. No situation, no matter how dire or bleak, can defeat you if you don't let it. We are all a product of the lens of focus from our mind's eyes.
In conclusion, remember, Rome wasn't built in a day, and countless people have failed more times than they've succeeded. So don't loose hope. And finally, remember, if you loose all options, don't loose hope.
Henry Ukazu writes from New York. He works with the New York City Department of Correction as the Legal Coordinator. He's the author of the acclaimed book Design Your Destiny – Actualizing Your Birthright To Success. He can be reached via henrous@gmail.com
Food for Living: Elevate Your Game
By Henry Ukazu
Greetings Destiny Friend,
In the journey of life, everyone's goal and desire is to constantly elevate their game. Elevating games means several things to different persons. To some, it is going up the ladder of success, while to others, it can be stepping up their game plan by scaling it up. Most of us are driven to succeed, yet it is amazing how many of us view the process of getting to where we want to go as a chore, rather than as the greatest, most fulfilling adventure of a lifetime.
The pursuit of success is our greatest gift, as it is exactly what develops our character and makes our lives extraordinary. When we have a goal in mind, we are instantly purposed. Succeeding comes down our mindset. Our mindset must be driven to succeed, to sacrifice and to have the resiliency and patience to chart our path.
In today's business world, the only entities that will stay relevant are businesses and people who are willing go the extra mile to gain not only theoretical knowledge, but practical knowledge through learning, unlearning and relearning. In an evolutionary point of view, those who are not adaptable to change will not survive. This is the most reliable way of elevating your game. It's quite unfortunate many corporate organizations don't take time to learn contemporary skills and certification which will enable them to be ahead of their competitors. The same philosophy is applicable to progressive beings who don't take time to improve themselves. When you elevate your game plan, opportunities will locate you. This is because you have set yourself apart from your contemporaries.
In elevating your game, it is important to mind who you spend time with, your network of friends, the books you read, the associations/organizations you relate with, and most especially, your mindset. It is instructive to note that you cannot achieve more than your imaginations can assimilate. According to Henry Ford, if you think you can and if you think you can't, either way you're right. It is pertinent to note that who you spend your life with will determine how your life will be. You cannot hang out with chicken and expect to soar. Isn't it true that your friends can make or mar you? It is widely believed that, if you hang out with nine millionaires, you'll be the next millionaire. Therefore, today, I charge you to look at your friends and see where you are likely to be in five years.
You can't be doing the same thing over and over again and expect to get a different result. Always make it a point of duty to set new record for yourself. In setting a record, you have to be on the lookout for certain qualities you'll like to learn. You can also check out the qualities you can learn from your friends. Whatever qualities your friends have is likely going to rub off on you. Just like spirits are transferable, bad friends can influence you with their character
Set Boundaries
In order for you to elevate your game, you need to set boundaries. For instance, If you're going to reach your highest potential, you have to step up your game by raising the bar for only a select group of people who identify and share in your vision. You need to ask yourself hard questions on what you really want. Inferior minds are always concerned with what they'll lose if they cut off from certain boundaries/person. They fail to ask themselves, like what is important to them? Money, fame, value or vision. If you are among these categories of people, who always ask what if I lose my business? I have a simple question for you, what if you miss your destiny?
When you're in the process of elevating your game, what you're unwilling to separate from, will continue to follow you. The law of the group says, we associate with people with the way we see ourselves. Happy people hangout out with happy people. What most people don't know and understand is that twenty years from now nobody will care about your friends. It's not about quantity if your friends but quality. A one loyal and impactful friend is better than ten general friends.
You shouldn't apply sentiment in business. Don't mix family and business together. It's not a good business idea to do business with only people associated/connected with you, because they may not have the same spirit unlike strangers. Treat them with respect but relate from a distance.
In the journey of life, your joy is your joy, none can share it with you. What this really means is that your success and failure lies with you. If you don't get the wrong people out, the right people won't come.
How Can We Elevate Our Game
It is generally believed that one's entrepreneurial journey won't be such a grind if they learn to take joy in your growth along the way.
1.      Start a personal project. Define a specific goal/project to realize in a specific period. It should be something that you absolutely feel is yours.
2.      Get trusted advisors. It is time for you to stop taking suggestions from anyone who has an opinion. Search for a mentor who has the expertise in the industry you are passionate about.
3.      Read as vast as you can. Trying to have knowledge about almost every aspect of life. In that way, it makes you to position yourself very well.
4.      Run Your Race
To get to our next level we must focus on our own race. We must not succeed for anyone but ourselves. We must not pursue success to show up, get revenge, or take someone down that we fear is better. The reason race horses have blinders on their eyes is so they don't get distracted by the other horses when they're racing. The blinders do not allow the horse to see anything but what is in front of them. It forces the horse to stay focused on their own race. We must do the same thing. We all saw what happened in the Olympics with the South African swimmer and Michael Phelps. The South African was watching Phelps, and Phelps was watching the finish line. It's no wonder Phelps won. We must each focus on our own finish line.
5.       Keep the faith.
To elevate our game, we must always hold a vision of the next step in our process. The vision we hold is the picture of success we chase. We must drive, dig, grind and then let go, and have faith, as we witness how the results of our actions land. Every single day our eyes open in the morning, we must make sure we're clear about what we want. We each have control over how hard and how smart we work; the rest comes down to having the faith that our efforts will pay off in the ways we want. The large majority of successful people work from faith. Faith is the energy that funds belief. Without belief, success isn't a possibility.
6. You must believe.
The more we push ourselves beyond our perceived limits, the more we expand our belief in ourselves. This is exactly how we elevate to the next level. If we see a door that has a sign that says "limit," "fear," "I can't," "its not possible," or "who are you kidding?" on it, we must take it upon ourselves to push through every single one of those doors. The majority of the time we will find that the signs on those doors were lies we've been telling ourselves. When we walk through them and achieve the "impossible," we build our character and greatly increase the confidence we have in ourselves. The more confident we are, the more we elevate our game.
7. Be a team player.
One of the most important ways to elevate our game is to be inclusive. Success is a team sport. There's an  African proverb that says if you want to go fast, go alone, but if you want to far, go with a team. If we are selfish, and we try and hoard or hide our success, we won't get nearly as far as when we choose to include others in achieving our goals. It's teamwork that makes the dream work. When we're on our mission and we see anyone on our team wearing thin, we must partner up and bring them along, and expect the same in return. We must drop our egos, and ask for help whenever and wherever necessary. We are much more resilient when we have a community of support to turn to.
What are you doing to elevate your game?
Henry Ukazu writes from New York. He works with the New York City Department of Correction as the Legal Coordinator. He's the author of the acclaimed book Design Your Destiny – Actualizing Your Birthright To Success. He can be reached via henrous@gmail.com
Food for Living: Fret Not, That Set Back Is Your Set Up for Success
By Henry Ukazu
Greetings Destiny Friends,
Succeeding in life takes different shapes and form. Sometimes, we might be working towards a direction with the hope we'll succeed, but in reality, our breakthrough in life can literally come from unimaginable places and sources like your network and strangers. If one is able to think out of the box, you can decipher that true success is an all-encompassing package. This is because you will have to cross the ts and dot the Is.
The interesting thing about success is that it has a way of humbling one. During the course of this article we shall be discussing about distractions, setbacks, disappointments and how unprecedent turn of events can lead to your success.
It's instructive to know that the universe has a way of using your friends, family, strangers, work colleagues and even your detractors/enemies to catapult you to success. Taking a cursory look at the life of Joseph from the Book of life, his siblings had the plan of killing him because he was fondly loved by his father, his siblings may have felt he's better prepared for succeed more than them, and as such they planned to kill him without knowing they are setting him up for success. Joseph, as the Bible recorded, was a dreamer who dreamt his siblings will bow before him. Ordinarily, he would have died if the plans of this brothers have worked perfectly well, but because they didn't know any better, they had a second thought of selling him off to a group of merchants, who were traveling instead of spilling their brothers blood. That singular act of selling Joseph changed the course of Joseph's destiny and the rest as they say is history.
It is simply the same way your business, environment and life can metamorphose. Let's take another case study of someone interested in business, you may have a desire to bring in a new business into the market but then, you are unsure of how it will be received it. But then, when you take the risk, sometimes it might be best decision you may have to take your business career.
Let me share a personal experience with you; about three years ago, I resigned from my job and traveled overseas to see my family in addition to promoting my first book. When I came back to the United States, I had no job. I was forced to go the street to market my book. During one of my outings, I met one of the news anchors for News 12. I shared my vision with him. Fast-forward to three years later when New York Times interviewed me, it was the same news correspondent agent who reached out to me for the interview. The rest they say is history.
That's simply the same way life works. Your disappointment can turn out to be a blessing if you are able to appreciate the blessings that comes with it. In order to do this, you will need to prepare for the best and expect the worst, and whatsoever happens, you'll know you have done your bit.
It should be noted that God and the universe can use even your enemies to bless you. It can be your family, friends, work, strangers etc., they all orchestrated for a purpose, all things being equal. What you think might be a disappointment can be a blessing in disguise because without them you may not reach the promiseland. What looks like a setback might end up be a set up for your success.
In the journey of life, certain people have been placed in your life for certain reasons. Just like you have destiny helpers, the same way you have detractors all lined up to play their own unique role for you. All these beings are meant to enable you in one way or another. So, stop crying over spilt milk, what has been done has been done, the deed cannot be changed. You just have to think out of the box in every situation.
Critics, doubters, haters are all there for a purpose. Moral: If your enemies weren't against you, maybe you wouldn't have worked harder.
Let me scale the conversation up to a another level, imagine water in a tap being stopped from rushing out, when left open, the water will gush out farther than expected due to the pressure that will come upon it. That's simply how our enemies and life situation come to us. What you think might be a set-back might end up being a set up for you
In conclusion, don't complain about the person that betrayed, lied, and pushed you aside. Just move on and allow nature to take its due course. You just never know; they might just be setting you up for success.
Henry Ukazu writes from New York. He works with the New York City Department of Correction as the Legal Coordinator. He's the author of the acclaimed book Design Your Destiny – Actualizing Your Birthright To Success. He can be reached via henrous@gmail.com
What Manner of COVID-19 Does 'Benue Index Case', Susan Okpe Has?
By Eric Elezuo
On March 28, 2020, the Benue State government announced its first case of Coronavirus, mentioning in a well attended press conference that one Mrs Susan Okpe, a returnee from England, had tested positive for the dreaded disease. The announcement was made by the state's number one citizen, Mr. Samuel Otorm, in total adherence to Section 26 (2) (e) of the National Health Act, 2014, according his Chief Press Secretary during a much later statement.
"It is the constitutional duty of the governor to ensure the safety and wellbeing of his people. Section 26 (2) (e) of the National Health Act, 2014 gives the government the powers to disclose information relating to a person if 'non-disclosure of the information represents a serious threat to public health," he said.
However, storms started to brew shortly afterwards with Mrs Okpe, who admitted that he returned from England to attend her mother's funeral, saying she was not sick, and could not in anyway with COVID-19 positive. She stated that she had sought medical attention on arrival as a result of pains occasioned by jet lag; the same according to her was promptly attended to, and she was alright.
But the last was not heard of it as the Benue State government insisted that she was positive and therefore a threat to public health. The woman maintained otherwise, and followed it up with refusal to take any form of treatment. But how did the drama started? The governor's CPS said in part:
"After the Deputy Governor, Benson Abounu led a team of medical experts to counsel Mrs. Okpe and explained to her why she had to be moved to the Benue State University Teaching Hospital, BSUTH, it was only proper that the people were informed that there was an index case in the state. This is precisely what the Governor did."
Mrs. Okpe, who insisted she was not sick, was moved to the isolation and treatment centre at Benue State University Teaching Hospital, BSUTH, after much persuasion by the chairman of the committee and Benue State Deputy Governor, Mr. Benson Abounu. But refusing to accept any drugs, it was reported that the Nigeria centre for Disease Control (NCDC) ordered that she be moved to Abuja. She was moved to Abuja on April 4, 2020, about seven days after she was isolated.
Okpe blatantly refused to cooperated with the medical team, maintaining that she was neither sick nor COVID-19 positive and was being unjustly been held. This led her to making a two and half minutes video recording asking the federal government to release her from "incarceration." Below is the transcription of the video:
"Hi, everybody, this is Susan Idoko Okpe, née Lawani. I am pleading with everybody to please tell Nigerian government to let me go. This is my 16th day of incarceration. What have I done, what have I done? Benue state lied on me that I have COVID-19. I just got the result yesterday after 15 days and the result is a stage play with different date birthdays, different recordings which they themselves know and trying to put right."
As if that wasn't enough, another of Okpe's video emerged a few days ago where she maintained that she was still being held against her will. And reiterating Okpe's story, the House of Representatives has urged the NCDC to intervene in the matter to hasten the discharge of the woman, whose stay in isolation has exceeded 50 gays.
The House reasoned that "The details of this Mrs. Susan ldoko-Okpe Nee Lawani is not consistent with that of the lady who was referred from Benue State Teaching Hospital, Makurdi, to Gwagwalada Specialist Hospital, Abuja.
"The personal information on the laboratory result from the NCDC did not also tally with her personal details."
So is this a case of mistaken identity? When would the mistake be realised and the needful be done? Again, is the Coronairus no longer on 14 days gestation period as the woman has spent almost four times the number.
While not only the NCDC should wade into the matter, the Federal Government must as a matter of urgency set up a panel of enquiry to report back within a time not more than two days to find out certain mysteries including why Okpe's name had to be announced in the public domain even as her status was still being ascertained. It is on record that no COVID-19 patient's name has ever been made public without their consent. Why was Okpe's case different?
Time is now to unravel the intricacies behind the 56 year-old woman's dilemma, and have discharged and bring to book whoever may be involved in her predicament no matter how highly placed.