Food for Living: Time As Man's Most Precious Gift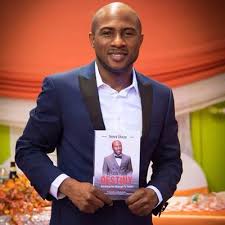 By Henry Ukazu
Dear Destiny Friends,
Time is one of the most precious gifts available to man. And one's time unarguably is one's time. Note that one of the greatest ways to know a man/woman is to study the way they invest their time and what they spend their time on. It's easy to say you love or care for someone, but the effort or measure you put in will determine how valuable the person is to you. It is also instructive to note that we are not too busy for anyone we care about. You can never be too busy for your family and close friends. In the same way, if you cherish a commodity like gold/diamond you will treat it like a priceless jewel or asset.
Time is largely underrated. Sometimes we think we have all the time in the world, especially when you are young or have no project at hand. If you want to know you have no time, start a project or vision that is bigger than you. Sometimes, we think we can always have a second chance to make a first impression; that may be true but that's not always the case. The phrase time waits for no man is simply another way of saying that the passing of time is unstoppable, and it will march on regardless of what anyone says or does. So, if you are still thinking of the time you will invest in any project, you will be surprised to know that time will come and go, and the task will remain undone. Moral: Don't look at the time you will spend if you're passionate about a worthy cause. You can explore options to know what's reasonable and attainable.
When you host events or training, people are not merely paying you because they like you, they are paying you for your experience which is your time. The same principle is applicable in any job, employers are always concerned about your experience and what you have done to prove you love the opportunity in addition to being the best for the position.
Attention is the price you pay for value. According to Gary Chapman in his book "The Five Love Language", the five love languages are words affirmation, gift, services, time and physical touch. Any creative man who knows how to use this five-love language will not have a hard time getting a lady of his choice. Of interest to me is the value of time. This is because when you lose money, you can easily get it back if you play by the right rules, but if you lose your time, you can never get it back.
Time is more precious and valuable than money. When you spend your time on any lady, it has a way of showing your attention and in most cases, that's what love means to you.
In the journey of life, we will never have the perfect time to do the needful, but we will always have time to do what we want to do. To know how to use your time, the best question to ask yourself is what is the best use of my time right now. If we are honest to ourselves, good things don't always come easy, if you desire to be a published author, you have to put in the work, if you desire success in your academics, business, relationship/marriage, profession, spirituality, politics etc., you must invest your resources into it, but most especially your time is what will make the ultimate difference.
The question we should be asking ourselves is what is my attitude to time? How do I spend my time? Who do I spend my time with? How intentional are you with your life? And most importantly what legacy will I like to be remembered when I depart this sinful world? As a rational and progressive being, it is always important to examine your life by taking stock and evaluating the progress you have made every day, week, month, year or decade. By doing so, you will come to the sublime realization that we don't really have time to do the needful. You will also realize that you may have made mistakes by investing your time in projects and endeavors that didn't yield much fruit. Some of which can be regarded as frivolous.
Whatever is the case, we always have time to reset our lives. According to an African proverb, 'whenever a man wakes up from sleep, that is when his day begins'. This adage simply means, you are never late when you begin to live your life on purpose. So, it doesn't matter how old you are, it doesn't matter how far you may have gone out of your path, it doesn't matter what your past may have been, you can still hit the reset button if you are intentional about living a life of authenticity. It doesn't matter if you have been fired from your job, if you are divorced, or whatever your situation might be, if you can look past those challenges and setbacks and ask yourself what lesson did I learn, what is it I should have done better, and how can I move from here. This is a healthy way of living and learning from life.
Trust me, time runs faster than light. If you really want to make an impact with your life, set a timeline for a vision your dream of or have in mind. By the time you set your calendar by drawing the plan on what is needed, you would wish you started early to engage with the right people, association, in addition to doing the needful which entails your own personal effort because before anyone can raise his/her finger to assist you, they will like to see the effort you have invested in yourself.
By the time you are done doing the numbers, you will release that indeed, time waits for no man. It is on such occasions you may begin to have regrets, and once regrets begin to set in, you may begin to lose the inspiration to be fired up. But like I mentioned earlier, you are never too late to live a life of purpose. Whenever you wake up from your slumber, that's when your day begins. You can move with your determination, and time which is the arsenal you need. If late President Nelson Mandela can spend 27 years in prison and still win an election, that should ring a bell for you. You might say, his case is different, but the point and message I want to emphasize is that he was determined to fight for a cause he believed in and it paid off.
In conclusion, as you move along in life, ask yourself, what is the best use of my time now? It is only by doing so you'll truly realize how valuable time is.
Henry Ukazu writes from New York. He's a Human Capacity & mindset coach. He's also a  public speaker. He works with the New York City Department of Correction as the Legal Coordinator. He's the author of the acclaimed book Design Your Destiny – Actualizing Your Birthright To Success and President of gloemi.com. He can be reached via info@gloemi.com
Police Nab Kidnappers of Greenfield Varsity Students, Other Criminals, Recover Arms, Cash
The Nigerian Police Force has arrested kidnappers, who carried out the abduction of Greenfield University students, Kaduna in 2021 as well as killing five if them and criminal elements in it latest harvest of successes
The feat was revealed in a statement by the Force Public Relations Officer CSP Olumuyiwa Adejobi, stating that following directives from the Inspector General of Police, Alkali Usman Baba, to clampdown on perpetrators of crimes and criminality, the Force Intelligence Bureau Special Tactical Squad operatives swung into action, recorded the great feat.
The squad made recoveries ranging from firearms to ammunition and cash among other items.
The statement in full:
The Force Intelligence Bureau Special Tactical Squad (FIB-STS) operatives following directives from the Inspector-General of Police, IGP Usman Alkali Baba, psc(+), NPM, fdc, to clampdown on the perpetrators of crimes and criminality, as well as cutting off their supply of arms, have successfully effected the arrest of 31 suspects connected with major violent crimes including Kidnapping, Culpable Homicide, Rape, Unlawful Possession of Firearms etc.
The FIB-STS equally recovered a total of 61 firearms including 41 AK rifles, 8 Type 06 rifles, 4 Light Assault Rifles (LAR), 4 pump action guns, 2 locally made firearms, 1 G3 rifle, 1 dane gun, 376 rounds of live ammunition of different calibres, and cash sum of two million Naira, from the suspects in the course of investigations.
Prominent among the cases include a case of kidnapping where the duo of Aminu Lawal (aka Kano), and Murtala Dawu (aka Mugala), both working in synergy with the kidnap kingpin known as Yellow Ashana, confessed to the kidnap and murder of two police officers and one vigilante in 2021. They equally confessed to the kidnap of students from the Greenfield University in Kaduna State, and the mindless murder of five victims before the payment of ransom, and eventual release of the others. Intelligence shows that their area of operations include Dan Hunu, Kekebi, Dan Busha Rido, Maraban Rido, and Kumi Sata, all in Kaduna State. FIB-STS operatives caught up with them in March, 2022, after being on their trail upon the mention of their names in connection to the kidnapping of Bethel Baptist School students in 2021.
Similarly, a five-man trans-border syndicate who carries out kidnapping operations in between Adamawa State in Nigeria, and Burha, Fituha, and Kesu in Cameroun were arrested. The gang which comprises Abubakar Mohammed aged 28 years old, Shehu Mohammed aged 38 years old, Abdullahi Ali aged 30 years old, Abubakar Ali, aged 18 year old, and Hussaini Sule aged 18 years old, all males from Mubi, Adamawa State, targets wealthy individuals who possess beautiful houses or cars. They confessed to the kidnap and multiple rape of a newly wedded woman at Askira Uba Local Government Area of Borno state whom they released upon receipt of a million Naira ransom. They were apprehended by operatives of the FIB-STS after collecting a ransom sum of 2 million Naira for one Alhaji Moni of Buladega Village on the 11th of May, 2022.
Operatives of the FIB-STS equally apprehended the duo of Umar Muhammed aged 40 years old from Mitchika in Adamawa State, and Musa Buba aged 29 years old from Hong in Adamawa State, who are famous for their kidnapping activities. They were arrested at the market, upon credible intelligence that they would be there to buy food items for their kidnap victims. They confessed to many heinous crimes including the killing and beheading of one Alhaji Mai Gome, even after ransom payment had been made.
The Inspector General of Police, IGP Usman Alkali Baba, psc (+), NPM, fdc, while commending the FIB-STS operatives for the successes recorded, assured that all criminal elements will be smoked out of their hiding places and would answer to their crimes in due course.
All the suspects will be arraigned in court on completion of investigations.
Ex-Kano Gov Ibrahim Shekarau Dumps APC, Joins NNPP
A former Governor of Kano State, Senator Ibrahim Shekarau, has dumped the ruling All Progressives Congress.
Shekarau joined the New Nigeria Peoples Party.
The former Director General of Asiwaju Bola Tinubu's Support Group AbdulMumin Jibrin, announced this on his Twitter handle.
The tweet reads, "BREAKING- Sen Ibrahim Shekarau joins NNPP. Details later."
Later, the party tweeted photographs of the visit of NNPP leader, Rabiu Kwankwaso, to Shekarau's home.
"His Excellency Engr Dr Rabiu Musa Kwankwaso paid a congratulatory visit today to former Gov (Sen) Ibrahim Shekarau after he decamped to NNPP," the party posted.
Shekarau represents Kano Central in the Senate.
The 66 year-old senator was a former Minister of Education and two-term Governor of Kano State.
He was elected in April 2003 and reelected in April 2007.
He was one of the candidates who aspired to become president in the Nigerian general elections of 2011.
The Punch
LSSTF's Balogun Tours EPAIL Facility, Commends Management for Contributions to Security
The Executive Secretary/CEO of the Lagos State Security Trust Fund (LSSTF), Dr. Abdurrazaq Balogun, has paid a visit to the Equipment and Protective Applications International Limited (EPAIL) mega factory, with the Chairman/CEO of EPAIL expressing delight at the Fund's visit while conducting his guest on a tour of the facility.
During the visit, the ES witnessed the production of security equipment such as armored hard body for vehicles, ballistic plates, helmets, vests, etc. from scratch using locally sourced materials. A test was also conducted on one of the locally made crowd dispersal water cannon and other crowd control equipment.
Speaking on the visit, Balogun said: "The security challenges in the state continue to increase as a result of the harsh economic situation in the country hence the visitation which was in furtherance of the Fund's commitment to continue to source for and provide the required equipment and home grown state of the art security gadgets and technological solutions that meet international standards, fit for our terrain and useable by security agencies to combat crime in the State."
The LSSTF CEO also commended EPAIL Nigeria for its outstanding work and contributions in the area of security, noting that "The importance of a strong and formidable security outfit cannot be overemphasized as it is one of the hallmarks of a thriving society.  As we approach the 2023 general elections, it is critical that we strengthen our security agencies to enable them proactively combat crime and maintain law and order in the State, therefore we call on our donors to do more by way of contributions in cash or kind to the Fund towards improved security in the State in our collective self-interest".
Subsequently, the Chairman of EPAIL thanked the Executive Secretary of the Fund for his visit and pledged his continuous support to the Fund.