Former Eagles Midfielder, Henry Nwosu, Down with Ailment, Cries Out for Help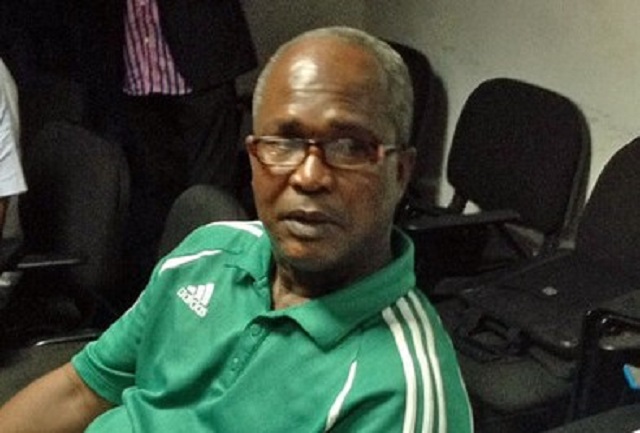 Former Super Eagles midfielder, Henry Nwosu, says he needs help to stay alive after being diagnosed with an undisclosed terminal ailment, The PUNCH reports.
Our correspondent learnt Nwosu, a member of Nigeria's first title winning African Cup of Nations squad in 1980, is currently receiving treatment at the Asaba Specialist hospital in Delta State.
The 59-year-old, who is being taken care of at the hospital by his two sisters, told The PUNCH he was battling to stay alive, having spent all his fortune in the process.
"I can't say anything now about my ailment until next week, as the results of some of the tests I underwent have not been brought to me," Nwosu told The PUNCH.
"Some people have sent me money to help the process, which I appreciate so much. Today (Sunday), someone from an All-Star club I belong to in Lagos sent me N100,000, while another sent me N50,000, which I appreciate. I need all the help I can now to stay alive.
"I know how much I have spent here at the Asaba Specialist Hospital, it has not been easy."
Meanwhile, the Chairman, Task Force of the Professional Footballers Association of Nigerian, Harrison Jalla, made a passionate plea to the Minister of Youth and Sports Sunday Dare, the Imo State Governor, Hope Uzodinma, of and the President, Nigeria Football Federation, Ibrahim Gusau, to come to the aid of the Nigerian legend.
"Nwosu, who meritoriously served Nigeria in the 1980s and 1990s, is down with an ailment that requires urgent medical attention," Jalla said in a statement made available to The PUNCH on Sunday.
"The situation requires urgent medical attention. This is a clarion call to the NFF, Minister of Sports, the government of Imo State and all Nigerians of goodwill to rally round Nwosu to save his life.
"He was a delight to watch in his days at the defunct New Nigerian Bank, ACB, Iwuanyanwu Nationale and the Eagles.
"Nwosu is a living legend. This is one of the reasons why PFAN must get its proper representations in NFF, with its collective bargaining agreement in place to run its welfare programmes for current and retired footballers as an independent organisation."
Shaibu Eats Humble Pie, Apologises to Obaseki, Says 'I Missed My Gov'
Call it the eating of a humble pie, and you may not be wring as the embattled Deputy Governor of Edo State, Philip Shaibu, apologised to Governor Godwin Obaseki amid a face-off between them.
Speaking to reporters on Thursday in Benin City, Mr Shaibu appealed to Governor Obaseki to forgive his "mistakes" for them to continue to work together, Channels TV reported.
"I use this medium to appeal to Mr Governor, if there is anything that I don't know that I have done, please forgive me so that we can develop our state together," he said.
"We have just one year to go. We have been the envy of the entire country. So, Mr Governor, if there is anything you feel that I have done, please I am sorry. I need us to work together to finish well and strong," the deputy governor added.
When asked if he had resumed at his new office, Mr Shaibu said, "We have resumed but there is still a lot of work to be done there.
"There is no problem about it. The governor has asked us to go there. Like I have always tried to prove, I am a loyal servant and nothing has changed.
"I took a personal vow to support my governor and you can see my Catholic people are here. When I took a vow with God, nothing can change it and I wish that the relationship that we had will come back in the next few days and weeks."
Mr Shaibu also said he has been missing the governor since their rift began, and expressed hope that God will "touch the governor's heart" to forgive him.
"I mean well. If there is any mistake I have made as a human, it is not out of wickedness because I know I'm not wicked. I have a very clean heart."
Wike Revokes Undeveloped Lands in Abuja; Obi, Bua, Tobi, Imoke Others Affected
The Federal Capital Territory FCT Minister, Nyesom Wike, has announced the revocation of 167 plots of land in some highbrow districts of the nation's capital, Abuja.
Areas affected are Maitama, Gudu, Wuye which had the highest revocation, 41; Katampe, Katampe Extension, Wuse 2, Jabi, Utako, Idu Industrial zone, and Asokoro which had the second highest revocation, 39.
In a notice issued Thursday night in Abuja, the administration said the plots were revoked due to the refusal or failure of their allottees to develop them.
"The Federal Capital Territory Administration FCTA hereby informs the general public that the Minister of the Federal Capital Territory has, in the exercise of the powers conferred on him under Section 28(5)(a) & (b) of the Land Use Act 1978, revoked the underlisted plots with names and titles as reflected in our records for continued contravention of the terms of development of the Right of Occupancy to wit non-development", the administration said in the notice signed by the Permanent Secretary, Mr Olusade Adesola.
Some of the plots revoked in Maitama district A05 had names like Liyel Imoke, Musa Aboki Egu, Hassan Hadejia and Ishaya Baba.
In Jabi, some of the plots revoked had allottees such as Sam Nda-Isaiah, and Donubari Josephine Kogbara, while Katampe district had Peter Gregory Obi, BUA international among others.
In other areas, this revoked had names as Julius Berger Nigeria, Honeywell Construction, Uffot Joseph Ekaette, Shittu Mohammed, Udoma Udo Udoma, Kanu Agabi, Niki Niki Tobi, Ishaku Bello, and others.
Wike had on assumption of office vowed to restore the master plan of the territory and revoke plots that had not been developed or those whose ground rents have not been paid for years.
He had consequently given a two-week grace to allottees to pay their ground rents or risk revocation of their allocations.
Vanguard
Tinubu Moves to Stop Release of Academic Records, Appeals US Court Judgement
President Bola Tinubu has appealed against the ruling of  Judge Jeffrey T. Gilbert, sitting at the United States' District Court of Northern Illinois which ordered the Chicago State University (CSU) to release all relevant records pertaining to him.
SaharaReporters had reported how the federal court in Chicago, while ruling on the civil case filed by Atiku Abubakar, on Tuesday granted the applicant's request to the court, stating that former Nigeria's vice-president had been able to sufficiently satisfy the purpose for seeking the records.
In the judgement documents seen by SaharaReporters on Wednesday, Judge Jeffrey Gilbert also ordered a deposition of designated CSU officials within two days after the records have been released, noting further that the process can be conducted during the weekend if necessary.
However, as the school prepared to surrender the papers, Tinubu filed an emergency motion in the district, requesting a higher judge to reconsider Mr Gilbert's September 19 ruling and postpone the execution until at least September 25, according to People's Gazette.
"Due to the timing for compliance by Chicago State University – later today – Intervenor is filing this motion separately from its challenge to the Magistrate's ruling on the application," Mr Tinubu's lawyers, led by Christopher Carmichael, said. "Intervenor intends to file, by the end of the day, a substantive brief addressing the errors in the Magistrate's decision."