FRSC Makes U-turn on Use of Google Map While Driving
The Federal Road Safety Corps on Thursday made a U-turn on the use of Google map while driving.
On Wednesday, the Sector Commander, Federal Capital Territory, Corps Commander Wobin Ayuba Gora had said that driving with the aid of Google map using mobile phones is a serious traffic offence.
However, in a statement signed by Bisi Kazeem, the Corps Commander Public Education Officer, FRSC said that Gora was "quoted out of context on the use of google map app while driving."
Part of the statement said, "The Corps wishes to state that the Sector Commander must have been misquoted and his statement outrightly misrepresented because the Federal Road Safety Corps as a technology-driven organisation is not and has never stood against the use of google map by motorists.
"To state the obvious, we have always enlightened the public on the position of the law on use of phone while driving which the Sector Commander tried to emphasize during the flag off. The statement he made during the flag off buttresses the position of the Corps, which is that any driver who intends to deploy the use of Google map while driving must have it set on the phone before embarking on the journey, not while the vehicle is already in motion as this could be dangerous to the driver and other road users, and can lead to road traffic crash.
"We say this because, available records have shown that use of phone for whatever purpose; be it text, voice calls, chats, browsing, setting google map to find location etc while driving could be distractive and can easily lead to loss of concentration. This has led to many road traffic crashes with attendant loss of lives and properties.
"On the strength of this, the Federal Road Safety Corps wishes to reiterate its position on use of phone while driving as a dangerous and hazardous road traffic behaviour which has led to unwanted and avoidable road crashes.
"We, therefore, call on all motorists who intend to deploy the use of google map on their phone especially during the festive season when traffic density is high, to activate such before setting the vehicle in motion so as to ensure 100 per cent concentration on the wheels."
All Saints Aba Old Boys Association Holds 2019 Homecoming
The Old Boys'Association of All Saints Secondary School, Ehere, Aba has announced the activities lined up for the 2019 homecoming of its members both at home and in the Diaspora
The event is slated for Friday December 13 through to Sunday 15, 2019.
According to a statement signed by the Interim President of the Association, Hon. (Snr) P. C. Onyegbu, participants are expected to arrive on Friday, December 13, 2019 after which mouth watering events lined up will kick off.
The participants will embark on a visitation to the great institution by 1.00 p.m. before retiring for a night of extravaganza tagged 'Njakiri Nite'. The highlights of the night include juicy varieties and where juniors are expected to dare their seniors who 'punished' them in those days.
The release further indicates that all the Old Boys are to converge on the school's sports arena in the morning of Saturday December 14, 2019 to participate in the sporting activities and will later retire to their hotel rooms after the exercise.
There will be lectures later in the day on various topics to be attended by all the Old Boys at ADDREX HOTELS auditorium by 1.00 p.m. This will be followed by a gala later in the evening.
The activities for the homecoming will be rounded off on December 15, 2019 with the departure of the Old Boys amid networking, to their respective destinations.
The Executive Governor of Abia State, His Excellency, Dr. Victor Okezie Ikpeazu, who is also an old boy of the institution, is expected to be the special guest of honour among other distinguished guests.
All Saints Secondary School, Ehere, Aba was established in 1972 and produced its first set of graduates in 1977.
Food for Living: Choose Your Name Wisely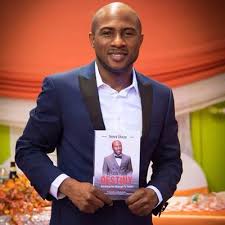 By Henry Ukazu
Greetings Dear Friends,
We all have names which our parents, godfather/mother, or even good relatives and friends gave to us at birth, and we always like to be addressed rightly and with respect before we respond. Just to let you know how powerful your name can be, if you are called a name that is not yours, there's every tendency you won't respond, nor matter how nice it may sound. Even if you are called the right name but with the wrong pronunciation, you might also feel slighted to respond, and even if you respond, you'll react in a way as to offer correction. This is because names are very symbolic, and according to the platinum rule, people are treated the way they wish to be addressed.
Names are very powerful and they have deep meanings, and as a result, must be chosen wisely. Names are regarded as trademarks/logos and come in different shapes and sizes. Some people even have nicknames which have defined them in different ways. Even in business; the name you choose has an impact on people's perception, especially your potential clients. Therefore, it is imperatively and critically important for you to consider whatever name you will like to be associated with.
A name is an identity. It is a descriptor that allows people to make quick judgments and assumptions about us. When a particular name is mentioned, a lot of questions normally come to mind. We can even assume what it is likely to be. Our names and identities are regarded as the first impressions people have about us. For example, how we dress, the way we wear our hair, how we behave, and even where we go; all begin with our identity and what we call ourselves. Whether it is religion, sexuality or gender, it is part of an identity that can influence how you present yourself to the world, and how you interact with the world. Depending on the situation and circumstance, what we call ourselves may change. That is why it is important for you to consider the name, group or network you are associated with.
The big question we have to answer is what name do I respond to? As human beings, some of us are very sensitive, some are conservative while others tend to have a liberal attitude towards life. Depending on which category you belong to, you can decide to be the game-changer in whatever situation you are into. You may have been called a dull person, lazy being, slow, ugly, fat, etc., but how you respond is actually what makes the ultimate difference. As you may know, life is not what happens to you, but how you react to it. It should be noted that you can't stop people calling you negative names, but you can decide to choose what you answer to. As a an advice, don't answer names you are called, when they call you hello depressed, short, unattractive, unqualified, sick, orphan, just calmly respond, 'sorry there's no one by that name around here, I guess you may have gotten the wrong address'. In a rhetoric way, you can also respond, do you mean positive, tall, smart, healthy, blessed, beautiful, handsome, extraordinary, talented, skillful, etc.
Studies suggest that liking your own name is predictive of well-being and happiness, and it also positively affects your self-esteem. But does your name affect how other people treat you? According to Dale Carnegie.
"A person's name is to him or her the sweetest and most important sound in any language."   Why then is it so important to call people their true names? A person's name is the greatest connection to their own identity and individuality. Some might say it is the most important word in the world to that person. This is because it is one of the fastest and easiest ways to get someone's attention especially when they are teased or praised.
Here are some tips on how you can use your name to influence your brand.
Make it a commitment:
Make a commitment to answer whatever uplifts and support your vision. Once you are subconsciously aware of what happens around you, do yourself a favor to international change the narrative by changing the negative news or information that surrounds you or your business. For example, you can work on your self, business, brand, organization, etc; to the extent, people will recognize you as an excellent or reliable person/brand as opposed to the different labels that bring negative vibes to you. As you may know, the world is governed by perception.
Practice:
Practicing whatever name brand you want to be associated with is a great way to bring change to not only your personal life but your business or brand. You can do this by calling yourself names of interest that appeal to you. You may be surprised to know it will come back to you. Don't be concerned about the negative voices you may be hearing from friends or even family members, just continue to work on your craft. There have been testimonies of people who dreamt of being a governor, president, leader of an industry, etc. despite not having what it takes to be the person in the picture. They were able to act it in addition to calling themselves the names and guess what, it's it came to pass. In one of my articles I published five years ago titled: Dreams Come True, I opined that your dreams are valid and it will come true if you work hard, believe in yourself and have the God factor around you.
Ignore the name tag:
As mentioned earlier, it is up to you to respond to whatever name you decide to answer. Names don't matter anything unless you give it the needed power/energy it needs to feed on.  Names are like dead woods, but you can activate life into it when you speak life into it. Names work with our minds, when you decide to call yourself love, love will automatically follow you.
Furthermore, Ignore the nay-sayers and give your attention to what brings you life, and when you do, the desired transformation will begin to rear up. Personally, I was called names because of my horrible writing skills, but I have been able to author a book by the special grace of God which my detractors have not been able to accomplish. The secret is simple, I never answered the negative names I was called.
Creating Opportunity:
Knowing how to relate with people is a powerful skill that is in high demand. A good personal relation skill will create opportunities for you. It's like a charm that can disarm even the most hardened person to respond to stimuli. As popularly opined in some social parlance, if a man can make a lady to smile, he's halfway into her heart. It is important to note that people want to be treated as human beings, not objects. Using their name is the fastest and most reliable way of building rapport and creating a good first impression. Everyone has a name — use it to better connect to them, especially if you work in the customer service position. You will notice a difference in your relationships.
In conclusion, what is your name?
Henry Ukazu writes from New York. He works with the New York City Department of Correction as the Legal Coordinator. He's the author of the acclaimed book Design Your Destiny – Actualizing Your Birthright To Success. He can be reached via henrous@gmail.com
51-Year-Old Man Rapes 13 Years Step Daughter
A 51-year-old man, Sunday Ojo, has allegedly raped his 13-year-old stepdaughter at the White House, Effurun, in the Uvwie Local Government Area of Delta State.
It was learnt that Ojo ran away from home after he allegedly beat his stepdaughter and drowned her in a bucket of water on October 16, 2019.
Southern City News gathered that the teenager became unconscious after been raped and had blood stains all over her body before her mother could come to her aid.
The girl was said to have been rushed to a general hospital in Warri, where she was given first aid treatment before she was referred to another medical facility in the area.
It was gathered that the teenager later regained consciousness after seven days.
Narrating the incident, the victim's mother, Mrs Edirin Matthew, said, "l left the house that night because of a misunderstanding I had with my husband, Ojo.
"l left the house to avoid the violent man, who had at one point stabbed me on my left elbow. I returned the next morning, but I could not gain entry to the house until I called my brother and we broke the door.
"I observed that everywhere was silent and met my daughter naked and lifeless with blood all over her body as well as a wet bed and a bucket of water that was used by my husband to drown my daughter.
"It is true that the stepfather raped and drowned my daughter. I rushed my daughter to the General Hospital, Warri, but she was referred to the Lily Hospital.
"My little child of four years, who was also in the house, narrated how Ojo suffocated her stepsister after beating her up.
"Ojo has been on the run since the incident occurred. His brother was arrested, but the police released him. I got him arrested again because he was communicating with his brother on the telephone, but he has been released."
The victim, who is in a relatively stable condition, has accumulated a bill of N1.8m in the hospital.
"Please, I want the public to help me financially so that I can take my child home. We are here because we can't offset the bill," Edirin pleaded.
A human rights activist, Israel Joh, who has been fighting against rape, cultism and other related crimes in the society, said, "We are calling on the DPO, Ekpan Division, to intensify efforts at arresting the perpetrator and through a court order, declare Sunday Ojo wanted."
The Punch