'I Faked My Own death to Escape Financial Pressure from Family'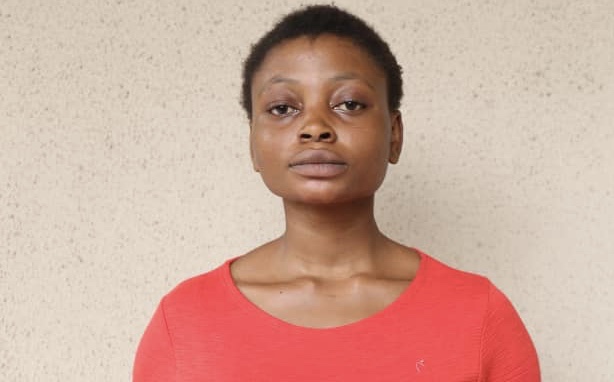 A 19-year-old girl, Margaret Ikumu, of Oni community in Oju Local Government Area of Benue, has faked her own death on social media to avoid financial pressure from her mother.
A statement signed by DSP Bala Elkana, the Police Public Relations Officer in Lagos State, made this known on Sunday.
Elkana said that Ikumu, through her Facebook account, reported to have died a few days ago and was secretly buried by her two friends, Marvelous Mary and Nneka Buddy, at Ajah area.
"The family of the fake deceased further stated that they were able to establish contact with the said friends who confirmed to them that their daughter is dead.
"To make them believe that the girl is dead, they sent WhatsApp chats to a member of the girl's family with picture of a casket showing that the girl is buried.
"The family also got in touch with a man on phone who claimed to be her boyfriend. He corroborated the claim that she is dead," he said.
Elkana said that the girl was eventually found by the Police to be alive and was working as a home help in an estate at Ajah.
"When her employer saw the report of her purported death, they quickly informed the Police and she was brought to Ajah Police Station.
"In her statement, she (Ikumu) confessed to have created the Facebook account and posted her obituary with intent to keep her family away from her.
"She said that her mother was putting financial pressure on her by constantly demanding that she sends money to her," he said.
Elkana said that the girl was apparently bitter with her mother and uncles over their inability to sponsor her education after the death of her father.
He said that Ikumu came to Lagos to work with a view to saving some money and returning to school.
(NAN)
FirstBank Appoints Oluwande Muoyo As Non-Executive Director
First Bank of Nigeria Limited, Nigeria's premier and leading financial inclusion services provider, today announced the appointment of Mrs. Oluwande Muoyo as a Non-Executive Director. Mrs. Muoyo joined the board of FirstBank from FBN Holdings Plc., the parent company of First Bank of Nigeria Limited. 
Speaking on her appointment, Dr. Adesola Adeduntan, CEO, FirstBank said, "We are excited to welcome Mrs. Oluwande Muoyo to the FirstBank Board. She brings to the Board her depth of experience which spans over three decades in various leadership and strategic positions across the private and public sectors. I am assured that these rich experiences will have an immediate impact in the board which will transcend the activities of the Bank as a whole."
"On behalf of the board, management and staff of FirstBank, I congratulate Mrs Muoyo and look forward to working with her," he concluded.
Oluwande Muoyo was appointed to the Board of First Bank of Nigeria Limited in 2020.  She is a Chartered Accountant, Banker and former Honourable Commissioner for Budget and Planning in Ogun State.
Prior to being appointed an Honourable Commissioner, Oluwande worked with Stanbic IBTC Bank for over 22 years in various parts of the bank, including Financial Control, Treasury and Financial Services, Trade Finance and Corporate Banking. She holds a BSc degree in Accounting from the University of Lagos. She started her professional career with the international firm Price Waterhouse (now PriceWaterhouseCoopers). A Fellow of both the Institute of Chartered Accountants of Nigeria and the Chartered Institute of Taxation of Nigeria, Oluwande has, over the years, acquired competencies and skills in public financial management, policy formulation, business development, banking, budgeting, planning, auditing and taxation.
Her past Directorships include the Governing Board of the International Crop Research Institute for the Semi-Arid Tropics and FBN Holdings Plc. Oluwande has attended many training programmes including Strategic Marketing Management at Harvard Business School, Advanced Strategy at INSEAD and Advanced Management Programme at the Lagos Business School. Oluwande is married with children and enjoys reading and swimming.
Family Petitions IG over Rape, Killing of Daughter by FCT SARS Officials
The family of a 28-year-old graduate of the Institute of Management and Technology, Enugu, Ifeoma Abugu, has been thrown into mourning after she was allegedly sexually assaulted and killed by the personnel of the Special Anti-Robbery Squad, Federal Capital Territory Command, Abuja.
It was gathered that three policemen on September 10, 2020, around 5pm, stormed the residence of Ifeoma's fiancé, Afam Ugwunwa, at Wumba village in the Lokogoma area of Abuja to arrest him.
PUNCH Metro learnt that in absence of Ugwunwa, the policemen arrested Ifeoma and took her away.
Our correspondent learnt that all efforts to know the police station she was being taken to proved abortive as she was not found until Ugwunwa got a call the next day that Ifeoma had died and her corpse had been deposited in the morgue.
Ifeoma's brother, Alex, who spoke to our correspondent on the telephone, said she had just concluded her National Youth Service Corps and was arrested and killed four days after she had her introduction with Ugwunwa in Enugu State.
He said, "I was in Lagos when one of my junior brothers called me that he learnt that SARS arrested our sister and she died in detention. I just came to Abuja today (Sunday) and I have asked some of my uncles, who have been to the police station, and they said that the policemen alleged that they met my sister unconscious on the bed and they carried her to hospital, where she died.
"When I asked my sister's fiancé what happened, he said he went out and someone called him on the telephone that SARS had arrested my sister and when he came back, he called someone he knew at the SARS office to help in facilitating her release, but the person was unable to do it that night.
"The following morning, he gave the woman money to help facilitate the release, but the woman called back to tell him that Ifeoma was dead. When my uncles saw the picture of her corpse, they saw signs that she was sexually assaulted. We're waiting for the result of an autopsy to come out to ascertain what happened to her.
"My sister was arrested four days after her introduction in the village and her wedding was slated for December. We want the killers to be brought to justice."
When our correspondent contacted Ifeoma's fiancé, he said he was too distraught to talk.
The family's lawyer, Ifeanyi Mamah, who spoke to our correspondent on the telephone, urged the Inspector-General of Police, Mohammed Adamu, to order a proper investigation into the matter.
He said, "She (Ifeoma) had just finished cooking that day, while her fiancé and her friend had finished eating and the friend left, while the fiancé went to see a friend in one of the neighbouring estates, when he received a call from a neighbour that the police had come to arrest his fiancée and she had been taken away and he received another call from Ifeoma that she was been taken away by SARS, but she didn't know where they were taking her to.
"Ifeoma's fiancé called a friend of his to help in looking for her and secure her release, but she was not found, only for the fiancé to receive a call the next day that she was dead and her corpse had been deposited in the morgue.
"The family of the deceased have not seen the corpse; the picture we have is the one the IPO snapped and sent to us when she went to the hospital, where her corpse was deposited; from the picture of the deceased, it appeared she was sexually assaulted before her death.
The SARS officers alleged that they met Ifeoma in an unconscious state and that when they got there, there was cocaine on the table and that they only helped to take her to hospital, where she was examined and pronounced dead, but they forgot that people witnessed when she was being taken away.
"We want justice to be served; we want the matter to be thoroughly investigated and assigned to good investigating officers, because the IPO that has been handling this matter is not erudite enough; that is why we do not have confidence in them. The officers, who perpetrated this act, must be brought to justice."
Mamah's petition to the IG read in part, "The IPO, Inspector Bullus, and DPO Usman informed us at the police station on September 15, 2020, in explanation that the deceased was met in an unconscious state by the officers. This explanation is contrary to the information from residents and our clients are not confident with the way the matter is being handled at the Apo Police Station.
"The SARS operatives, who did the arrest, are still not yet arrested and are freely walking the streets of Abuja. Our clients are not confident that the division will do justice in the matter, and the deceased body is still lying lifeless at Gwagwalada Specialist Hospital. Sir, we appeal that you use your highly esteemed office to ensure that proper investigation is carried out, that the culprits be brought to book and justice done."
Our correspondent learnt the matter was first reported at the Apo Police Station and later transferred to the FCT Command.
When contacted by our correspondent, the FCT Police Public Relations Officer, Anjuguri Manzah, said he was not aware of the matter and urged the family of the victim to come to the command for further investigation.
"I'm not aware of this incident, but give me time to make enquiries. You can also link me up with the family of the victim so that they can come to the command," he stated.
The Punch
14-Year-Old Girl Brutally Raped, Murdered in Ogun
A 14-year-old secondary school pupil, Fathia Ojewoye, has been raped to death at the Agbeloba-Oriyonrin area of Abeokuta, Ogun State.
The teenager had on Wednesday been declared missing by her parents, but her corpse was found three days after with some of her personal effects in an uncompleted building in the area.
When our correspondent visited the residence of the deceased's mother, who had separated from her husband, sympathisers were seen consoling her.
When PUNCH Metro attempted to speak to her, she asked to be left alone.
She, however, vowed to ensure that the killer(s) of Fathia, whom she gave birth to while in secondary school, was brought to justice.
A source in the area told our correspondent that Fathia was sent on an errand by her mother to refill the gas cylinder around the area, but she did not return home.
The teenager was reported to have been last seen with a young man, while she was going to the gas station.
The young man, who lives around the area, was said to have run away, apparently to avoid arrest.
It was gathered that her corpse was found in an uncompleted building near her grandmother's residence.
She was reportedly defiled in a brutal way and later murdered by yet-to-be identified person(s).
The Police Public Relations Officer in the state, Abimbola Oyeyemi, confirmed the incident.
Oyeyemi said investigation into the brutal killing of the teenager had commenced.
He gave an assurance that the command would ensure that the perpetrators were apprehended soon.
The police spokesman said the corpse had been deposited in the morgue of the State Hospital, Sokenu, Abeokuta.
Oyeyemi added that arrangement was being made to conduct an autopsy on the corpse.
Meanwhile, the Ogun State Child Protection Network, a coalition of non-governmental and civil society organisations, has condemned the incident.
The network, in a statement by its Coordinator, Alfred Soleye, expressed shock over the brutal murder of Fathia.
It urged the police to carry out detailed investigation and accurate forensics on exhibits recovered from the crime scene to ensure that the perpetrators were brought to justice.
The Punch