NDLEA Nabs Wanted Hotelier, Pakistani Partner over Drug Trafficking
Ten days after he was declared wanted, operatives of the National Drug Law Enforcement Agency have arrested a fleeing Lagos socialite and owner of Adekaz Hotels, Ademola Kazeem, over alleged trafficking of illicit drugs as well as money laundering.
The agency had on Tuesday, November 1, declared the suspect wanted following his failure to honour its invitations.
The NDLEA spokesperson, Femi Babafemi, in a statement on Sunday, said the wanted drug kingpin was uncovered as the sponsor of some traffickers arrested by the anti-narcotic agency in their recent attempt to export cocaine to Dubai, United Arab Emirates, and other destinations outside Nigeria.
He said, "The search for him, however, paid off on Thursday, November 10, when he was successfully taken into custody where he is currently being interviewed.
"His lid was blown open after the arrest of one of his mules, a Lagos BRT driver, Bolujoko Babalola, on June 27 at the Murtala Muhammed International Airport, Ikeja, when he named Ademola Kazeem as the owner of the 900 grams of cocaine he ingested.
"Following Adekaz's failure to honour invitations sent to him, the agency approached a Federal High Court in Lagos with three prayers: to attach and seal his identified properties in choice areas of Lagos Island and Ibadan; declare him wanted and block his bank account with a cash balance of N217 million, all of which were granted."
Babafemi stated that in a related development, operatives also arrested a businesswoman, Okefun Chisom, over her links with two Pakistanis: Asif Muhammed, 45, and Hussain Naveed, 57, arrested at the Lagos airport with 8kg of cocaine concealed in a sound system while attempting to board a Qatar Airways flight to Lahole, Pakistan, via Doha, on Saturday, November 5.
He added, "An automobile parts dealer, Omeje Oliver, who was arrested on Monday, October 31, in Enugu, where he fled to after abandoning his business at Aspanda, Trade Fair Complex, Lagos, since April 16, in connection with the seizure of 600g of heroin concealed inside the soles of ladies' footwear going to Liberia, has been linked to another drug seizure.
"A further look at the agency's database reveals that Omeje was also involved in a case of 1.580kg Methamphetamine that was seized from one Victor Nwobodo, who was arrested at the MMIA during his aborted trip to Jakarta, Indonesia, on February 6, 2018. Charges have been filed against the suspect at the Federal High Court, Lagos, in respect of the old seizure in addition to that of the recent one."
JAMB Releases Timetable for 2024 UTME
The Joint Admissions and Matriculation Board (JAMB) has fixed January 15 to February 26, 2024, for the sale of its Unified Tertiary Matriculation Examination (UTME) application document.
This was made known in a statement issued by the JAMB spokesperson, Fabian Benjamin, on Wednesday, November 29.
Benjamin noted that the development was based on series of recommendations emanating from a two-day Information Technology (IT) and Management Retreat held between November 26 and 28.
Benjamin noted that March 7, 2024, has been slated for the 2024 Mock-UTME, while the main UTME would hold from April 19 to April 29, 2024.
He, therefore, advised candidates to print their examination slips from April 10, 2024.
The JAMB spokesman added: "Candidates are enjoined to take note of these dates and other advisories issued by the Board in relation to the administration of the examination.
"They are also to visit the Board's website www.jamb gov.ng for any other information."
Below is the 2024 JAMB schedule
2024 Jamb Official Timetable:
1. JAMB 2024 Registration Date 14th January 2024
2. JAMB Registration Deadline 14th February 2024
3. JAMB 2024 Registration Fee N4,700
4. JAMB 2024 Novel The Life Changer
5. JAMB 2024 Reprinting Date 29th April 2024
6. JAMB 2024 Mock Exam Date 20th April no 2024
7. JAMB 2024 Examination Date 29th April 2024
Palliative: Adeleke Approves Monthly Wage Award for Civil Servants, Pensioners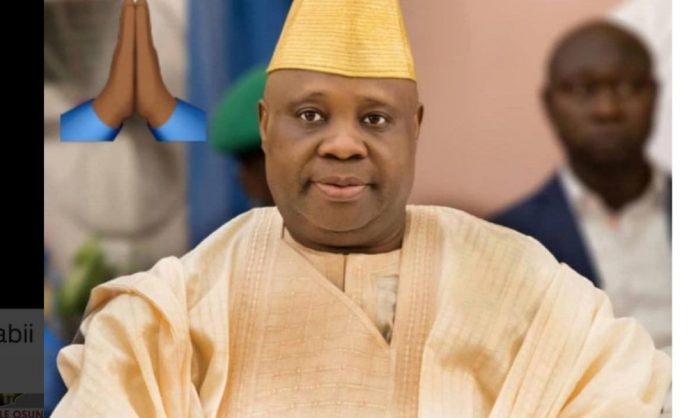 The Executive Governor of Osun State, Senator Ademola Adeleke, has approved the payment of wage award of N15,000 and N10,000 respectively to civil servants and pensioners in the state as a measure to mitigate the impact of subsidy removal.
The Governor, in a statement signed by his spokesperson, Mallam Olawale Rasheed, stated that the action was in continuation of his avowed commitment to workers' welfare and a fulfillment of his pledge for the gradual rollout of palliative measures to cushion the effect of subsidy removal.
"On the first day of my second year in office, I unveil this wage award and reaffirm our five point agenda which has workers' welfare as number one item," Governor Adeleke noted.
Governor Adeleke's approval was conveyed in a circular issued by the Ministry of Human Resources and Capacity Building, disclosing that workers in the service of the state will get a N15,000 wage award while pensioners will receive N10,000.
The circular which was signed by Sunday Olugbenga Fadele, a Permanent Secretary in the Ministry, noted that the wage award will run for six months, beginning from the month of December.
"Sequel to the negotiation meetings and interactions with labour movement in Osun state, including the representatives of Nigeria Union of Pensioners, the Governor of Osun State, His Excellency, Senator Ademola Jackson Nurudeen Adeleke, has approved the monthly payment of N15,000 to each active worker and N10,000 to each pensioners in Osun state as palliatives to assuage the pains being experienced as a result of removal of petroleum subsidy by the Federal Government of Nigeria. The payment, as approved, is to commence from the month of December, 2023 for a period of six (6) months," the circular reads in part.
"While acknowledging and appreciating the understanding of Osun state workers and pensioners for their show of understanding regarding the efforts of the State Government in the last one year to improve tremendously on their welfare, being the first on the 5-point Action Plan, the present administration will continue to ensure its commitment to the welfare of workers are met at all times.
"It is expected that this gesture of government will spur workers in the State to be more diligent and committed to their duties."
2023 Media Awards: Nestlé Announces Close of Entries
Makers of quality beverages and other household items, Nestlé Nigeria, has announced the end to submission of entries for the 2023 Media Awards.
A statement from the Corporate Communications and Public Affairs department, and signed by Victoria Uwadoka, stated that "The highly anticipated Nestlé Nigeria Media Awards 2023 promises to be an exciting edition with an impressive 118 submissions received from a broad range of the media at the time of the official closing of entries on
November 16, 2023."
Victoria Uwadoka, who is the Corporate Communications and Public Affairs Manager, said, "I want to thank all the participants who have submitted the diverse range of entries, showcasing outstanding creativity and professionalism within the Nigerian media. As the stellar panel of judges commences the process of carefully evaluating each submission to determine the most deserving recipients, we eagerly anticipate the announcement of the finalists at the 'invitation only' award event early in December 2023."
She maintained that the Nestlé Media Awards 2023 ceremony promises to be an elegant celebration of vibrancy, innovation and excellence in the Nigerian media in 2023.
Finalists and winners will be announced in the coming days according to statement.