We Have Sufficient Fuel, Kachikwu Assures Nigerians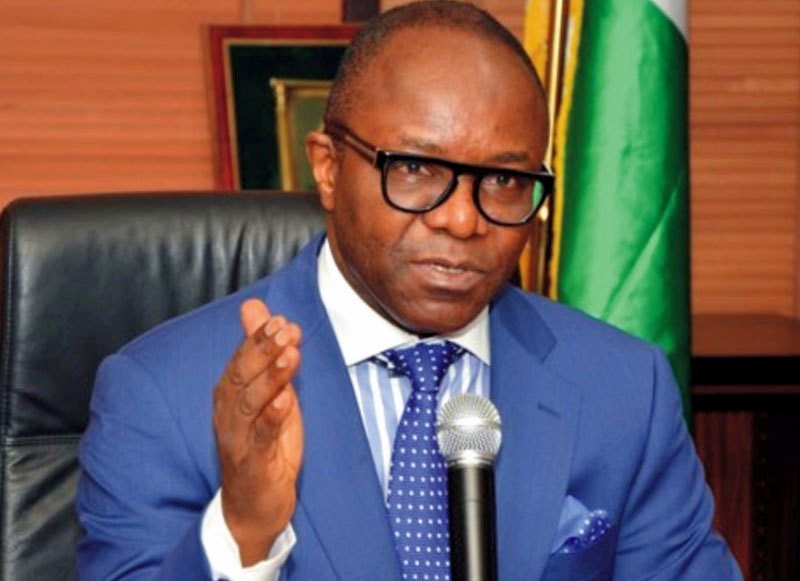 The Minister of State for Petroleum Resources, Dr. Ibe Kachikwu, on Sunday assured Nigerians that there is sufficient Premium Motor Spirit (petrol) in the country.
Kachikwu in an Interview with the News Agency of Nigeria in Lagos, said that the country had gone past the era of fuel scarcity and urged motorists to desist from panic buying.
"I can say that there shouldn't be any reason for fuel scarcity, we have gone past the era of fuel scarcity.
"NNPC informed me when I made inquires that they imported enough.
"Yesterday, I saw a few pockets of scarcity in Abuja, but I was told that it was Petroleum Equalisation Fund (PEF) related distribution issues, and it will be sorted out as soon as possible..
"So, it is not an issue of lack of sufficiency, I am told they have about 28 day's sufficiency, two weeks ago, they presently have between 14 and 15 days product sufficiency,'' he said.
The minister noted that the 28 days sufficiency was okay based on 50 million litres daily utilisation in the country.
" I don't expect to see a scarcity, I just expect them to work hard over the next few days to deal with whatever logistic issue they have. I will be working with NNPC on that,'' he added
On queues building up in some filling stations in Lagos and Abuja, he maintained that the country was wet enough to serve the needs of motorists.
" I haven't visited Lagos cities, but the information I have is that there is enough product on ground and we should be able to deal with whatever it is.
"The problem with fuel scarcity is that if you allow it to last for three days , then it builds up a life of its own.
"That is what I have enforced NNPC to do to make sure that it is resolved,'' he said.
Kachikwu noted that it would had been a major issue for the country if there was insufficient product on ground but assured that NNPC would be able to resolve whatever the situation was in a few days.
A check by NAN on Sunday in Abuja, revealed that there were no queues in most filling stations along Airport road and Kubwa expressway.
NAN reports that at NNPC outlet, Conoil and NIPPCO filling stations along airport road, motorists were buying fuel with ease, except at the NNPC mega station at the Central business district, which a short queue.
A taxi driver, Johnson Adio said "this is not a serious queue, I spent just 20 minutes before buying, it is normal with this station because a lot of people like buying from them.
"It was on Friday that we had a little problem, but it is okay now," he said.
Also, along the Kubwa Express way, there was no queue at AA Rano filling station, Shema, Mobil and NNPC stations.
NAN also reports that only few filling stations like DAN oil along the airport and the Kubwa express way were closed.
(NAN)
CBN Declares No Going Back on Cashless Policy, Says only 10% of Customers to Be Affected
The Central Bank of Nigeria on Friday said it would continue to implement the cashless policy in line with its mandate to ensure an efficient payment system.
The CBN Governor, Mr Godwin Emefiele, said this while briefing journalists shortly after the Monetary Policy Committee meeting.
He said that contrary to claims in some quarters that many Nigerians would suffer the negative impact of the policy, only about five to 10 per of bank customers would be affected.
The apex bank had in a circular to Deposit Money Banks stated that from Wednesday, September 18, it would impose three per cent processing fees on withdrawals and two per cent processing fees on lodgements of amounts above N500, 000 for individual accounts.
For corporate accounts, the apex bank in the circular said that DMBs would charge five per cent processing fees on withdrawals and three processing fee on lodgements of amounts above N3m.
The House of Representatives had on Thursday through a resolution directed the apex bank to suspend the policy.
But responding to the development, Emefiele said if the Nigerian economy was to compete effectively with those of developed countries, a payment system that encourages the use of non-cash channels was desirable.
He said that before the cashless policy was first inaugurated in 2012, a lot of stakeholder engagements were done to sensitise Nigerians on its benefits.
He said the policy was suspended in 2014 to allow more payment channels to be developed by Deposit Money Banks.
The governor said that since the policy was suspended, currency management cost had continued to increase year-on-year at an average annual growth rate of 33 per cent.
However, he said the bank had continued to provide alternative channels, adding that people had embraced it.
He said Point of Sale transactions had moved from N48bn in 2012 to N2.2tn while electronic transfer had moved from N3.8tn in 2012 to N80.46tn in 2018.
Emefiele said, "Since the policy was first launched, currency management costs have continued to increase year-on-year at an average annual growth rate of 33 per cent.
"Notwithstanding, electronic transactions have increased within the economy. We have provided alternative channels and people have embraced it.
"This is a strategic timing of these actions because on Monday, September 23rd, the mutual evaluation by GIABA (Inter-governmental Action Group Against Money Laundering in West Africa) on the country's anti-money laundry and CFT (Combating Financing of Terrorism) regime will begin.
"Passing the mutual evaluation positions Nigeria as a safe and credible destination for financial transactions across the world.
"GIABA will be in Nigeria to access the rate at which Nigeria has embraced anti-money laundry and CFT regime. It is important that we display and show to them that Nigeria is indeed in conformity with their practices as enshrined in their anti-money laundry and CFA laws."
The apex bank boss said if the CBN did not implement the cashless policy, credit cards owned by Nigerians might not be used abroad.
On the Value Added Tax, he said the MPC supported the decision of the Federal Government to increase the rate from five per cent to 7.5 per cent.
He said with Nigeria having one of the lowest VAT rate in the world, and faced with fiscal challenge, the best way to shore up revenue was to increase tax.
He said, "The MPC endorsed the increase in the VAT rate from five per cent to 7.5 per cent. The government has the responsibility to fend for everybody.
"In fending for everybody means that it has to spend money to provide infrastructure – roads, airports, different things that will improve the lives of its people.
"There are two ways through which government can fund these expenditures. It's either it raises revenue or goes for debt. You all know that the government has been criticised that the debt stock is too high.
"You all know that government debt service ratios are too high. What that means is that your revenue is small because if your revenue is large, then your debt service ratios will be lower."
He added, "If we say government should not borrow; then, government must raise revenue. If government must raise revenue and we think this is one way government can raise revenue to meet its obligation."
Emefiele said while the decision to increase VAT might be painful to Nigerians, the benefit of such move far outweighed the cost.
On the Monetary Policy Rate, Emefiele said this was left unchanged at 13.5 per cent.
He explained that nine out of the 11 members that attended the meeting unanimously agreed to hold the monetary policy stance.
The governor said apart from the MPR that was retained at 13.5 per cent, the committee decided to hold the Cash Reserves Ratio at 22.5 per cent.
Also retained are the Liquidity Ratio, which was left at 30 per cent; and the Asymmetric Window which was left at +200 and -500 basis points around the MPR.
Explaining the rationale for the decision, he said the MPC felt compelled to review the options of whether to tighten, hold or loosen.
The Punch
CBN Introduces Charges on Deposits, Withdrawals Above N500, 000
The Central Bank of Nigeria on Tuesday said that the nationwide implementation of the cashless policy will begin by March 2020.
The apex bank said this in a circular to all Deposit Money Banks in the country.
It said that implementation of the policy would signal the imposition of charges on deposits in addition to already existing charges on withdrawals.
According to the circular, the charges, which take effect from Wednesday (today) will attract three per cent processing fees for withdrawals and two per cent processing fees for lodgments of amounts above N500, 000 for individual accounts.
For corporate accounts, the apex bank in the circular said that DMBs would charge five per cent processing fees for withdrawals and three per cent processing fee for lodgments of amounts above N3, 000, 000.
The statement, however, disclosed that the charge on deposits would apply in Lagos, Ogun, Kano, Abia, Anambra, and Rivers States as well as the Federal Capital Territory.
It added that the implementation of the cashless policy would take effect from March 31, 2020.
To further promote the cashless policy and enhance the collection of applicable government revenues, the CBN also announced a review of the process for merchant settlement.
It added that with effect from Tuesday, September 17, the CBN had given approval for banks to unbundle merchant settlement amounts and charge applicable taxes and duties on individual transactions as stipulated by regulations.
A statement signed by the Director, Payments System Management Department, CBN, Sam Okojere, said a downward review of the Merchant Service Charge had been approved.
It said henceforth, the charges had been reduced from 0.75 per cent capped at N1, 200 to 0.50 per cent capped at N1, 000.
The Punch
Buhari Sacks Osinbajo's Team, Appoints Soludo, Others in New Economic Team
President Muhammadu Buhari yesterday replaced the Economic Management Team (EMT) headed by Vice President Yemi Osinbajo with an Economic Advisory Council (EAC).
The new EAC, which reports directly to the president, will be chaired by an economist, Prof. Doyin Salami.
Buhari's Special Adviser on Media and Publicity Femi Adesina in a statement said the EAC would advise the president on economic policy matters, including fiscal analysis, economic growth and a range of internal and global economic issues, working with the relevant cabinet members and heads of monetary and fiscal agencies.
He said the council, which is expected to assist the president in the development of critical policies, would hold monthly sessions.
Other members of the council are: Dr. Mohammed Sagagi (vice chairman), Prof. Ode Ojowu (member), Dr. Shehu Yahaya (member), Dr. Iyabo Masha (member), Prof. Chukwuma Soludo (member), Mr. Bismark Rewane (member), and Dr. Mohammed Adaya Salisu (secretary).
Adesina said: "This advisory council will replace the current EMT and will be reporting directly to the president. The EAC will have monthly technical sessions as well as scheduled quarterly meetings with the president. The chairman may, however, request unscheduled meetings if the need arises."
Membership of the disbanded EMT, chaired by Osinbajo, had the following members: Minister of Finance; Minister of Budget and National Planning; Minister of State for Budget and National Planning; Minister of Industry, Trade and Investment; Minister of Agriculture; Minister of Information and Culture; Governor of the Central Bank of Nigeria; Special Adviser to the President on Economic Matters; Director-General of the Budget Office; Director-General of the Debt Management Office; and Director-General of the National Bureau of Statistics.
The team met weekly at the State House.