We Have Sufficient Fuel, Kachikwu Assures Nigerians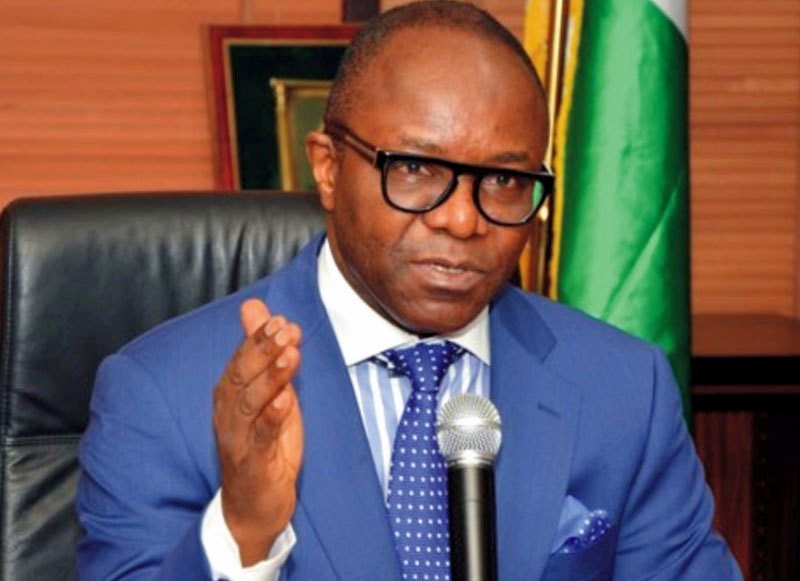 The Minister of State for Petroleum Resources, Dr. Ibe Kachikwu, on Sunday assured Nigerians that there is sufficient Premium Motor Spirit (petrol) in the country.
Kachikwu in an Interview with the News Agency of Nigeria in Lagos, said that the country had gone past the era of fuel scarcity and urged motorists to desist from panic buying.
"I can say that there shouldn't be any reason for fuel scarcity, we have gone past the era of fuel scarcity.
"NNPC informed me when I made inquires that they imported enough.
"Yesterday, I saw a few pockets of scarcity in Abuja, but I was told that it was Petroleum Equalisation Fund (PEF) related distribution issues, and it will be sorted out as soon as possible..
"So, it is not an issue of lack of sufficiency, I am told they have about 28 day's sufficiency, two weeks ago, they presently have between 14 and 15 days product sufficiency,'' he said.
The minister noted that the 28 days sufficiency was okay based on 50 million litres daily utilisation in the country.
" I don't expect to see a scarcity, I just expect them to work hard over the next few days to deal with whatever logistic issue they have. I will be working with NNPC on that,'' he added
On queues building up in some filling stations in Lagos and Abuja, he maintained that the country was wet enough to serve the needs of motorists.
" I haven't visited Lagos cities, but the information I have is that there is enough product on ground and we should be able to deal with whatever it is.
"The problem with fuel scarcity is that if you allow it to last for three days , then it builds up a life of its own.
"That is what I have enforced NNPC to do to make sure that it is resolved,'' he said.
Kachikwu noted that it would had been a major issue for the country if there was insufficient product on ground but assured that NNPC would be able to resolve whatever the situation was in a few days.
A check by NAN on Sunday in Abuja, revealed that there were no queues in most filling stations along Airport road and Kubwa expressway.
NAN reports that at NNPC outlet, Conoil and NIPPCO filling stations along airport road, motorists were buying fuel with ease, except at the NNPC mega station at the Central business district, which a short queue.
A taxi driver, Johnson Adio said "this is not a serious queue, I spent just 20 minutes before buying, it is normal with this station because a lot of people like buying from them.
"It was on Friday that we had a little problem, but it is okay now," he said.
Also, along the Kubwa Express way, there was no queue at AA Rano filling station, Shema, Mobil and NNPC stations.
NAN also reports that only few filling stations like DAN oil along the airport and the Kubwa express way were closed.
(NAN)
Inaugural Set of FirstBank Management Associates Programme Graduates
First Bank of Nigeria Limited, Nigeria's leading financial inclusion services provider, on Tuesday, June 30, 2020, graduated 28 successful candidates in its inaugural FirstBank Management Associates Programme (FMAP). The virtual exercise was held via the Zoom video conferencing application. The programme which commenced in 2018 had a total of 48 candidates selected from thousands of entries and applications received nationwide.
FMAP is a 24-month fast-track comprehensive developmental programme targeted at young, dynamic, self-motivated and highly driven individuals that possess the right skill set and excellent leadership potential among Junior and entry-level cadre staff. Entries and applications for the programme enrolment was also extended to the public
Speaking about the programme, Dr. Adesola Adeduntan, CEO, FirstBank said "It is an intensive skill development programme structured to enhance acute thinking, financial, methodical skills of staff. The bank would continue to reinvest in its human capital to create a kind of leadership needed for future growth and development
"This is part of the Bank's strategic objectives of infusing and developing leadership at requisite levels across its staff hierarchy, aimed at building the next generation of leaders who will be groomed to drive the Bank's vision of being Africa's Bank of first choice", he concluded.
At the end of the programme, successful candidates are moved to middle management, becoming Management Associates irrespective of their grades at the point of entry.
Cross country postings and secondment opportunities is also offered to such staff to provide them with global exposure and network.
FirstBank Empowers Women Through FirstGem Online Community
First Bank of Nigeria Limited, Nigeria's premier and leading financial inclusion services provider, has announced that its all-female online community www.firstgem.com.ng, offers mentoring, support and capacity building opportunities for all to create a new generation of financially literate women.
With the aim to increase its engagement and reach a wider audience, an online repository for its FirstGem product was created and designed to provide a virtual online community where like-minded women irrespective of where they are in Nigeria and abroad, gather to connect, grow and share knowledge on everything about lifestyle, parenting, career development, entrepreneurship, health, work and family. Financial empowerment and wealth creation ideas are shared to encourage women to play their part in providing financial support for their families.
The portal provides varied contents ranging from Blog stories to Vlogs, Newsletters, Chat rooms which are built on 6 pillars – Health, Wealth and Finance, Food and Recipes, Events, Entrepreneurship, Lifestyle and Beauty. The FirstGem online community presently has over 61,634 members drawn from all walks of life sharing ideas, insights and experiences.
According to Chuma Ezirim, Group Executive, e-Business & Retail Products, First Bank of Nigeria Limited, "FirstGem is suited for the Nigerian woman, and we are using this online community as the ideal opportunity to position the Bank's gender initiatives to meet the required needs on a wide range of issues affecting women from lifestyle, skills acquisition, finances, wealth acquisition and management, business support, etc.
We encourage all women to join the community by signing up via this link https://firstgem.com.ng/community to enjoy this experience.
FirstGem is a gender specific account designed to meet the needs of women, aged 18 years and above. It is targeted at a broad spectrum of women, working professionals, entrepreneurs and MSMEs with a view to promoting growth via an array of benefits, from free business advisory services, regular information or insights on business opportunities in various sectors and industries, as well as mouth-watering discounts at partnered stores and outlets.
FirstGem has successfully empowered women in states across the geo-political zones in Nigeria and the UK.
FBNHoldings Wins World Finance Best Corporate Governance in Nigeria Award 
Nigeria's leading financial services group and holding company, FBN Holdings Plc, has won the 2020 Best Corporate Governance in Nigeria Award by the World Finance. World Finance is renowned for its comprehensive coverage and analysis of the global financial services industry, international business, and the global economy.
FBN Holdings Plc is winning this award for the second consecutive year on the back of its strong corporate governance practices and outstanding leadership in the Nigerian financial services industry
Commenting on the award on behalf of FBNHoldings, UK Eke, MFR, its Group Managing Director said; "winning the award in quick succession is a demonstration of not only the strength of our corporate governance practices but also its resilience. As a holding company, we emphasize the highest standards in corporate governance across all operating entities in our quest to deliver value to our numerous stakeholders"
For the past thirteen years, World Finance has been celebrating corporate achievements in the areas of corporate governance, innovation, and market leadership in the financial services sector across all the regions of the World.