We Have Sufficient Fuel, Kachikwu Assures Nigerians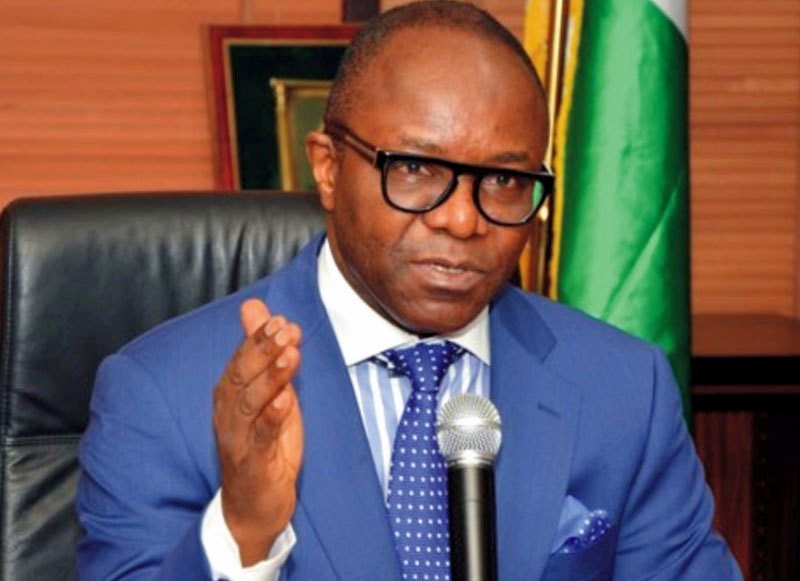 The Minister of State for Petroleum Resources, Dr. Ibe Kachikwu, on Sunday assured Nigerians that there is sufficient Premium Motor Spirit (petrol) in the country.
Kachikwu in an Interview with the News Agency of Nigeria in Lagos, said that the country had gone past the era of fuel scarcity and urged motorists to desist from panic buying.
"I can say that there shouldn't be any reason for fuel scarcity, we have gone past the era of fuel scarcity.
"NNPC informed me when I made inquires that they imported enough.
"Yesterday, I saw a few pockets of scarcity in Abuja, but I was told that it was Petroleum Equalisation Fund (PEF) related distribution issues, and it will be sorted out as soon as possible..
"So, it is not an issue of lack of sufficiency, I am told they have about 28 day's sufficiency, two weeks ago, they presently have between 14 and 15 days product sufficiency,'' he said.
The minister noted that the 28 days sufficiency was okay based on 50 million litres daily utilisation in the country.
" I don't expect to see a scarcity, I just expect them to work hard over the next few days to deal with whatever logistic issue they have. I will be working with NNPC on that,'' he added
On queues building up in some filling stations in Lagos and Abuja, he maintained that the country was wet enough to serve the needs of motorists.
" I haven't visited Lagos cities, but the information I have is that there is enough product on ground and we should be able to deal with whatever it is.
"The problem with fuel scarcity is that if you allow it to last for three days , then it builds up a life of its own.
"That is what I have enforced NNPC to do to make sure that it is resolved,'' he said.
Kachikwu noted that it would had been a major issue for the country if there was insufficient product on ground but assured that NNPC would be able to resolve whatever the situation was in a few days.
A check by NAN on Sunday in Abuja, revealed that there were no queues in most filling stations along Airport road and Kubwa expressway.
NAN reports that at NNPC outlet, Conoil and NIPPCO filling stations along airport road, motorists were buying fuel with ease, except at the NNPC mega station at the Central business district, which a short queue.
A taxi driver, Johnson Adio said "this is not a serious queue, I spent just 20 minutes before buying, it is normal with this station because a lot of people like buying from them.
"It was on Friday that we had a little problem, but it is okay now," he said.
Also, along the Kubwa Express way, there was no queue at AA Rano filling station, Shema, Mobil and NNPC stations.
NAN also reports that only few filling stations like DAN oil along the airport and the Kubwa express way were closed.
(NAN)
Coronavirus: FirstBank Devices Measures to Protect Employees, Customers, Others
Nigeria's leading financial inclusion services provider, First Bank of Nigeria Limited, has announced proactive measures it has taken to control the spread of the COVID – 19 (Coronavirus) pandemic.
The Bank's Group Head, Marketing & Corporate Communications, Folake Ani-Mumuney, said "embedded in our corporate strategy is business continuity management that ensures the delivery of products, services and initiatives to our stakeholders and enabling the economy in the long-term with minimal impact.
Therefore, we have employed necessary measures to keep our employees, customers and the general public safe-guarded and sensitised on preventive steps to flatten the curve at the fastest possible rate. These include the deployment of temperature measuring tools; hand sanitisers; face masks and adopting social distancing including utilizing virtual meetings. We have also cancelled owned and partnered planned events in the interim; suspended staff travels and have put measures in place to identify and communicate to staff who are arriving from affected countries to self-quarantine following the established protocols by the World Health Organisation and the government.
In addition, we have been amplifying all necessary official information from relevant health bodies and partners such as encouraging everyone to adhere to good hygiene practices which comprise regular cleaning of all surface areas – for example, tables, door handles – with disinfectants, consistent washing of hands as well as avoiding close contact with people and staying away from crowded environment''.
Encouraging the use of cashless transactions, Mrs. Ani-Mumuney said; "we implore all our customers to embrace cashless transactions across our self-service platforms like *894# USSD banking services, FirstMobile, WhatsApp Banking, First Online for their needs like funds transfers, various bill payments, credit and internet data recharge and much more. In need of quick loans, these self-service platforms are also designed to meet their immediate needs through our FirstAdvance service".
For enquiries and complaints, customers are encouraged to contact the Bank's 24 hours multi-lingual customer care centre, FirstContact, on 01-4485500 or email, firstcontact@firstbanknigeria.com.
She noted that the Bank is committed to protecting the health and safety of all its staff, customers and host communities as together the fight against Coronavirus would be won.
The National Centre for Disease Control (NCDC) should be reached on its Toll-Free Number: 0800 9700 001 for immediate medical attention and advise.
Oil Price Sinks to 17 Years All Time Low at $24
The price of Brent crude, the international benchmark, tumbled on Wednesday to the lowest level in 17 years as global markets continued to respond to the price war between Saudi Arabia and Russia amid the spread of the coronavirus pandemic.
Brent, against which Nigeria's crude is priced, fell by $3.84 to $24.89 per barrel as of 7.05 pm Nigerian time on Wednesday, its lowest level since late 2002.
With the oil price now more than 50 per cent lower than Nigeria's budget benchmark, the country's oil-dependent economy has come under more pressure.
The 2020 budget, which was signed by the President, Major General Muhammadu Buhari (retd.), in December, was based on oil production of 2.18 million barrels per day with an oil price benchmark of $57 per barrel.
The Federal Government was looking to generate N2.64tn oil revenue, representing 32.34 per cent of expected total revenue for this year, with non-oil revenue projection being N1.80tn.
The price war between Saudi Arabia, the de facto leader of the Organisation of Petroleum Exporting Countries, and Russia after the collapse of talks on coordinated output cuts is increasing pressure on the market, according to Reuters.
Travel and social lockdowns aimed at countering the coronavirus were said to have raised prospect of the steepest ever annual fall in oil demand.
Investment banks and consultancies have been making heavy cuts to their demand forecasts as a growing number of the world's largest cities and economies restrict movement.
"The oil demand collapse from the spreading coronavirus looks increasingly sharp," Goldman Sachs said in a note, forecasting a fall in Brent prices to as low as $20 in the second quarter, a level not seen since early 2002.
The bank expects a demand contraction of eight million barrels per day by late March and an annual decline in 2020 of 1.1 million bpd, which it said would be the biggest on record.
Rystad Energy has gone even further, projecting a year-on-year decline in demand of 2.8 million bpd, or 2.8 per cent, this year.
"To put the number into context, last week we projected a decrease of just 600,000 barrels," Rystad said.
In addition to imposing social restrictions not seen since World War Two, the world's richest nations prepared to unleash trillions of dollars of spending to reduce the fallout from the coronavirus.
The impact on demand is starting to show in official statistics, with Japan's trade bureau saying on Wednesday that crude imports into the world's third-biggest economy in February were down nine per cent from a year earlier.
Virgin Australia became the latest airline to shut its international network with the suspension of all overseas flights, while the Australian Prime Minister, Scott Morrison, warned that the situation could last six months or more.
Elsewhere, Iraq's oil minister pleaded for an emergency meeting between members of OPEC and non-OPEC producers to discuss immediate action to support the market.
Saudi Arabia's energy ministry, however, said it had directed its national oil company, Saudi Aramco, to continue to supply crude oil at a record high 12.3 million bpd over the coming months.
Iraq's Oil Minister, Thamer al-Ghadhban, asked OPEC to help to instigate urgent extraordinary meetings of the broader OPEC+ group, which includes Russia, to "discuss all possible ways" to rebalance the market.
The Punch
Anchor Insurance Wins Insurance Company of the Year Award
Anchor Insurance Company Limited, a fast rising risk-bearing company, has emerged the Insurance Company of the Year at the annual Independent Newspapers Awards 2019 held at Eko Hotels, Victoria Island, Lagos, penultimate
The firm's spokesman, Nelson Egboboh, said the Managing Director/Editor-In-Chief of the newspaper, Steve Omanufeme, who described Anchor Insurance Company as the "fastest growing insurance company of the year 2019, noted that "the selection committee specifically recognized the Company for its giant stride in the past one year, especially in its risk management and claims administration approach which have always been a source of delight for its teaming policyholders."
From left: Ebose Augustine and his wife with other dignitaries at the event.
He noted further that "we are also impressed by the company's turnaround record of performance in the last one year. It is noteworthy to say that the company under thenew Management team generated the highest premium income after 29 years of its existence, recording 72 per cent growth in one calendar year."
According to him, "the new Management team's ability to revitalize the Anchor Insurance brand and reposition the company for the statutorily induced recapitalization has further proven the organization as one that is ready to shock the insurance sector of the nation's economy."
"It is for the foregoing reasons, among others, that we have bestowed on the company, the richly deserved award of the Insurance Company of the Year 2019," Mr. Omanufeme noted.
Making his speech after receiving the award on behalf of the company, the Managing Director, Ebose Augustine, expressed his joy that his company was being celebrated after just a little above a year in office with his new team, stating that "we were just doing what we felt should be done to take the company to another level but we never knew people were taking records."
He used the occasion to call on governments at the state and federal levels not to shy away from subscribing to the relevant insurance covers, pointing out that their patronage will go a long way in helping to grow the insurance business and its contribution to the national gross domestic product.