We Have Sufficient Fuel, Kachikwu Assures Nigerians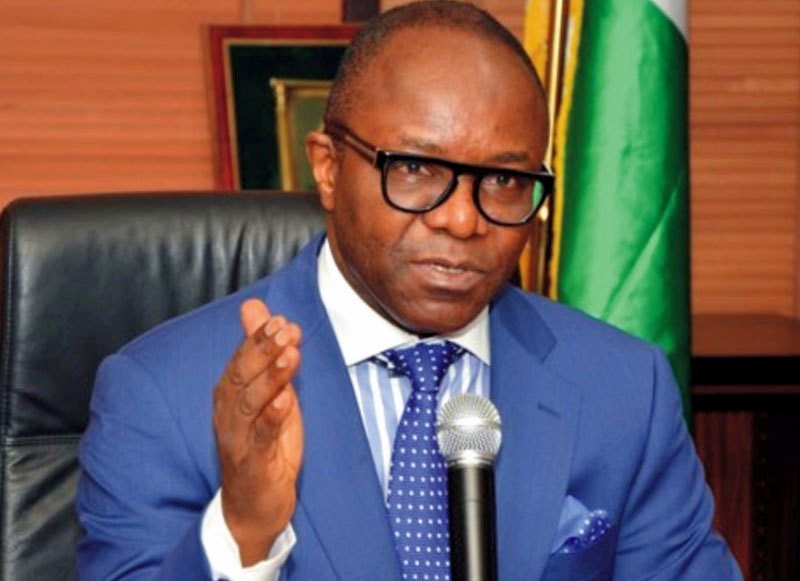 The Minister of State for Petroleum Resources, Dr. Ibe Kachikwu, on Sunday assured Nigerians that there is sufficient Premium Motor Spirit (petrol) in the country.
Kachikwu in an Interview with the News Agency of Nigeria in Lagos, said that the country had gone past the era of fuel scarcity and urged motorists to desist from panic buying.
"I can say that there shouldn't be any reason for fuel scarcity, we have gone past the era of fuel scarcity.
"NNPC informed me when I made inquires that they imported enough.
"Yesterday, I saw a few pockets of scarcity in Abuja, but I was told that it was Petroleum Equalisation Fund (PEF) related distribution issues, and it will be sorted out as soon as possible..
"So, it is not an issue of lack of sufficiency, I am told they have about 28 day's sufficiency, two weeks ago, they presently have between 14 and 15 days product sufficiency,'' he said.
The minister noted that the 28 days sufficiency was okay based on 50 million litres daily utilisation in the country.
" I don't expect to see a scarcity, I just expect them to work hard over the next few days to deal with whatever logistic issue they have. I will be working with NNPC on that,'' he added
On queues building up in some filling stations in Lagos and Abuja, he maintained that the country was wet enough to serve the needs of motorists.
" I haven't visited Lagos cities, but the information I have is that there is enough product on ground and we should be able to deal with whatever it is.
"The problem with fuel scarcity is that if you allow it to last for three days , then it builds up a life of its own.
"That is what I have enforced NNPC to do to make sure that it is resolved,'' he said.
Kachikwu noted that it would had been a major issue for the country if there was insufficient product on ground but assured that NNPC would be able to resolve whatever the situation was in a few days.
A check by NAN on Sunday in Abuja, revealed that there were no queues in most filling stations along Airport road and Kubwa expressway.
NAN reports that at NNPC outlet, Conoil and NIPPCO filling stations along airport road, motorists were buying fuel with ease, except at the NNPC mega station at the Central business district, which a short queue.
A taxi driver, Johnson Adio said "this is not a serious queue, I spent just 20 minutes before buying, it is normal with this station because a lot of people like buying from them.
"It was on Friday that we had a little problem, but it is okay now," he said.
Also, along the Kubwa Express way, there was no queue at AA Rano filling station, Shema, Mobil and NNPC stations.
NAN also reports that only few filling stations like DAN oil along the airport and the Kubwa express way were closed.
(NAN)
Nigeria Joins League of Nations with Professional Association for CSR and Sustainability
The Association of Sustainability Professionals of Nigeria (ASPN) will host an industry conversation to discuss the urgent need for attaining an inclusive economy in Nigeria and the roles that Sustainability and Corporate Social Responsibility (CSR) professionals can play in this regard on Thursday, November 26, 2020.
The dialogue, which doubles as the formal launch of the professional group, will explore the need for synergy among sustainability experts, subject-matter specialists, and advocates to support the efforts of government and drive private sector leadership for social inclusion as well as the United Nations' Sustainable Development Goals (UN-SDGs) in line with the beginning of the Decade of Action. After many years of mainstreaming CSR and Sustainability through various initiatives, milestones, and adoption of all major international conventions on Business Sustainability, Climate Change, Environmental Standards, and other development agendas; Nigeria formally joins the league of nations with professional associations specially set up for the practice of CSR and Sustainability.
ASPN is a non-profit organisation founded in August 2019 to redefine and improve the practice and profession of Sustainability and CSR in Nigeria. Through various strategic partnerships, policy formulation & advocacy activities, ASPN seeks to set standards for professional ethics, best practices and long-term systems thinking amongst individuals and businesses to foster the sustainable development of Nigeria.
To formally unveil the ASPN, the event will feature discussions on the theme: Professionalising Sustainability for an Inclusive Development and has been slated to hold on Thursday, November 26, 2020. Professor Wayne Visser, Founder, CSR International will participate as the Guest Speaker whilst other speakers will include: Professor Chris Ogbeche, Deputy Dean, Lagos Business School; Solape Hammond, Special Adviser to the Lagos State Governor on SDGs; and Dr. Aisha Mamood, Sustainability Director, Central Bank of Nigeria. Also, in attendance at the event will be government and regulatory agencies, sustainability experts, corporate organisations, and industry experts, non-governmental organisations and the public.
Nigeria, like most present-day societies, has adopted various measures to minimize pollution and promote environmental, social, and economic sustainability as a fundamental component of socio-economic development. For example, the last decades of the century witnessed increased concerns – with the private sector at the forefront, about climate change. Therefore, the need to develop, implement and drive cohesive policy, that would go a long way in meeting the needs of the present without compromising the ability of the future to meet its needs is paramount. Consequently, a need to have a body that drives cohesive policies seeking sustainable development and growth in the country in a more coordinated manner is essential.
According to the ASPN President, Prof. Kenneth Amaeshi, "We are excited about the formal launch of the ASPN because we have existed for so many years as a community of passionate and committed advocates. We look forward to strengthening our alliances and contributing significantly to Nigeria's active role in the Decade of Action". The ASPN is led by passionate and renowned professionals with many years of experience committed to practicing advocating teaching and mentoring on sustainability-related issues within Nigeria and internationally. These professionals are Ini Abimbola, Founder, ThistlePraxis Consulting. Ismail Omamegbe, Head, Media & External Relations; Corporate Responsibility & Sustainability, FirstBank; Bekeme-Masade Olowola, Chief Executive, CSR-in-Action; Ken Egbas, CEO, TruContact CSR Nigeria; Eunice Sampson, Head, Sustainability, Dangote Cement Plc; Ibrahim Salau, Managing Director, Environmental Accord; Bolanle Victor-Laniyan, Head, Sustainability, Access Bank and Kenneth Amaeshi who serves as Chair in Business and Sustainable Development and Director of the Sustainable Business Initiative at the University of Edinburgh.
To join the conversation and participate in this event, please visit: https://bit.ly/ASPNUnveiling or follow ASPN on social media on @ASPNigeria on LinkedIn, Twitter, Facebook, and Instagram. For more information, please visit the ASPN Website: https://aspn.org.ng  or email, info@aspn.org.ng or call: 0706 752 3702.
Nigeria Slides into Recession, the Worst Since 1987
Nigeria has officially slid into its worst economic recession in over three decades, TheCable can report.
According to gross domestic product numbers released by the National Bureau of Statistics on Saturday, the nation recorded a contraction of 3.62 percent in the third quarter of 2020.
This is the second consecutive quarterly GDP decline since the recession of 2016. The cumulative GDP for the first nine months of 2020, therefore, stood at -2.48 percent.
The last time Nigeria recorded such cummulative GDP was in 1987, when GDP declined by 10.8 percent.
According to World Bank and NBS figures monitored by TheCable, this is also the second recession under President Muhamadu Buhari's democratic reign — and his fourth as head of state.
TheCable
Unity Bank Posts N33.9bn Gross Earnings in Nine Months, Grows Assets Base by 44%
Unity Bank Plc has declared gross earnings of N33.906 billion for the nine months' period ended September 30, 2020 and also recorded a 44% asset growth during the period.
A review of the unaudited results released to the Nigerian Stock Exchange showed that the gross earnings of N33.906 billion represents an 8 per cent growth from N31.256 billion recorded in the same period in 2019.
The lender's total assets rose significantly to N420.870 billion in the nine-month period ended September 30, 2020, from N293.052 billion in the corresponding period of 2019, representing a whopping 44% growth.
This is even as the Bank grew its bottom-line by 6% as Profit Before Tax, PBT moved up to close at N1.710 billion from N1.611 billion in 2019.
Profit After Tax, PAT equally grew by 6% to N1.573 billion compared to the N1.482 billion recorded in the same period in 2019.
Specifically, in the Q3, the lender declared a N590 million Profit Before Tax, PBT, representing another 6% increase from the N559.381 million recorded in the corresponding quarter of 2019.
This performance comes on the heels of the unmitigated impact of the global pandemic on the economy, which lingered throughout the quarter with its attendant headwinds that slowed down economic activities.
The lender also substantially grew its customers' deposit portfolio to N332.362 billion from N257.691 billion for the same period in 2019, creating a 29 per cent increase, affirming the confidence reposed by its wide spectrum of the banking public. The lender, it was gathered, rolled out massive customer-centric products to the public especially in the retail space which accelerated the banking patronage during the period.
Commenting on the result, Unity Bank's Managing Director/Chief Executive Officer, Mrs. Tomi Somefun welcomed the steady growth of the balance sheet especially from both assets and liability side of the business and across key performance indices.
She said that this has had sustained impact on the bottom-line, even as the Bank continues to innovate in its e-business product bouquet to target and support value chain business with robust technology and thus diversify its earnings base''.
Looking ahead, Mrs. Somefun stated that "One of the areas that will define our strategic direction going forward is investment in alternative channels leveraging further deployment of resources in technology. COVID-19 gave us a chance to test the integrity and scalability of our technology, the IT infrastructure, and the electronic banking channels, and provided us an opportunity to see where we needed to improve and strengthen, knowing that the future of sustainable banking business is in alternative channels".
The results can also be attributable to the Bank's growing brand profile and leadership in agribusiness, especially having provided loans and financing to over one million smallholder farmers especially those in primary production and other value chain businesses in the agricultural sector.
During the period under review, the Bank enhanced and deepened its collaboration and partnership with major commodity associations including the Rice Farmers Association of Nigeria (RIFAN), Maize Farmers Association of Nigeria and the National Cotton Association of Nigeria (NACOTAN) to finance over 400 smallholder farmers' crop production with its overall strategic intent of fostering food security, employment generation and aggregate economic welfare of citizens across the value chains.
The Bank also worked with processors and members of Millers' Association of Nigeria to provide working capital through the CBN's various intervention funds, while providing credit facilities to large number of input suppliers and vendors through the Anchor Borrower's Programme.
In recognition of the above, Mrs Somefun added that the Bank will continue to focus on agriculture, while deepening business in various new markets that have been developed alongside to pull more resources and enhance multiple streams of income.
In the view of analysts, the consistent upward trajectory in the performance of the Bank as shown in Q1, H1 and Q3, 2020 results continue to reinforce growing market confidence as well as demonstrates the commitment and drive of the management to enhance shareholder's value.