We Have Sufficient Fuel, Kachikwu Assures Nigerians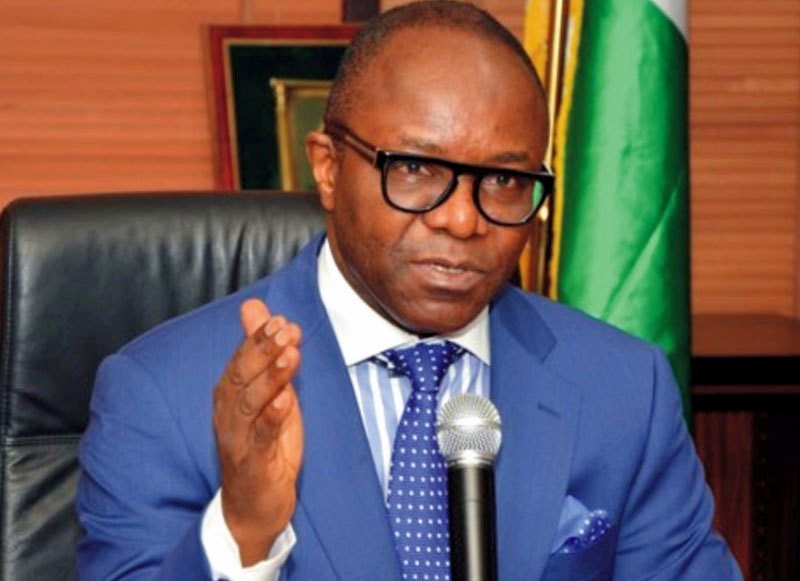 The Minister of State for Petroleum Resources, Dr. Ibe Kachikwu, on Sunday assured Nigerians that there is sufficient Premium Motor Spirit (petrol) in the country.
Kachikwu in an Interview with the News Agency of Nigeria in Lagos, said that the country had gone past the era of fuel scarcity and urged motorists to desist from panic buying.
"I can say that there shouldn't be any reason for fuel scarcity, we have gone past the era of fuel scarcity.
"NNPC informed me when I made inquires that they imported enough.
"Yesterday, I saw a few pockets of scarcity in Abuja, but I was told that it was Petroleum Equalisation Fund (PEF) related distribution issues, and it will be sorted out as soon as possible..
"So, it is not an issue of lack of sufficiency, I am told they have about 28 day's sufficiency, two weeks ago, they presently have between 14 and 15 days product sufficiency,'' he said.
The minister noted that the 28 days sufficiency was okay based on 50 million litres daily utilisation in the country.
" I don't expect to see a scarcity, I just expect them to work hard over the next few days to deal with whatever logistic issue they have. I will be working with NNPC on that,'' he added
On queues building up in some filling stations in Lagos and Abuja, he maintained that the country was wet enough to serve the needs of motorists.
" I haven't visited Lagos cities, but the information I have is that there is enough product on ground and we should be able to deal with whatever it is.
"The problem with fuel scarcity is that if you allow it to last for three days , then it builds up a life of its own.
"That is what I have enforced NNPC to do to make sure that it is resolved,'' he said.
Kachikwu noted that it would had been a major issue for the country if there was insufficient product on ground but assured that NNPC would be able to resolve whatever the situation was in a few days.
A check by NAN on Sunday in Abuja, revealed that there were no queues in most filling stations along Airport road and Kubwa expressway.
NAN reports that at NNPC outlet, Conoil and NIPPCO filling stations along airport road, motorists were buying fuel with ease, except at the NNPC mega station at the Central business district, which a short queue.
A taxi driver, Johnson Adio said "this is not a serious queue, I spent just 20 minutes before buying, it is normal with this station because a lot of people like buying from them.
"It was on Friday that we had a little problem, but it is okay now," he said.
Also, along the Kubwa Express way, there was no queue at AA Rano filling station, Shema, Mobil and NNPC stations.
NAN also reports that only few filling stations like DAN oil along the airport and the Kubwa express way were closed.
(NAN)
Seplat Denies ExxonMobil Deal Cancellation
Seplat Energy, on Thursday, said it had not received any official notification from the Federal Government reversing its proposed acquisition of the entire share capital of Mobil Producing Nigeria Unlimited.
The company also said it was seeking clarification from relevant authorities regarding the claims that President Muhammadu Buhari, who doubles as Minister of Petroleum Resources, had withdrawn his ministerial approval for the deal.
"Seplat Energy has become aware of a news report claiming that ministerial approval of the company's proposed acquisition of the entire share capital of Mobil Producing Nigeria Unlimited has been withdrawn," the oil firm stated in a statement issued by its Chief Financial Officer, Emeka Onwuka.
It added, "Seplat Energy has received no official notification of such a decision and is seeking clarification from the relevant authorities."
Buhari had, on Wednesday, reversed his authorisation of the acquisition of the entire share capital of MPNU by Seplat Energy Offshore Limited.
The move puts the Presidency on the side of the Nigerian National Petroleum Company Limited which had earlier declined the $1.3bn transaction.
A statement by the Special Adviser to the President on Media and Publicity, Femi Adesina, had announced on Monday that Buhari consented to the acquisition of Exxon Mobil shares by Seplat Energy.
According to the Presidency, Buhari authorised the move in his capacity as Minister of Petroleum Resources as a way to attract Foreign Direct Investment to the country.
This was, however, contested by the Nigerian Upstream Petroleum Regulatory Commission, as the Chief Executive, NUPRC, Gbenga Komolafe, said the regulator would not and did not endorse the transaction.
Reacting to the development on Wednesday, the Senior Special Assistant to the President on Media and Publicity, Garba Shehu, stated that Buhari had reversed the decision and that the misunderstanding was because the "agencies involved in (the) decision had not coordinated well among themselves."
Responding to claims on the reversal of ministerial approval, Seplat stated on Thursday that it had not received any official notification on the decision.
The oil firm, however, noted that it "will continue to work with all parties to achieve a successful outcome to the proposed acquisition and will provide an update in due course."
It said the "announcement is made pursuant to Rule 17.10 of the Rulebook of the Nigerian Exchange, 2015 (Issuer's Rule)."
The Punch
Wema Bank: Why We Are Delivering Value and Growing Our Numbers – Adebise
The Managing Director/CEO of Wema Bank Plc, Mr. Ademola Adebise, has explained the facts behind the bank's growing numbers during the half year ended June 30, 2022.
Wema Bank recently released its second quarter unaudited financial result for the period ended June 30, 2022, showing a 50 percent increase in its Gross Earnings from N39.82 billion recorded in 2021 to N59.59 billion H1 2022. The bank also grew its deposit by 43 percent from N968.17 billion reported in FY 2021 to N1.09 trillion in H1 2022.
Similarly, Wema Bank recorded a 43 percent increase in Profit before tax (PBT) from N4.30 billion over the same period last year to N6.13 billion for the period under review.
Speaking at the analyst's conference and Investors' call, Mr Adebise said: "Our digital channels remain a priority in meeting customer needs and closing the financial inclusion gap.
'With a transaction value of N131.5 billion, USSD recorded over 58.6 million in transaction count (+55%), reaffirming our focus to grow channel usage.
"Mobile banking users completed over 42.8 million transactions within the review period, further driving the financial inclusion initiative.
"With over 50% growth in agent acquisition, our agency banking base increased to 140k accounts, at the end of the six months review period (H1 2021: >102k). This helps to further enhance performance across our financial inclusion initiatives. The value of agency funds transfer closed at N7.59bn in H1 2022, a 34% y-o-y growth. The stellar growth in agency transfer volume by 550k% was driven by signing-on of new partners", he said.
According to the Wema Bank MD, the bank's agency banking solutions will continue to provide support to customers mostly in the rural areas and hard-to-reach regions of the country.
"So far, we have over 21,000 agents attending to the financial service needs of these customers," Mr Adebise added.
The bank's Chief Finance Officer, Mr. Tunde Mabawonku, said the results point to the resilience and growth trajectory of the bank during the review period.
According to him, the bank has achieved efficiency in its balance sheet by managing growing deposits and rising interest rate. He also disclosed the bank has achieved an efficient mix of its deposit portfolio by bringing down the cost of funds.
Mabawonku hinted the bank's N40 billion rights issue would open and be concluded during the year, a development he said would deliver more value to shareholders.
Nigeria Makes List of Four Top World Bank Debtors
Rising debt has pushed Nigeria up the World Bank's top 10 International Development Association borrowers' list.
The World Bank Fiscal Year 2021 audited financial statements, known as the IDA financial statement, showed that Nigeria was rated fifth on the list with $11.7bn IDA debt stock as of June 30, 2021.
However, the newly released World Bank Fiscal Year 2022 audited financial statements for IDA showed that Nigeria has moved to the fourth position on the list, with $13bn IDA debt stock as of June 30, 2022.
This shows that Nigeria accumulated about $1.3bn IDA debt within a fiscal year, with the country taking over the fourth top debtor position from Vietnam.
This debt is different from the outstanding loan of $486m from World Bank's International Bank for Reconstruction and Development.
The top five countries on the list slightly reduced their IDA debt stock except Nigeria.
India, which is still the first on the list reduced its IDA debt stock from $22bn in the previous fiscal year to $19.7bn, followed by Bangladesh from $18.1bn to $18bn.
It is followed by Pakistan which cut its debt from $16.4bn to $15.8bn, and lastly, Vietnam, which went down the list to fifth position, from $14.1bn to $12.9bn.
Nigeria has the highest IDA debt in Africa, as the top three IDA borrowers (India, Bangladesh and Pakistan) are from Asia. The World Bank disclosed recently that Nigeria's debt, which may be considered sustainable for now, is vulnerable and costly.
The bank said, "Nigeria's debt remains sustainable, albeit vulnerable and costly, especially due to large and growing financing from the Central Bank of Nigeria."
However, the Washington-based global financial institution added that the country's debt was also at risk of becoming unsustainable in the event of macro-fiscal shocks.
The bank further expressed concerns over the nation's cost of debt servicing, which according to it, disrupted public investments and critical service delivery spending.
Economists have also raised concerns over the rising debt profile of the Federal Government.
The Fiscal Policy Partner and Africa Tax Leader of PwC, Mr Taiwo Oyedele, expressed his agreement with the World Bank on the high cost of debt servicing.
He said, "I agree with the World Bank. Although the debt to GDP ratio is not too high, if you think about the debt service cost to revenue ratio, it is already over 70 per cent. That's when you know it's costly.
"Nigeria borrows at double-digit, and even when we borrow in dollars, the rates are very high and then you devalue the naira and the cost of servicing the debt in naira goes up because it is dollar-dominated debt.
"Put all of that together, and you can easily say to yourself that even though our debt to GDP ratio is very low, our cost of borrowing is unsustainable because it is very high, and therefore, make it very costly."
A former Deputy Governor of the Central Bank of Nigeria and former presidential candidate, Kingsley Moghalu, also criticised the increasing borrowing tendency of the government, urging the officials to re-consider other ways of generating revenue for the country.
According to Moghalu, it was also not reasonable to borrow for infrastructural development as the government could expand the public-private partnership options for such development.
In a document by the Director General of the Debt Management Office, Patience Oniha, recently obtained by our correspondent, the DMO stated that high debt levels would often lead to high debt services and affect investments in infrastructure.
According to the DMO DG, "High debt levels lead to heavy debt service which reduces resources available for investment in infrastructure and key sectors of the economy."
The Punch