Ajegunle Killing: Police Arrest Five, Declare Inspector Wanted
Operatives of the Lagos State Police Command have arrested five Police officers and declared an Inspector, Dania Ojo, wanted, for allegedly shooting dead a girl, Ada Ifeanyi, in the Apapa area of Lagos State.
One Emmanuel Akomafuwa was said to have sustained life-threatening injuries as a result of the shooting that killed the 20-year-old girl.
The policemen arrested were identified as: Inspector Adamu Usman, Sergeant Adeyeye Adeoye, Sergeant Kashim Tijani, Sergeant Lucky Akigbe and, Sergeant Paul Adeoye.
The state's Police Public Relations Officer, Bala Elkana, said the Police officers were already facing internal disciplinary actions at the Command's headquarters, adding that if found wanting, they would be prosecuted in conventional court for murder.
Elkana said in a Press statement, "The Commissioner of Police Lagos State, Zubairu Muazu, has ordered the immediate arrest and detention of Police officers suspected to be involved in the shooting of Ada Ifeanyi, 20, of No. 4B, Amusa Lane, Off Ojo Road Ajegunle; and Emmanuel Akomafuwa, 32, of No. 52, Babatunde Street, Olodi Apapa, at Akpiri Street, Olodi Apapa.
"The incident happened on Saturday, April 13, 2019 around 7am.
"The victims were rushed to the hospital and Ada Ifeanyi was confirmed dead, while Emmanuel Akomafuwa is currently on admission, receiving treatment from the injury he sustained as a result of the shooting.
"Members of the team suspected to be involved in the shooting are from Trinity Police Station and are currently facing internal disciplinary proceedings at the Command's Headquarters, Ikeja.
"Their rifles have been retrieved for forensic analysis by ballisticians. If found wanting, they will be prosecuted in conventional court for murder.
"The policemen arrested are: Inspector Adamu Usman, Sergeant Adeyeye Adeoye, Sergeant Kashim Tijani, Sergeant Lucky Akigbe and Sergeant Paul Adeoye; while Inspector Dania Ojo, who escaped immediately after the shooting incident, has been declared wanted by the Command."
Elkana, who condemned the rate at which policemen have been involved in the killing of unarmed civilians, said CP Mu'azu had expressed his deepest condolences to the bereaved family, adding that the Command, in its effort to rid the Force off 'criminal elements,' subjects any officer found culpable to disciplinary measures, dismissal and prosecution in a convention court.
The PPRO added, "Lagos State Police Command condemned in total these senseless killings of unarmed civilians by a few 'bad eggs ' in the Command, who are bent on denting the image and reputation of the nation's Police Force.
"The Command will not relent in its efforts in ridding the Force of these criminal elements.
"Those involved in extra-judicial killings and abuse of power are promptly identified, isolated, tried through internal disciplinary proceedings, dismissed from service and prosecuted in conventional Courts.
"Within the last one month, Lagos State Police Command has dismissed four policemen for abuse of power and awarded various degrees of punishments to 41 others.
"The four dismissed policemen were charged to court and remanded in prison custody.
"Our collective resolve in building a more humane, professional, dedicated, courageous and people-oriented Police Force is a task that must be done and together, we can make it a reality.
"The Commissioner of Police extends the Command's deepest condolences to the family and friends of Ada Ifeanyi, and promised to foot the medical bills of Emmanuel Akomafuwa.
"The CP calls for calm, as the Command will leave no stone unturned in ensuring that justice prevails."
The Punch
Nnamdi Kanu Still Our Leader, Not Replaced – IPOB
The Indigenous People of Biafra has said that it has not replaced the currently detained Nnamdi Kanu as its leader.
The Biafra group asked its followers to ignore the reports making the rounds that IPOB has replaced Kanu, describing it as "fabricated media propaganda".
These were made known in a statement by the group's Media and Publicity Secretary, Emma Powerful, on Tuesday.
According to Powerful, Mazi Chika Edoziem is the head of the IPOB Directorate of State and not IPOB Acting Leader.
The statement read in part, "We, the global movement and family of IPOB under the command and leadership of Mazi Nnamdi Kanu, condemn the useless and fabricated media propaganda and blackmail from some media houses that IPOB has another or acting leader replacing our indefatigable liberator and prophet Mazi Nnamdi Kanu.
"Those peddling this kind of lies are those criminals who zoo gutter media are publishing this to confuse the weak-minded people.
"We want everybody to bear in mind that Mazi Chika Edoziem is the head of IPOB Directorate of State and not IPOB Acting Leader.
"There was never a time that Emma Powerful, the Publicity Secretary of IPOB issued any statement purporting that our Leader had been replaced by Mazi Chika Edoziem as IPOB Acting Leader.
"The said statement was the handiwork of mischievous elements bent on causing confusion in IPOB.
"It is unfortunate that some mischievous elements twisted an unambiguous statement by IPOB where we clarified that in the meantime that our Leader is in detention, the Head of DOS, Mazi Edoziem, will be providing direction on the day-to-day activities of IPOB. We never said that Edoziem had become the Acting Leader of IPOB.
"For the avoidance of doubts, Mazi Nnamdi Kanu remains the leader of IPOB. The entire IPOB family all over the world is loyal to him. IPOB has no Acting Leader. Chika Edoziem is only the Head of DOS of IPOB not the Leader.
"We, therefore, urge our family members, supporters, friends, and members of the public to ignore the misleading and mischievous media report."
Terrorists Responsible for Owo Church Massacre in Our Custody – General Irabor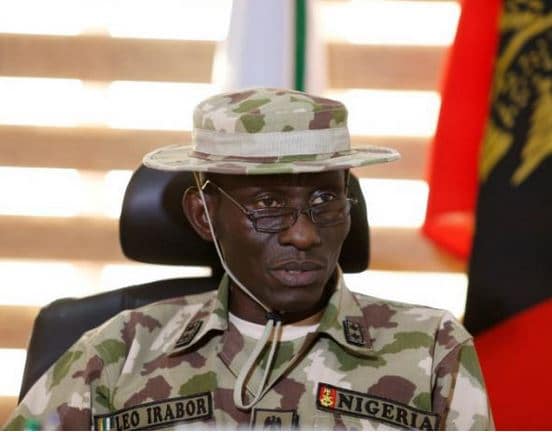 Eric Elezuo
The Chief of Defence Staff, General Lucky Irabor, has said that the military has arrested the terrorists behind the attack on St. Francis Catholic Church, Owo, Ondo State.
General Lucky Irabor according to news monitored on SolaceBase, made the revelation on Tuesday, during a parley with media executives at the Defence Headquarters, Abuja.
Appreciating the collaboration with sister security agencies, which helped in the arrests of the criminals, Irabor recalled that about 40 person's were brutally murdered when heavily armed men invaded their worship centre on June 5, 2022.
My Invitation to Rivers to Commission Projects Demonstration of Politics Without Bitterness – Sanwo-Olu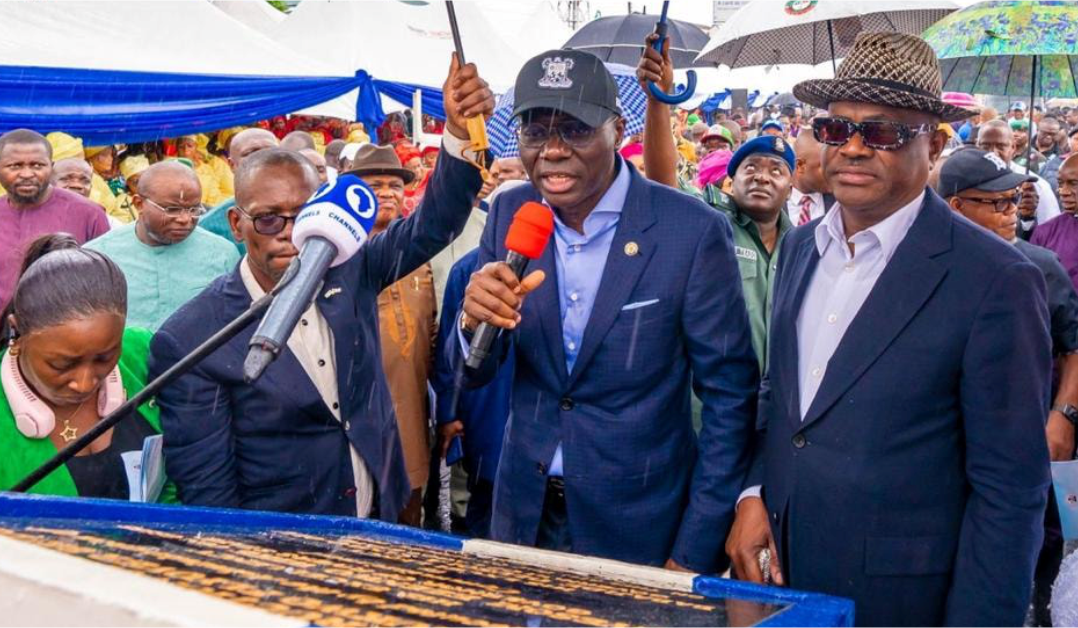 By Eric Elezuo
The Lagos State governor, Mr. Babajide Sanwo-Olu, has said that his invitation by the Rivers State governor, Mr Nyesom Wike, to commission a project in Rivers State, is a clear demonstration of politics without bitterness. This is noting that the Lagos State governor is a member of the All Progressives Congress (APC) while Wike is a member of the Peoples Democratic Party (APC).
On Monday, Sanwo-Olu was a guest of the Rives governor to commission the Orochiri-Worokwu (Waterlines) Flyover delivered by the state government.
In his remarks, Sanwo-Olu commended Governor Wike for his strong commitment to the delivery of physical infrastructure in Rivers State.
"I would like to specially commend my brother, Governor Wike, for his strong commitment to the delivery of physical infrastructure in Rivers State.
"A commitment that has been recognized by all and sundry, and which has earned him the appellation of "Mr. Projects" within and outside Rivers State," he said.
Sanwo-Olu said though himself and governor Wike belong to different political persuasions, the invitation extended to him sends a very strong message that politicians and political leaders, can come together across political and ideological divides, for the good of the people.
"There is also a strong message being made today about expanding our capacity to play politics without bitterness. This symbolic gesture by my friend and brother is one that should become standard practice across Nigeria.
"There is also a lot that we can learn from one another, and experience that we can translate from one part of the country to the other," Sanwo-Olu stated.
It will recalled that Wike is in the habit of inviting notable politicians across parties as guests of honour during the unveiling of any of his projects. The likes of governor of Ekiti State, who is also an APC member and Sports Minister, Mr. Sunday Dare were once invited to commission projects in the state.
Governor Wike had explained that the invitation of the Lagos State governor was not the first time persons of other political parties were invited to inaugurate projects in Rivers State, pointing to the overall benefits such invitations have on governance because it served as peer review for them.