'Why I Drowned My One Year Old Daughter in Bucket of Water'
A 22-year-old mother, Oluwafunmilola Adisa, has been arrested for killing her daughter, Oluwanifemi, at their place of residence on Plot 221 Gowon Estate, in the Ipaja area of Lagos State.
The incident, which happened on Monday, also saw the woman dropping a note for her sister, Damilola, chronicling how she perpetrated the crime.
She blamed Oluwanifemi for the hardship she had been facing after she gave birth to her 21 months ago, adding that the daughter's arrival cost her an admission to study law.
In a bid to alleviate her suffering, Oluwafunmilola said she drowned her baby in a bucket of water, adding that after committing the crime, she went to the Gowon Estate Police Station to report herself.
Explaining the events leading to the baby's death, the Ogun State indigene stated, "I turned myself in after killing my daughter on Monday, May 11, 2020. "At first, I was thinking of strangling her, later I thought of suffocating her with a pillow, but my sister warned me to keep Oluwanifemi away from water after she had a dream and that gave me the idea of drowning her.
"On the day of the incident,  around 2pm, Oluwanifemi was assisting me to dress up, because she thought that I would take her out with me. But I told her that she was not going anywhere, because she would die that day and I would be going to the police station after killing her. So, I opened a big bucket of water, threw her in and covered the bucket, but she was able to push away the cover.
"The water in the bucket was not much, so, I poured more water in it, but she was still able to push away the cover to breathe, so I turned her upside down, threw her in the bucket of water and closed it.
"After some time, I saw her floating and when I brought her out, she was still breathing. I put her in again and brought her out after some time, but she was still breathing and at the third attempt, I left her for some minutes till she died. I didn't feel any pain killing her, because I was desperate."
After perpetrating the crime, Oluwafunmilola stated that she wrote a letter to  her sister, Damilola, to inform her that she had fulfilled the promise of killing her baby, adding that she took the action because of the shame the baby's birth had brought to her and as a result of lack of money.
She stated, "The reason for the drastic decision is lack of financial help; I was tired and ashamed; when I gained admission to study law at the Obafemi Awolowo University, Ile-Ife, Osun State, I got pregnant and deferred my admission, which I later lost.
"So killing my baby and losing my admission have a connection. I felt I would be free if I kill her and would be able to go anywhere I like and no one would disturb me that I had a daughter outside wedlock.
"After she died, I removed her from the bucket of water, placed her remains on a pillow and covered her with a white cloth. I confirmed that she was dead, because her legs and hands were very pale; her tongue also popped out in between her teeth.
"I also dropped the note I wrote to Damilola beside her corpse and the reason I wrote the letter was to let my sister know that I was the one who killed Oluwanifemi and that I was going to report myself at the police station.
"I had been telling Damilola of my plans to kill her, but she usually prevailed on me. I wanted to carry out my plan on Sunday, but Damilola started calling our parents and the pastor, so I postponed it till Monday, when I was home alone with my daughter. Damilola had gone to work when I killed her."
The letter that Oluwafunmilola wrote to her sister read in part, "Good day Damilola, thanks for everything you have done for me and Mama (Oluwanifemi), for the fake love, real love, false accusations, lies, and everything. The purpose of writing this letter is because Mama (Oluwanifemi) is dead. I soaked her inside a bucket filled with water and I am telling you to know that I have fulfilled it. Extend my greetings to father, pastor, friends. Goodbye forever, don't look for me, save your money and invest."
She claimed that the father of her baby, one Folarin Yusuf, abandoned her after she got pregnant.
When contacted, the state Police Public Relations Officer, Bala Elkana, said Oluwafunmilola was in custody, adding that she would be charged.
Elkana stated, "When we got the report that a woman was suspected to have killed her baby, our homicide detectives went there and found the baby dead on the bed. But the woman left a note beside the baby's corpse that she was the one who killed her.
"She confessed that she dipped the baby in a bucket of water three times till she died and said she was frustrated and killed the innocent baby, because she was tired of life. The State Criminal Investigation and Intelligence Department has commenced investigation into the matter. The suspect will be charged for the crime."
The Punch
'I Faked My Own death to Escape Financial Pressure from Family'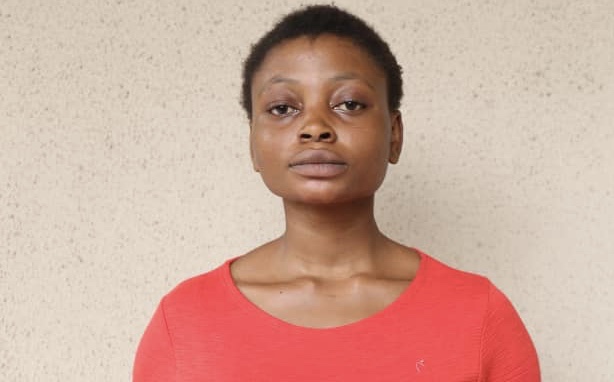 A 19-year-old girl, Margaret Ikumu, of Oni community in Oju Local Government Area of Benue, has faked her own death on social media to avoid financial pressure from her mother.
A statement signed by DSP Bala Elkana, the Police Public Relations Officer in Lagos State, made this known on Sunday.
Elkana said that Ikumu, through her Facebook account, reported to have died a few days ago and was secretly buried by her two friends, Marvelous Mary and Nneka Buddy, at Ajah area.
"The family of the fake deceased further stated that they were able to establish contact with the said friends who confirmed to them that their daughter is dead.
"To make them believe that the girl is dead, they sent WhatsApp chats to a member of the girl's family with picture of a casket showing that the girl is buried.
"The family also got in touch with a man on phone who claimed to be her boyfriend. He corroborated the claim that she is dead," he said.
Elkana said that the girl was eventually found by the Police to be alive and was working as a home help in an estate at Ajah.
"When her employer saw the report of her purported death, they quickly informed the Police and she was brought to Ajah Police Station.
"In her statement, she (Ikumu) confessed to have created the Facebook account and posted her obituary with intent to keep her family away from her.
"She said that her mother was putting financial pressure on her by constantly demanding that she sends money to her," he said.
Elkana said that the girl was apparently bitter with her mother and uncles over their inability to sponsor her education after the death of her father.
He said that Ikumu came to Lagos to work with a view to saving some money and returning to school.
(NAN)
Bizarre! Man Sets Sister Ablaze During Argument
The Lagos State Police Command has confirmed the arrest of one Chima for allegedly setting ablaze his elder sister, identified simply as Victoria, at their place of residence by the CAC bus stop in the Okokomaiko area of Ojo.
PUNCH Metro gathered that the siblings were assisting their mother, who was cooking in the kitchen, when trouble started between Victoria and him.
It was learnt that the mother cautioned Victoria against cohabitating with men since she had a home, but an argument ensued between them and Victoria allegedly disrespected her in the process.
Chima, who was angered by what Victoria did to their mother, reportedly grabbed a keg filled with petrol, hit his sister with it and the content spilled on her and their mother.
This was followed by an explosion and the mother and sister were burnt in the process.
In a bid to rescue them, PUNCH Metro gathered that neighbours rushed them to a nearby hospital in Okokomaiko, from where Victoria, who sustained severe burns, was referred to the General Hospital in Igando. However, Victoria died due to the severity of the burns, but the mother survived.
PUNCH Metro gathered that after Chima realised what he had done, he attempted to flee from the scene of the incident, but he was apprehended by youths in the community, who heard the distress call of the victims, just as smoke was coming out from their kitchen.
The neighbours reportedly extinguished the fire and handed over Chima to the police.
When contacted, the state Police Public Relations Officer, Bala Elkana, confirmed Chima's arrest, adding that during interrogation, he confessed to setting his sister ablaze for disrespecting their mother.
The PPRO said, "According to the suspect, he set his elder sister ablaze, because she disrespected their mother. The mother was cooking when the brother threw a keg of petrol at the sister and an explosion occurred. The mother also suffered burns, but she is fine, while the sister could not make it.
"The brother has been arrested and the case has been transferred to the State Criminal Investigation and Intelligence Department, Panti, Yaba, for discrete investigation. He will soon be charged. Investigation is ongoing."
The Punch
COVID-19 Patient Delivered of Twins at LUTH
A 22-year-old COVID-19 patient has been delivered of a set of twins at the Lagos University Teaching Hospital, Idi Araba, Surulere.
The Lagos State Commissioner for Health, Professor Akin Abayomi, stated this in a tweet on Tuesday.
He noted that the woman was the fourth coronavirus patient to be delivered of babies at the hospital.
"Today, 19th May, 2020 @LUTHofficial recorded the fourth delivery involving #COVID19 cases.
"The latest is the delivery of twins – (boy and girl) 3.25kg and 3.2kg, respectively. The mother, a 22-year-old lady, tested positive for #COVID19 and was admitted for treatment and necessary observations for the last stage of pregnancy.
"The delivery was carried out through successful Cesarean Section by the medical team@LUTHofficial," Abayomi wrote.
The commissioner thanked the doctors, nurses and other health workers at the hospital for their dedication and diligence.
He appealed to residents with symptoms of COVID-19, irrespective of their state of health, to go for testing and treatment.
The Punch