I'm Being Unjustly Victimised by Osinbajo's Crony, Dr Adepoju Alleges
By Eric Elezuo
The last has not been heard of the 'unjust' hail of attacks directed at Lagos doctor, who specializes in cosmetic surgery, Dr. Anuoluwapo Adepoju, by some elements, allegedly seeking her downfall.
Speaking to the Boss, Dr. Adepoju  the noted that her persecution and attacks have emanated from the CEO of the Federal Competition and Consumer Protection Commission (FCCPC), Mr.  Babatunde Irukera, who unceremoniously led a team security operatives in person to close down her clinic, Med Contour, located in Lekki, Lagos; an action which has made the public to raise some questions bordering on complicity and victimisation.
Sequel to spearheading the closure of Med Contour, Barr. Irukera instituted a legal action against the doctor, charging through a court which was never served her.
Narrating her experience, Dr. Adepoju accused Irukera of orchestrating her 'illegal arrest', and subjected her to three days in the State Criminal Investigation Department, Panti. She added that the FCCPC CEO personally mandated DCP Yetunde Longe to deny her administrative bail with the claim that the orders to lock her up were from the Inspector General of Police.
"I sincerely doubt that. He is just manipulating the system to his schemes, whatever they are," Dr Anu stressed, adding that it's unconstitutional for the police to detain a person for more than 24 hours without proven evidential allegation.
Responding to Boss investigation, a source, who crave anonymity, said that it is obvious that Irukera has an interest in getting Anu out of business, hinting that the present witch-hunt has gone beyond the death of a cosmetic surgery patient, who did not even die in the doctor's custody.
"If it's not witch-hunt, how does one explain why the FCCPC would get involved in a case that is outside it's jurisdiction and why would Mr Irukera the CEO of a Federal Government agency personally come to Lagos from Abuja and invade her clinic with a team of police men without a search warrant or any legal backing of any sort? The source queried, asking if the commission does not have a legal department.
He added that from available evidence, especially bordering on what transpired in court over the weekend, and the process that led to the court appearance, it appears that the respected FCCPC officer is acting a script, whose author is yet unknown, primarily to embarrass Dr Adepoju.
"That's not all, Irukera has also claimed that his mandate is derived from the Vice President, Prof. Yemi Osinbajo, making everyone wonder if he is not using the VO's name in vain because Osinbajo is not the kind of person that will thrive on impunity and disregard to rule of law," he said.
The Boss investigation further revealed that the law officer filed a case against Dr Adepoju since June 3, 2020, but did not serve her a copy as demanded by law. She only became aware of the charges in court on July 3, 2020. Unknown to her, she has been charged for 'failure to comply with FCCPC requirements in an investigation; appear and provide info relevant to ongoing investigation'. The action, many has said raises eyebrow.
Justice Mohammed Liman of the Federal High Court, Ikoyi, duly lambasted Irukera for his oversight, granted the accused bail on self recognition and adjourned.
However, unconfirmed reports said that the FCCPC boss has induced coverage of the court process as media statement was heard from Dr Adepoju except from Irukera alone.
"It is unheard of that in a case involving two persons, only one party was interviewed at the court, and the other ignored. Where is the balancing," the source wondered.
For the benefit of hindsight, the commission has arraigned Dr Adepoju on a five-count charge of alleged botched surgery she allegedly conducted that led to the death of a patient, one Mrs. Nneka Onwuzuligbo in addition to disregarding summons sent to her to appear before the agency and summons by the agency to appear and produce certain documents.
Dr Adepoju, who had before now denied all allegations, pleaded not guilty, and the case is adjourned.
NSCDC Boss Becomes Fellow of Institute of Criminology, Says 'I Won't Rest on My Oars'
By Eric Elezuo
The Commandant, Nigeria Security and Civil Defence Corps (NSCDC) Lagos State Command, Commandant Ayeni PK, has been honoured with the DISTINGUISHED FELLOW of the Institute of Criminology and Strategic Studies.
The investiture, which was conducted with strict adherence to the COVID-19 protocols, was performed by the Institute's Registrar-General, Dr S. A. Adekunle, at Alausa – Ikeja, of the Commandant.
During the course of the event, a brief citation of the Commandant was presented, before he was inducted, decorated and certified.
The honour bestowed on the Commandant is seen as the most prestigious award of the Institute to any person.
In his remarks, the Commandant extended his heartfelt appreciation to the Almighty God for His mercies and for sparing everyone's life to the present. He also lauded the Institute for considering him for the honours.
Furthermore,  he specially thanked the Chairman Governing Council of the Institute and the immediate past Commandant General of the Corps, Dr Ade Abolurin Phd OFR psc+, saying he was grateful to him for being a great inspiration.
In his key note address, the Institute's Registrar-General, Dr S.A. Adekunle, remarked that the mandate of the Institute, is to train and retrain members. T
"The Institute also identifies various sources of crimes and proffer solutions, before the commission of such crimes," he said.
He stressed that Commandant Ayeni PK is one of the best Commandants the Corps has produced in recent times, affirming that selection of awardees is being done without any form of bias or prejudice.
"His selection is informed by his high-level performance, and doggedness towards ensuring the security and safety of lives and property, in Lagos State. His hardwork and and dedication to duty amidst other professional and administrative qualities are also some of the reasons, for his investiture today,," the Registrar concluded.
"This is another inspiration for me to do more and give my best to my father land. I will therefore, not rest on my oars," Ayeni promised while requesting the Institute to develop a training programme for officers and men of the Command.
Among officers of 1.DCthe Corps who attended the event were Obimma Frederick ( 2ic to the Commandant), 2. DC Paul O. Shomide ( HOD Administration), 3. DC Jayeola Margaret ( HOU Anti- Corruption and Transparency Monitoring Unit), 4. CSC Atolagbe Mohammed ( S A to the Commandant), 5. SC Durodola Abdullahi ( HOU Protocol), 6. ASCI Abolurin Oluwaseun O. ( PRO).
There were also members of the Institute present, and they were the Registrar-General, Dr S. A. Adekunle; the Registrar, Revd John Olagunju; the Deputy Registrar, Mr Gideon Ogundare; Director, Education and Training,  Dr Adeniran Adewale S.; Director, Membership, Mrs  Nwobodo Ijeoma; Director, Media and Publicity, Ovi John Aziamagba and Mr Odunlami Davidson, Asst Director Management Services.
Tincan Island Port Customs Declares N112.7bn Income in Three Months
The Tincan Island Ports had declared its revenue earnings for a three months period covering January to March 2021.
The revenue earnings for the period under review stood at One Hundred and Twelve Billion, Six Hundred and Ninety-Five Million, Six Hundred and Ninety-Three Thousand, One Hundred and Fifty-Eight Naira, Sixty-Six Kobo (N112,695,693,158.66), which shows an improvement of about 21.05Billion (23%) when compared with Revenue earnings of 91Billion In the first quarter of the previous year 2020.
This improvement, according to a press statement signed by the Area Controller, M.B.A. Musa, is in spite of the twin threat to lives and livelihood posed by the COVID-19 Pandemic, noting that the Command had inspired their officers to continue to work hard while observing all the safety measures to achieve the best of performances through the use of technology and collaboration.
"We kept our lines of communication open and concerted effort was made to ensure that the supply chain is not disrupted," he said.
The statement also noted that during the period under review, anti-smuggling activities yielded result with a spectacular seizure of cocaine weighing 43.110kg concealed in Raw Bulk Sugar, arrest of 20 suspects in connection with the seizure and detaining of the vessel MV SPAR SCORPIO.
The Command has handed over the case file, suspects and the vessel to National Drug Law Enforcement Agency (NDLEA) for further investigation.
The Command has also put various trade facilitation measures in place to help ensure stress-free engagement with clients, customers and the Nigerian public. The statement observes as follows
"The Command has put measures in place with a view to ensuring that legitimate trades are given expeditious attention.
"Accordingly, the Dispute Resolution Committee and the Help Desk have been re-jigged with a mandate to attend very expeditiously to all Trade related disputes. We have also reinvigorated the use of inter-modal transport system (Use of Barges for Cargo movement in line with Global Best Practices."
NSCDC Arrest 50 Armed Herders in Ekiti, Cross River, Borno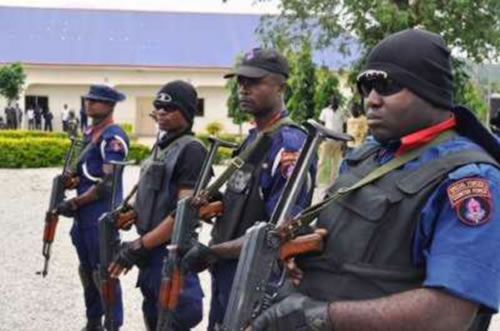 Commandant-General, Nigeria Security and Civil Defence Corps (NSCDC), Ahmed Audi, has said operatives of the security outfit have arrested 50 armed herders.
The armed herders, he said, were arrested in different parts of the country, including Ekiti, Borno and Cross River states.
NAN reports that Audi spoke on Wednesday in Abuja while presenting licences to private guard operators.
He said: "We arrested 50 illegally armed herdsmen and realised that some of them are into cattle rustling and kidnapping.
"The armed herdsmen were arrested in Ekiti, Borno and Cross River states and in some other parts of the country."
Audi said the arrest of the illegally armed herders, shortly after his assumption of office, was an indication of his determination to reposition the corps for optimal delivery on its core mandate.
"It is part of our mandate to settle disputes between herdsmen and farmers and to also give some security protection to our agro-allied investments," he said.
Audi spoke on the need for synergy between security agencies, noting that the nation's security challenges could only be addressed substantially through intelligence sharing.
He charged the private guard operators to ensure valuable contributions to ongoing efforts at checking rising insecurity.
"The nation is bedevilled with a very serious insecurity crisis, and that is the asymmetric warfare," he said.
"If you want to deal decisively with this, you must synergise with all stakeholders in terms of credible intelligence."
He warned that the licences of private guard operators would be withdrawn if they engage in unethical practices.
TheCable