John Okelue Okpoli: Pacesetter, Pathfinder and Pioneering Expert
By Eric Elezuo
The ultimate measure of a man, they say, is not where he stands in the moment of comfort and convenience, but where he stands in times of challenge and controversy. The willing man is an achiever in whatever situation he finds himself. He don't just achieve, he creates or rather pioneers a million ways to getting things done. There are however, very few men in the universe, who have worked extremely hard to create opportunities, even from nothing, carved out veritable future for not only themselves but also for generations to come. One of such men is Delta born finance and asset management guru, Okelue John Okpoli.
Fondly called The Pioneer, John Okpoli, who is reputed to have pioneered almost everything he is involved in today ranging from academics, career, family, associations and many more, was born into the family of Dr. (Sir) Felix and Lady Dorothy Uzor Okpoli on October 6, 1978.
He started at a very young age to exhibited the featues and qualities of a gifted child, becoming a pathfinder and pace setter for his mates, contemporaries and collegues both on the home and academic fronts. His leadership abilities threw themselves to the fore, and could not be extinguished as he nurtured it step by step through to the adult he is today.
Young John kicked off his academic journey very early in life when at the age of four, he enrolled at Delta Steel Primary School, Owvian Aladja Delta State in 1982. But owing to geographical relocation because his father was a civil servant, he continued and concluded his elementary education at Iyobosa Primary School, Benin City in 1988, and obtained his First School Leaving Certificate.
John started his secondary education at Greater Tomorrow Secondary School, Benin City in 1989, but moved to Lagos thereafter and attended Ikeja High School, Ikeja where he concluded his seconadary i education in 1994. He was at the end of the day, rewarded with the prestigious West African School Certificate as he 'cleared' his papers in a single sitting, and with notable grades.
His exploits while at Greater Tomorrow Secondary School Benin City created a leverage for him to become a member of the Interim Executive committee of the 1994 set later in life
In 1996, John Okpoli was admitted into the University of Benin with the 1995/96 set to study Mathematics and Economics. He graduated with B.Sc honours in 2000 as a high flyer.
Being a goal getter with unquenchable zeal to acquire and sustain, and one whose focus and attention to details is second to none, Okpoli undertook a Special Executive MBA Programme at the Metropolitan School Of Business and Management in 2013. He knew what the future was going to throw at him, and he was prepared.
Highly equipped to face the harsh business environment, Okpoli began turning things around, and practically became a builder, an apostle of some sort, creating firsts and pioneering strong financial business ventures, which have stood the test of time, and are still flourishing till date. In fact, Okpoli has the proverbial Midas touch to make things happen and turn anything to gold.
As the Managing Director/Chief Executive Officer of Fundvine Asset Management Ltd, Okpoli singlehanded pioneered the setting up of all the company's subsidiaries. He didn't stop there. When the cruise boat of job relocation took him to AT&A as the Chief Operating Officer, Okpoli again brought his wealth of experience to bear, creating new vistas and breaking barriers. It is not by accident that the firm is today a force to reckon with.
The pioneering achiever went ahead to work with Sasware, a Signal Alliance agency as Head of Operations, and his story has bordered on performance, capacity building and expansion. He is a go-getter in its simplest term.
It is worthy of note that under his watch, Fundvine Hathaway Asset Management Ltd, rebranded and rolled out new enticing products.
Hear him: "I think I owe everything that has happened to me, and still going to happen to me to God. He has been more than kind to me, releasing in me the right words and actions at the right time.
"My success stories of pioneering ability, expansionist approach and general achievements, have remained legendary, and I hardly fail. This is the zeal and call I take to any establishment I find myself for the service of mankind."
Among many other pioneering activities of John include but not limited to being among the pioneer set of Mathematics and Economics department of the University of Benin. He went ahead to become the pioneer president or leader of distinct associations while on campus, including Project committee, UNIBEN Mathematics Class of 99 and Emerging Leaders Network (An Intiative Of Centre Of Leadership).
A very humble person, Okpoli gives credit to God for his 'little' efforts so far, and to his father, Felix Okpoli, who retired as a zonal General Manager with the National Electric Power Authority (NEPA). The senior Okpoli was the first product of Electrical/Electronic Engineering from Ubulu Uku in Delta State.
In the same vein, his maternal grand father Reverend S. I. Nwabuoku was the pioneer/first Anglican priest in the Anioma part of Delta State just as his uncle, Ven. (Dr) I. E. Nwabuoku was the pioneer Chief Medical Director, University of Benin Medical Centre and Vicar General, Anglican Diocese, Benin City.
Basically, pioneering ability runs in the family. It is left to the imagination what a person of John Okpoli's Calibre can do to an establishment or best still, a political institution. He is truly an asset; a much sought after one for that matter.
Okpoli, among many secular and formal endowments, is blessed with so many professional qualifications such as:
– Project Management Institute U.K 2011
– Nigerian Institute Of Management 2002
– Institute Of Credit Administration 2004
– Institute Of Cost Management 2002
– Economics Institute 2004
He may be a man about town, hovering from one boardroom to another, yet he is an accomplished family; a beloved and cherish husband to his beautiful wife, Oberhi Mary Okpoli, a prolific lawyer and Head of Chambers of Prince M.P Ohwovoriole (SAN) in Lagos.
Between John and Oberhi are wonderful children, who are steadily following the greater heights footsteps of their parents.
Congratulations John, you deserve our personality in focus honours
The Task Ahead Acting IGP Usman Alkali Baba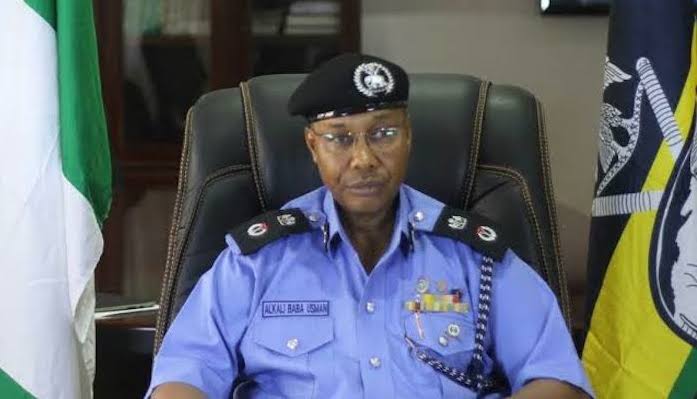 By Eric Elezuo
During the week, the Minister of Police Affairs, Maigari Dingyadi, sold Nigerians a dummy while explaining the rationale behind the sacking of former Inspector of Police, Mihammed Adamu, whose tenure was extended to three months just one month after, and replacing him with Deputy Inspector General of Police, Usman Baba, with immediate effect.
Asking Nigerians to cut President Muhammadu Buhari a slack in his decision to terminate the former's appointment and appointing Buba, Dingyadi said that "After a thorough check of a shortlist of suitably qualified police officers from the rank of DIGs and AIGs, who are eligible police officers, eligible for appointment as I-G, in line with Section 7, Sub-section 2 of the Nigeria Police Act (2020); and having regards to seniority, professionalism, a record of service and competence, the president has approved the appointment of an acting I-G, in the person of Usman Alkali Baba, with immediate effect.
"These changes are in line with the determination of the president to rejig the security architecture and to ensure that the security challenges bedevilling the nation are brought to an end.
"The president has, therefore, charged the new appointee to rise to the challenge to ensure policing reform policy of this administration are fully prioritised and implemented to enable the police to perform most effectively for the peace and security of lives and property of all Nigerians."
Setting aside the politics of Baba's appointment in terms of eligibility and more, it is worthy of note that the task ahead of the new police boss is enormous, and requires undaunted fear, professionalism and clout to undertake. The new IGP must be willing to call a spade a spade to reunify a country that has so factionalised along ethnic and religious lines even in the area of security.
In recent times, Imo State and the entire South East region have become a hotspot of unbridled hooliganism and unchecked vandalism. The unprovoked attacks on security facilities and personnel has become rampant, and needed urgent attention. Perhaps that explains the reason behind the sacking of Adamu. He appeared helpless in the face of bloody activities of the unknown gunmen in the area. His speedy heaping of blame on the Indigenous Peoples of Biafra (IPOB) as the perpetrators of the act without due diligence may have suggested that the former police boss had already ran out of ideas, and was just occupying space waiting for the supposed three months to elapse.
Baba is therefore, saddled with the responsibility of unmasking the forces behind the incessant killings, kidnappings, looting and jailbreaks among a whole lot of vices prevalent in the country presently.
While tongues are already wagging from many quarters concerning the rationale behind his appointment, Baba has to prove that he is equal to the task, and jettison the ethnic coloration in the discharge of his duties.
Taking into cognisance that Nigerians have lost fate in what is generally referred to as Buhari's Fulanisation of the country, Baba must prove that he is not another instrument of bigotry and ethnic cleansing.
He will do well to be the Inspector General of the Nigeria Police, and not for a section of the country as so many are wont to believe.
The Boss Newspaper
Prominent Politician, Cleric's Son, Odumbaku Declares for Ojodu LCDA Chair
By Eric Elezuo
The prestigious Excellence Hotel, located on Ogba, Ikeja, was a beehive of activity over the weekend as David Oluwasegun Odunmbaku, the secretary of Ikeja Local Government Area and the 'warrior' son of prolific Lagos politician and accomplished cleric, Cardinal James Odumbaku, declared his intention to contest the chairmanship of Ojudu Local council Development Area in the forthcoming grassroots election.
David Odumbaku is a Harvard trained professional, who had learnt the ropes of administration, berthing at a prestigious office of the secretary of one of the influential local government areas in Lagos State.
Making his declaration, Odumbaku said his mission to Ojudu LCDA is nothing but to serve and continue to serve.
"My passion for the people is what is driving my intention to contest the election. I just want to serve, and deliver the best of the dividend of democracy to the people of Ojudu," he said.
Speaking however, on his son's aspirations, Cardinal James Odumbaku, popularly known as Baba Eto, who is a revered politician in Lagos and preacher of the word, said David is endowed with the can-do-attitude to deliver good governance to the people of the council and beyond.  he said that David has passed through time and tutelage, and is very fit to handle the dictates of the office of the chairman, according to party rules.
"David Olusegun Odumbaku has been council secretary in Ikeja Local Government for four years under Honourable Wale Ogunlami without blemish. He was supposed to be chairman in the first instance, but Asiwaju Bola Ahmed Tinubu said no he has to learn.
"Again in the second leg, Asiwaju said he should not go for the chairmanship, but go for the secretary position, which is the power house of any local government administration so that he can learn more. Now, another four years is gone, or about to expire. So it behoves on me to encourage him after having a very excellent education in Europe. He is a Harvard alumnus. His academic achievements are voluminous that I can't run it offhand, but his resume is a clear indication of what I'm saying," Odumbaku said as a matter of fact.
He added that David Odumbaku is a power house of experience and knowledge, having learnt from his father, who himself was taught by the prolific Bola Ahmed Tinubu. He further praised Tinubu for his democratic principles and  as the brain behind the establishment of the Ojudu LCDA among others, saying he supervised the establishment on behalf of Tinubu.
"What David has in stock as a son of a politician, who himself was trained by Tinubu, is a testimony of the fact that he can't fail, and that is because he has never failed.
"We are proving to the world that David Odumbaku is capable of running the administration of Ojudu LCDA, which of course I am the founding father, acting on instruction by Asiwaju that we should go and make some adjustment from the existing 20 local governments to 57 with additional 37 LGAs.
"So today, we are showing the world today through Ojudu LCDA what Odumbaku David is all about. Because we believe in democracy of which Tinubu is the bedrock, we are confidence that he will win the next election as Ojudu LCDA chairman, and even beyond. It may interest you to know that everyone is ably represented at this declaration exercise; leaders, community representatives, artisans and many more. The youths must grow…that's the slogan of Asiwaju," Odumbaku added.
"On why he chose to use his son at this time, having been instrumental to establishing many Lagosians politically and otherwise, Odumbaku said:
"I chose my son at the very last. You know I have been sponsoring other people with my money and personality, with the permission and blessing of Asiwaju Tinubu, putting people in respective positions in politics, ministry, local government administration, but I decided to sponsor my own child in the final analysis, and not without the blessing of Asiwaju.
"Now, I reasoned that with God-given opportunity and permission of Asiwaju Tinubu, I should try my own biological son, who is knowledgeable and has the capacity to handle things according to the dictates of our great party, All Progressives Congress (APC). Note that everyone is my son, however," Odumbaku further revealed.
He remarked that time has come for Tinubu to run the affairs of the country, Nigeria, having paid his dues in raising men and women of substance to man various political arms of the nation.
"And for the avoidance of doubt, I am not only desirous of David Odumbaku becoming the Chaiman of Ojudu LCDA, also that Asiwaju becomes the President of Nigeria – QED," he concluded.
The Lagos State LGA polls is expected to hold in June.
Our Decision to Rid Lagos of Indiscipline, Traffic Offences, Miscreants, Irreversible – Jejeloye, Chairman, Task Force
The Chairman, Lagos State Environmental and Special Offences Unit (Taskforce), CSP Shola Jejeloye, has said that there is no going back in his administration's decision to free Lagos State from the shackles of indiscipline, traffic offences and other attendant delinquencies that have limited its move to the smart city status.
CSP Jejeloye made the remarks in Lagos when the executive members of the National Association of Online Security News Publishers (NAOSNP) led by its President, Mr. Samson Oki, paid him a courtesy visit in his office.
In his address, he lauded the efforts of the association for expressing interest in and identifying with the agency, adding that they are trying to do their best to ensure that laws and orders are obeyed in Lagos State.
Jejeloye expressed satisfaction with the visit, especially at such a time to share ideas and talk about the issues that bother on the wellbeing of Lagosians in particular, and Nigerians in general.
"Apart from the fact that law and order must be obeyed; the protection of lives and property is equally one of our primary responsibilities. And in a situation whereby law and order are not obeyed, then lives and properties cannot be protected. That's why we decided to make our decision irreversible to ensure that the state is free from crimes, hoodlums and other kind of social menace," he said.
The Chairman used the opportunity to call on celebrities to be advocates of discipline and positive role models to the youths, who will be trained as Medical Doctors, Engineers among others instead of wasting money going abroad hire expatriates to come and do our jobs for us.
"Who will do that work when all of them want to turn to Naira Marley? What is the meaning of celebrity? I don't know the meaning? In those days, celebrities were like role models and those that make sacrifices for the society. They instill morals into the society. Not anymore. The only morals we enjoy now is just naked life, very naked life," Jejeloye lamented.
"The responsibilities of our office is multifaceted, therefore, our decision is not to rest on our oars. Our task is not limited to traffic offenders hence we want to take it to the market places where these people will feel the impact.
"Don't be tired of us. Continue to give us the needed support. Use the little knowledge and experience you have acquired to be a vehicle of change. Money is not only corruption; the abuse of power is also corruption.
"Let us continue to work together because without you, there is no us. We try to toil the part of the law and not suffer backlash. Posterity is a time keeper and time is a great healer."
On the use of drugs by commercial drivers, Jejeloye explained that almost 80% of the drivers take drugs. Therefore, we have had meetings with their leaders, educated and enlightened them on the dangers of use of drugs.
"I implore passengers and commercial drivers to make effective use of officially recognised bus stops to minimise attacks by miscreants as most of them stay at odd places outside officially approved bus stops.
While congratulating the Chairman for his recent appointment and promotion, NAOSNP President, Mr Oki said since the coming on board of Jejeloye, significant changes have been experienced, especially in the mode of operation that has brought tremendous calmness to driving within the metropolis.