Please Help Me Locate a Bail Jumper, Pastor Eronini – Lagos Lawyer Cries Out
By Eric Elezuo
A Nigerian lawyer, Barrister Frank Amadi has cried out, appealing to the general public to help in locating, and disclosing the whereabouts of one Pastor Emmanuel Eronini of the Resurrection Praise Church International aka Jehovah Sharp Sharp, who he said he stood surety for, but disappeared before the due date for appearance at the Police station. And has not been seen ever since.
Pastor Eronini, according to Amadi, has no known business location other than his self acclaimed pastor duties with his church.
Speaking to PointBlank.ng in his Osolo Way, Ajao Estate office in Lagos, Mr Amadi lamented his inability to locate someone he felt was a client, stressing how he had been molested by security operatives including spending four nights in the cell for not producing the bail jumper.
"It is not what I can confidently call an issue. He was a client. Pastor Emmanuel Eronini has an issue with his immediate elder brother over a piece of property on Ajao Estate, they jointly owned, according to his own account, and hoped to use as a point to distribute air-conditioners from abroad. Along the line, he said they fell apart, and their matter became so acrimonious. At a time, the house became seriously dilapidated. Pastor Eronini took it up for renovation, and as a client, I helped where I could, especially with known artisans. At this time, his father also died, and he was distraught because he didn't have money to follow up with the renovation or contribution for his father's burial, and there came up the idea of letting out some flats to tenants. This he did, and was able to participate in his father's burial at Awo Mbieri. I even attended in commiseration. He rented a part of the building to Mountain of Fire Church, and another part to a logistics firm.
Amadi narrated as follows:
"But in February 2021, he was taken to Abuja by the Police attached to IGP Monitoring Unit to make a statement. So as a client, I flew to Abuja with a lawyer, who acted for him when they bought the property, and I footed his bills.
"There, the events were weighed, and then they required a surety so he could go back. The matter was between me and the other lawyer, Osagie, who is distant to him. Then the leader of the team to Lagos, Bala Abdullahi, who knows me well, prevailed on me to help Eronini to sign his surety. They only asked for my identity card, and said Eronini had to return in two weeks to confront the matter. It was a simple thing. And that was how I got myself into suretyship believing that Emma will keep to faith.
"In Lagos, I reminded him that we will be going back to Abuja when the two weeks elapsed. He complained that he was sick, stooling blood. I advised him to call the Abuja team leader, one Daudu, and he said he has spoken to him. I called Daudu, and he said no problem. At a time, I found myself in Abuja on another business, I called them if it was appropriate I come. They said no, that I have to come with Eronini, the suspect.
"But on getting to Lagos, Eronini started dodging and evading me, saying that the complainant, Ben, his brother wanted to kill him. That he sent Police to kill him. He told me he was a prophet and knew better. Later, he said that his general overseer, one Mustapha of Jehovah Sharp Sharp church, has intervened and called everyone and that Police has no right to come. I told him that this was bailment. I told the Police the latest, and together, we started looking for him, even went to his house. But he has a lot of cameras to detect anyone that comes close.
"Six months after bailment, July 2021, I was arrested after all the efforts I made, using the security agencies. I spent a night in police cell in Lagos before I was flown to Abuja the next day where I was detained from Friday to Monday, and then arraigned at the Kuje Magistrate Court. I hired two lawyers for my defence and surety, and then I got bailed, and that was how I returned to Abuja.
"I have not seen him till now. But I chatted him through his lawyer, using stern words. Then he replied. I am just praying that anyone who knows his whereabouts, should help us apprehend him so he could face justice, and save me from the trauma that I am going through. I did not do anything wrong to stand for a client who was in trouble."
On arresting the man or declaring him wanted by the Police, Amadi said he had presented every possible suggestion to the Police, but they said they can't do that since they offence is small. He was charged for Trespass, and could not be declared wanted.
Amadi said the Police asked him to contact any police station whenever he sights the man, or raise alarm to attract attention. However, he added that one Akin, who took over from Daudu in Abuja, said he would send a troop from Abuja whenever the man is tracked, "and I don't have any means to track him", he said.
Eronini lives in Ajao Estate, and he is one of the pastors in 'Jehovah Sharp Sharp church' at Satellite Town, but he hides arounfd the Ijanikin axis, according to statement credited to Barrister Amadi.
But the Police could not arrest any of his relatives because the Administration of Criminal Acts prohibits arrest by proxy.
"But now, I am facing and going though the consequences of another person's crime; I have been detained, arraigned and right now I am on bail'; something that has never happened in my life. The next arraignment was on August 30, 2021 before it was again adjourned till September 27, 2021. I don't deserve the maltreatment I am going through. I am in a quagmire, and so I have declared him wanted in my own capacity as a citizen.
Police Arrest Killers of Na'Allah's Son, Greenfield University, Bethel Baptist Students' Abductors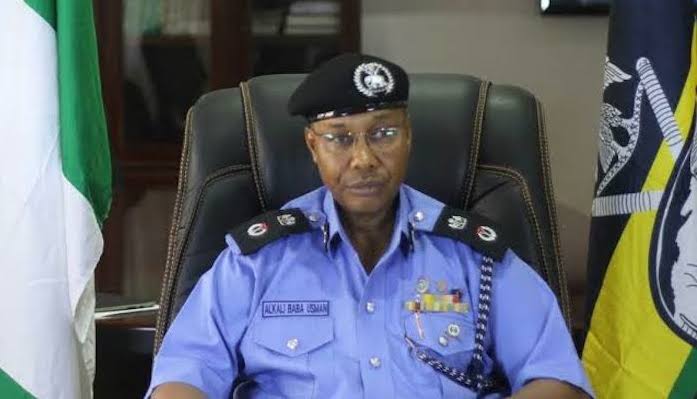 The Kaduna State Police Command on Thursday said it arrested kidnappers of students of Greenfield University and students of the Bethel Baptist High School, all in the state.
Also in the police net are kidnappers of the 37 students of the Federal College of Forestry Mechanisation, Afaka, in Igabi LGA of Kaduna State.
Both the Greenfield University and the Baptist Bethel High School are located in Chikun LGA of the state.
While parading suspects on Thursday at the Command's Headquarters along Bida Road in the state capital, the Command's spokesman, Mohammed Jalige, also announced the arrest of the suspected killers of 36-year-old Captain Abdulkareem Na'Allah, a pilot and son of Senator Bala Na'Allah.
Jalige said one Usman Mohammed from Bukuyum in Zamfara State was apprehended by operatives of the command in connection with the kidnap of the students of Greenfield University, Federal College of Forestry Mechanisation, Afaka, as well as Bethel Baptist High School, all in the state.
He said, "On the 29th August, 2021 at about 0900hrs, based on credible information, Operation Yaki Surveillance team with FIB STS Force Headquarter, Abuja, jointly raided a house along Ring Road, Asikolaye area of Kaduna, where one Usman Abubakar, 'm' 41 years old, a native of Adakpa village, Bukkuyum LGA of Zamfara State, a notorious kidnapper terrorising Chikun, Igabi and Giwa LGAs of Kaduna State, was arrested.
"He confessed to have kidnapped many people and collected several ransoms; he also has links with recent attacks on Greenfield University, Bethel Baptist Academy and School of Forestry Mechanisation, Mando, Kaduna."
Speaking on the killers of Na'Allah's son, the police spokesman noted that two of the three members of the gang that killed the pilot were in the custody of the command while one was at large.
He named one Bashir Mohammed, a neighbour of the slain pilot as principal suspect, while identifying another suspect as Nasir Salisu, also known as Uban Dana, adding that the third suspect, one Usman Kano, was at large.
Jalige explained that the three suspects conspired, broke into the house of Captain Abdulkarim and killed him before taking away his SUV vehicle and other valuables.
He added that the suspects sold the late pilot's SUV vehicle in Republic of Niger at the cost of N1m.
The Punch
Benin Woman Who Had Three Children with Her Son, Deported
There are indications that the Benin Republic woman, who allegedly had three children for her son and has been sexually involved with another, has been deported.
Fati Sime was deported along with her first son, Adamu, with whom she allegedly had three children.
However, the second son, who reportedly caught his brother in a sex act with their mother in their farm in the Kiama area of Kwara State and out of jealousy provoked a fight that blew opened the scandal, has been on the run.
Operatives of the Nigeria Security and Civil Defence Corps (NSCDC), Kwara State Command, had arrested Fati and her son on the allegation of incest.
The arrest followed a complaint lodged by the district head of Mose community in Kaima Local Government Area.
Spokesman for Kwara State Command of the NSCDC, Babawale Afolabi, confirmed that the incestuous relationship between Fati and her son, Adamu had resulted in the birth of three children.
That is besides the 11 children she had for her husband, Adamu's father.
Afolabi, while confirming the deportation of the incestuous duo, said: "Fati and her first son, Adamu, were deported on the directive of the Commandant after the investigation, and handed over to the Benin Republic operatives at the border.
"But during investigation, Adamu confessed that he has been having carnal knowledge of his mother for seven years."
Meanwhile, he second son, had in a fit of jealousy provoked a fight when he discovered his mother and brother engaged in a sex romp in their farm.
Police Officers Reject Cultists' N.5m Bribe – Ajisebutu
The Police Public Relations Officer, Lagos State Command, CSP Adekunle Ajisebutu, has narrated how men of the Command rejected a N500,000 bribe allegedly offered by suspected cultists.
This was contained in a statement on Thursday titled, 'Armed Robbery Suspect, Cultist Nabbed; Arms, Ammunition Recovered'.
The PPRO said an anti-crime patrol team of the Area 'J' Command, Elemoro arrested an armed robbery suspect and a suspected cultist with a locally-made double barrel gun and three cartridges.
"The armed robbery suspect, Alabi Timothy 'm' aged 23, resident of 9, Baale street, Majek, Ajah, was arrested at about 0030hrs of 4/9/2021 at General Paint, Garden area, Lekki during a routine stop and search by the police.
"A locally-made double barrel gun and two live cartridges including an expended cartridge concealed in a bag were recovered from the suspect.
"Similarly, a self-confessed cultist, Badmus Toheed (male), 22, who belongs to the Aye Confraternity was arrested with a live cartridge in the General Paint ghetto area, Ajah at about 0045hrs of 4th September, 2021. The suspect confessed that he was initiated into the Aye Confraternity sometime in June, 2021."
Continuing, Ajisebutu said, "Two suspects have been arrested for offering bribe to the police to secure the release of the two suspects and pervert the course of justice.
"While Adariku Sunday 'm', 34, resident of 66, Henry Smith Close, Abidjan GRA, Ajah offered the sum of N400,000 bribe in cash to secure the release of the robbery suspect, Folorunso Akeem, (m), 43, offered the sum of N100, 000 cash to secure the release of the suspected cultist.
"Determined to ensure justice through thorough investigation, the uncompromising police officers in charge of the case rejected the bribe.
"While commending the professionalism and uncompromising act of the police officers, the Commissioner of Police (Hakeem Odumosu) admonishes other police officers to emulate the incorruptible ones."
Ajisebutu said Odumosu directed that the case should be transferred to the Command's Tactical Team for further investigation and prosecution.