Opinion: Another Attempt to Blackmail Prince Ned Nwoko
By Joe Okafor
The audio recording is now trending on the social media. The conversation is between two men from Onicha -Ugbo in Aniocha North Local Government Area of Delta state. One is Assia Eze who was just spending his eighth day in Turkey at the time. The other, Azuka Jebose Molokwu, a former Nigerian journalist based in USA and now works essentially as a hack writer. Onicha-Ugbo, their home place shares boundaries with Idumuje-Ugboko, the community that the International Lawyer and business magnate, Prince Ned Nwoko, hails from.
Azuka as he is now notoriously known has gained infamy and loathed on social media for his irritable and insidious attacks on the respected billionaire Lawyer ,Prince Ned Nwoko. Azuka is well known as the smear campaign agent of Rainoil boss, Gabriel Ogbechie. Only recently , it was revealed that Ogbechie had called Azuka 18times on phone.Ogbechie's phone number, the dates and times he made the calls were all revealed. He hasn't denied it and he is most unlikely to do so considering that the exposè was allegedly from the network insider. But this was the same man, the same Rainoil boss that denied ever knowing Azuka, not to mention working for him. The exposè therefore put a permanent taint on the integrity of the man that trades in oil and gas.
And once again , an unrepentant Azuka is doing his shameful job.
So, in this recorded audio which Assia Eze recounted in an interview with Anioma Voice, an online publication, the Turkey based Assia narrated his encounter with Azuka.
Hear him, "Azuka called me. It was after eight days that I arrived Turkey. He asked me if I knew him. I said no. He then told me he was from Onicha-Ugbo. Then I asked him, are you not the one writing all sorts of bad things about Prince Ned". Then Azuka responded, "thank God , God has removed you from that evil man and killer". Shocked, Assia asked who he so qualified with satanic adjectives and Azuka responded unequivocally that it was Prince Ned. Naturally , Azuka confessed, he got terribly irritated and for a good reason. In his words, Prince Ned remains his greatest benefactor.
"This was the same man that saved me when my leg was going to be amputated", he said. Indeed one of Assia's legs was going to be amputated by some quasi-medical practitioners in a local hospital. But Prince Ned took him to a decent hospital where he was saved. He spent two good years in this hospital and the billionaire Prince paid his medical bill of N7.5million. It was not surprising that a dumb founded Assia therefore listened in shock as Azuka appealed to him to provide him with some information about the renowned Antarctica adventurer,
Prince Ned. Azuka wanted Assia to give him more information about the lies they, Azuka and his sponsors, peddled about someone dying in Prince Ned's country home's swimming pool. He narrated lies about how the Prince dumped innocent people in prison and so on. The summary in his words is he wanted Assia to join them to blackmail Prince Ned. In his voice, " let's work together to see how we can blackmail Prince Ned and embarrass him in court ". He told Assia that Gabriel Ogbechie would pay him some incredible sum if he joined their crew of blackmailers. To demonstrate their seriousness about initiating him into their repulsive gang, Azuka told him Gabriel Ogbechie had sent him, Azuka, the sum of N300,000 to be transferred straight to Assia's account and this would be followed with a whopping N10million gift.
Then Assia took time to lecture this Ogbechie's messenger about Prince Ned's kindness, how he, Prince Ned, planned to send him abroad for treatment over his decaying leg before settling for a very special hospital in Nigeria due to logistics delay and paida staggering N7.5million for his treatment, and how the generous Lawyer pays many of them salaries without doing any job for him. But Azuka remained adamant in his quest to convince Assia. In Assia's voice, "when he told me to send him my account. I quickly agreed so that I will have evidence. Then he paid N50,000 . I got the alert but I told him I didn't. So, he told me he would use Western Union . I was happy because this time he will send me the code and all these will be evidence ". Indeed Azuka played into Assia's plans because he wired the money. And as soon as Assia received them, he shared the receipts with Prince Ned and people he worked closely with.
It was therefore laughable when Azuka tampered with the conversation and edited the dialogue to present Assia as a compromised fellow on social media. It turned out only as a futile exercise and a waste of time and money because Assia remains infinitely grateful to Prince Ned stating " if not for him I would have been dead ".
What is of utmost pimportance in this rather tragic phone drama however, is Azuka's morbid desperation. It is a crass demonstration of his obstinacy, lies, his blackmailing job and the fact that his woeful assignment has the overt endorsement of his paymaster in oil and gas trade.
But because Prince Ned is obviously on the side of truth, he has remained consistent and all the malicious attempts to blackmail, frame or even assassinate him have come to nothing.
Food for Living: Handle Your Success with Care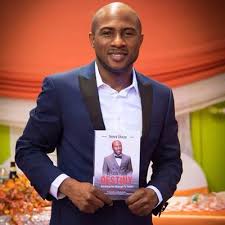 By Henry Ukazu
Dear Destiny Friends,
Whenever you take delivery of very important and fragile packages, you are bound to see, boldly written at a corner, 'handle with care', In the same vein, once you have taken delivery of success in whatever form, there is a sign at a corner of your mind, saying handle with care. Success is very important, and at the same time fragile, and consequently, must be handled with care for preservation.
There is nothing that brings joy to the heart the way success does, and that is why it is imperative we handle each great stride accomplished with great care. According to some schools of thought, success is a journey and not a destination. No one can say they have attained a particular stage of success, and therefore, has nothing worth striving for any more. Even if you have a trillion dollars, there is always a tendency to explore more options to make it double. That's human nature. Man is insatiable in nature. Even if you feel you have reached the peak of your career or have achieved a feat either in your business, academic or professional life, trust me, as a rational being, you will still have the urge to set another record, except of course, one wishes to remain in his comfort zone.
Success is fragile in nature; you must handle it with delicate care. Never think you have arrived because you have fortune or power, always know that money and power are visitors, and you may not have them forever. The best you can do is to manage them very well when they are with you.
Do you know that just like how you take care of yourself, you also need to take care of your success? You can do this by forgiving yourself if you have ever made a mistake. Don't be hard on yourself. Each of us has made one mistake or another. Learn to see the positivity and inherent lessons from whatever mistake you may have made in the past. Do you know that just like your mess can turn to a message, your pain can also turn to gain and people will pay you for it because of your experience?
Another way to handle your success is to appreciate anyone who may have helped you in one way or the other. Showing gratitude is priceless. Your appreciation might not only be in monetary terms, but it can also be in the form of a gift or words of appreciation. Most times, uninformed minds think when they achieve success, they don't need anyone to advise them. They fail to understand that human relationships are priceless.
The interesting thing about success is that it elevates you to another stage or standard in life. Success can influence how people relate with you. That's why it's always important to be humble with your achievements by remembering where you are coming from. Success should indeed, humble you as opposed to bloating your ego. Success can come to you in terms of power, authority, cash, academic qualification, or business..
It's instructive to note that success is truly fragile, and it must be handled with delicate care. As a progressive being, you are expected to manage your success and not your success managing you. To understand how delicate success is, imagine buying a crate of egg, how will you carry the egg? I believe you will handle it with care.
Again, imagine having a tissue in your hand, if you pour water on it, will it be useful again? I guess no; you see the reason you need to handle success with care.
Success is like building a home, a contractor knows fully well that the foundation of a house is the most important part of a building and as such he/she must exhibit the highest level of professionalism if the house is to stand the test of time.
Success is also like a man trying to woo a lady for relationship/marriage purposes. During the process, he will do all that is necessary to make the woman like him. And when he finally gets her, he is expected to continue the act by investing in the relationship; watering and spicing it, as opposed to withdrawing believing he has already achieved. If he does that, the lady might begin to question his initial motive. Moral: See success like a plant which you must continually water, otherwise it will die.
The big question we must ask ourselves is how do we handle success? Managing success is like managing a treasure. Imagine having global leaders listening to you, you may be tempted to boast, and if the emotion is not properly managed, it can lead to disaster.
The journey to authentic success is a process. You are advised to spend at least one or two hours each day on a craft or business you have deep interest in to master it. When you finally succeed, it will be foolhardy to toy with the success.
A major factor which affects success is not believing in their vision. They just engage in any business because they feel they can make quick money. Let me tell you, nobody will believe in your work if you don't believe in yourself. Investors must see the passion and energy you radiate in your business before they can invest in your business. When you believe in your craft, you can attract other people to believe in it.
In conclusion, as you strive to make global impact with your craft, don't forget to take care of yourself while taking care of your business and success.
Henry Ukazu writes from New York. He's a Human Capacity & mindset coach. He's also a public speaker. He works with the New York City Department of Correction as the Legal Coordinator. He's the author of the acclaimed book Design Your Destiny – Actualizing Your Birthright To Success and President of gloemi.com. He can be reached via info@gloemi.com
Opinion: The Travails of Leadership
By Tolulope A. Adegoke Ph.D.
"The ultimate assignment of leadership is not to raise followers, but better leaders through greater impacts by living a life of great examples and never to forget to help them with emotional intelligence which is a key factor for leadership inputs and outputs."
Character is developed by 'trials'. Testing is the development of ETHICS. Character is built or developed through pressure, temptation (trials) and resolve. The credibility of leadership is character! The force of leadership is character! The trust of leadership is character! The legitimacy of leadership is character! The integrity of leadership is character! The reason why people still celebrate Nelson Mandela, Koffi Annan among others is because he was tested and trusted. The reason why Nelson Mandela had so much credibility all over the world is because, while he was alive he went through a test of 25years in prison, because of a conviction he had, he was just like a 'statue' with this notion:
I cannot bend; I am going to jail just like this;
I believe in what I see, I believe in a dream,
I believe in my convictions, because they are right,
I will not compromise; I will not change!
Nelson Mandela stayed faithful, he went through the test and trials, and people trusted him. In prison, he was the same, he was severely tortured, he was the same, when he had to cut the rocks with chisel, he was the same, and when he came out of prison he was still the same, and was eventually made the President of South Africa just because he was the same. People could trust him.
Even the late Dr. Myles Monroe once said: 'People often look at me as if I was born the way I look, but I have been through a lot of things, pressures, scars on my back, tribulations, criticisms, attacks, but I decided, I believe what I believe! I stay steady! The world reads my books, I have been invited to over a hundred and fifty-two nations across the world and they wondered: who is this young man, but I have developed my character through tough times.'
Anybody could begin something, a few people finish! How many things have you begun? how many things have you started managing? how many of it have you finished? Where is your character? Are you steady under pressure? Can you be faithful under being disappointed? Can you still believe when no one is with you? When you have character, you are ready to go alone! Everybody is evil, not me! Everybody is corrupt, not me! Everybody is failing, not me!
You have to work by yourself to develop character! Your innate gifts are at the mercy of your character! Your character is more important than your gifts, because without character, you can lose your gifts. That is why God gave Man CHARACTER (His IMAGE) before He gave him DOMINION (Control). Most people lose their provisions because they lost their character! That is why it is important for you to protect yourself by your character (IMAGE), and that is why character (IMAGE) is God's utmost priority! Character is necessary for DOMINION (Control); it guarantees a tamed- freedom.
Character breeds decent followers; it builds them into enviable leaders that can 'MANage' the natural resources as given them by God, and then, put them into appropriate and decent usage for the good of all mankind. Leadership is simply service to humanity, it is not selfishness, not greed, not abusive…Only character determines and promotes service. Service is followership, help; it is the authentic exhibition of our innate being. Character builds a nation; it builds kingdoms, Empires, family and the world at large. Character tames freedom so as not to abuse absolute power; it promotes sustainable peace and global development that guarantees the handing over of a better world to coming generation. It is a baton which must be passed on and on forever. Life is a mysterious gift given to man by God Almighty embedded with so many hidden treasures… its usage is up to man, but only the deeds of men pollutes it!
Character therefore, should not be mistaken for REPUTATION. Reputation has become much more important in the world today than character, and that is a tragedy, because, position has become more important than disposition. As a matter of fact, we need leaders with character, not leaders with personality! Some people have well packaged personality but lack character, yet they are the most celebrated in our world today. Many people are well branded as dignified figures vying for leadership positions, unfortunately, ignorant people rush up to them, vote them in, then the economy and political structure of their countries crashes! Instead of voting the man with CHARACTER (i.e the right IMAGE), which compliments leadership to the position of reliable leadership.
Nigeria and other developing nations must first of all confront their domestic problems by consolidating their democracy. Democracy is not just the question of holding periodic elections, Important as this is, it means developing a democratic culture underpinned by the rule of law. We must build an egalitarian society with careers opened to talents. It should be possible for any (Nigerian) talent(s) to rise to any position that these talents entitle him or her. We must face the question of the economy squarely.
Sixty-one years after independence, we still operate a dependent economy based on export of raw materials and industries of import substitution. We must reverse the process by building industries, particularly agro-based industries in which we have comparative advantage. Nigeria can support huge textile and garment industries based on local production of cotton. This is also an industry which the current regime of the World Trade Organization favours for developing countries. The so-called Tiger economies of South East Asia, China and India virtually dominate the textile and garments industry of the world. We ought to be able to compete with Israel and the United States in providing the world with properly packaged tropical fruits. We should cut our tastes for unnecessary luxury goods and use what we can produce. We need to open our market to investments from the outside world. One hopes present policies in this regards would be determinedly pursued.
The economy is a major factor to earning respect in the international system and we must do everything to develop our economy. There is no strategy of economic development better than those that have been tried and that have worked in the Western liberal democracies. Any attempt to graft economic development on an authoritarian regime will fail.
Character is key factor! We need to take a look at the example of Botswana (few years ago), when, where honest and liberal government and proper management of national resources and patrimony have led to development. Character sees people as greatest ASSETS and not properties. Value your fellow man greatly, they are the only tool that can stand by your side anytime any day, they shall be the one to continue your leadership processes in the future for the benefits of all as a result of your tremendous impacts on them.
The ultimate assignment of leadership is not to raise followers, but better leaders through greater impacts by living a life of great examples and never to forget to help them with emotional intelligence which is key factor for leadership inputs and outputs.
Opinion: Akeredolu on Emefiele: Ignorance Taken Too Far
The Convener of The Green Alliance, Barr. Wale Fapounda has come out to correct some misconceptions bandied in the public space concerning the presidential ambition of the current Governor of Central Bank of Nigeria, Dr. Godwin Emefiele.
Regarding Dr. Emefiele's quest to contest election, there have been very disappointing statements credited to so many people especially Governor Rotimi Akeredolu, SAN. The statements are to the effect that Dr. Emefiele is not entitled to seek election into the office of the president while still occupying the office of the governor of the apex Bank.
One wonders where this is coming from as it seems that long absence from the practice of law has made the learned Senior Advocate grow rusty. The truth is that there is no provision of our law stopping Dr. Emefiele from seeking election into the office of the president while in office, provided he has not been disqualified by Section 137 of the 1999 CFRN as amended. Rather, the constitution has more than enough enabled him to do so in the exercise of his constitutional rights. A lot of these ignorance stems from the deliberate misinterpretation of Section 9 of the CBN Act, Trek Africa Newspaper gathered.
Barr. Fapounda noted: 'Section 9 of the CBN Act provides thus: "The Governor and the Deputy Governor shall devote the whole of their time to the service of the Bank and while holding office shall not engage in any full or part time employment or vocation whether remunerated or not except such personal and charitable causes as may be determined by the Board and which do not conflict with or detract from their full time duties…"
'Clearly from the above provision, the CBN Governor or Deputy Governor cannot be involved in any other employment or vocation while in office. So how do we define employment or vocation? In Shell Petroleum Company of Nigeria vs Federal Board of Inland Revenue 1996 8 NWLR Part 466 256, the Supreme Court held that where the words of a statute are plain, precise and unambiguous, then it should be given the ordinary and natural meaning.'
What then is the natural and ordinary meaning of the word employment? And what is the natural and ordinary meaning of the word vocation? Employment means "the state of having paid work". While vocation means " a person's employment or main occupation".
Based on these definitions above, can it then be said that seeking election into the office of the president of Nigeria is an employment or vocation? The answer must surely be in the negative. Anything other than that will be the most artificial interpretation to suit a sinister purpose.
'Moreso, the constitution is clear on rights of association, and rights to seek elective positions. And there is no impediment whatsoever on the exercise of such rights except such impediments are contained in the constitution. Contesting for the position of the president is an exercise of constitutional rights, and not an engagement in any employment or vocation,' the legal luminary told Trek Africa Newspaper.
In conclusion, just as there is no law stopping Governor Akeredolu from appointing his son into sensitive government position in Ondo State when there are numerous other competent people in the state to man such position, there is no law stopping Dr. Emefiele to contest for the office of the president while still in office as the CBN governor.